Blooms
Bloom iPads Apps. Blooms Taxonomy with Apps. After seeing the chart on of Bloom's Taxonomy on bloomsapps, I thought I could make a more thorough table.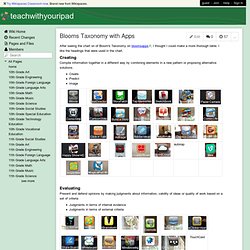 I like the headings that were used in the chart. Creating. K-5 iPad Apps for Remembering: Part One of Bloom's Revised Taxonomy. (Updated 10/2013) It is Benjamin Bloom's belief that the entry point to learning is the acquisition of knowledge.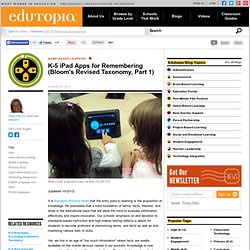 He postulates that a solid foundation of terms, facts, theories, and skills is the educational base that will allow the mind to evaluate information effectively and inspire innovation. Our schools' emphasis on and devotion to standards-based instruction and high-stakes testing reflects a desire for students to become proficient at memorizing terms, and facts as well as and mastering various sets of skills. Yet, we live in an age of "too much information" where facts are readily available on the mobile devices carried in our pockets. K-5 iPad Apps for Understanding: Part Two of Bloom's Revised Taxonomy. Benjamin Blooms' second stage, "understanding" occurs when new learning connects to prior knowledge.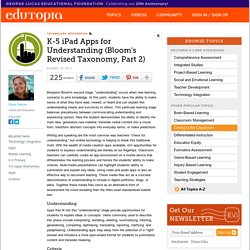 At this point, students have the ability to make sense of what they have read, viewed, or heard and can explain this understanding clearly and succinctly to others. This particular learning stage balances precariously between communicating understanding and expressing opinion. Here the student demonstrates the ability to identify the main idea, generalize new material, translate verbal content into a visual form, transform abstract concepts into everyday terms, or make predictions. Writing and speaking are the most common way teachers "check for understanding," but mobile technology is helping to break this traditional mold. K-5 iPad Apps for Applying: Part Three of Bloom's Revised Taxonomy. Bloom's Revised Taxonomy breaks each learning stage (remember, understand, apply, analyze, evaluate and create) into four separate levels of knowledge.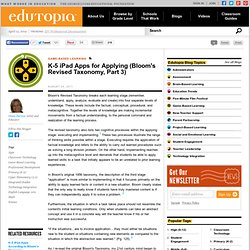 These levels include the factual, conceptual, procedural, and metacognitive. Together the levels of knowledge are making incremental movements from a factual understanding, to the personal command and realization of the learning process. K-5 iPad Apps for Analyzing: Part Four of Bloom's Revised Taxonomy. We are all born with a natural curiosity that relies on our ability to analyze.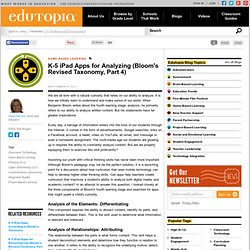 It is how we initially learn to understand and make sense of our world. When Benjamin Bloom writes about the fourth learning stage, analysis, he primarily refers to our ability to analyze written content. But his statements have far greater implications. Every day, a barrage of information enters into the lives of our students through the Internet. K-5 iPad Apps for Evaluating Evaluation: Part Five of Bloom's Revised Taxonomy. "Only those evaluations which are or can be made with distinct criteria in mind can be considered"1.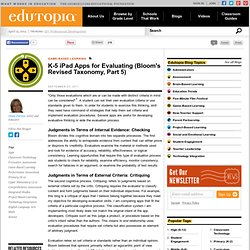 A student can set their own evaluation criteria or use standards given to them. In order for students to exercise this thinking, skill they need have command of strategies that help them set criteria and implement evaluation procedures. Several apps are useful for developing evaluative thinking or aide the evaluation process. Judgments in Terms of Internal Evidence: Checking. K-5 iPad Apps to Evaluate Creating: Part Six of Bloom's Revised Taxonomy. In 1948, the Swiss inventor George de Mestral returned from a hike with his dog covered in burs.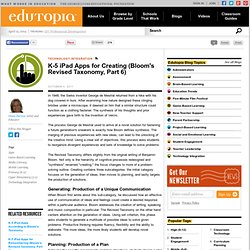 After examining how nature designed these clinging bristles under a microscope, it dawned on him that a similar structure could function as a clothing fastener. The synthesis of his thoughts and prior experiences gave birth to the invention of Velcro. The process George de Mestral used to arrive at a novel solution for fastening a future generation's sneakers is exactly how Bloom defines synthesis. Bloom's Apps - 21nnovate. Bloom's Taxonomy – A Parent's Guide. "Bloom's Taxonomy" is one of those terms that a parent may not necessarily be familiar with, however, it is very important.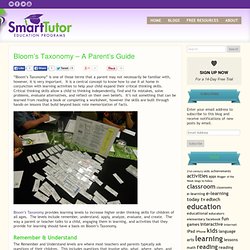 It is a central concept to know how to use it at home in conjunction with learning activities to help your child expand their critical thinking skills. Critical thinking skills allow a child to thinking independently, find and fix mistakes, solve problems, evaluate alternatives, and reflect on their own beliefs. It's not something that can be learned from reading a book or completing a worksheet, however the skills are built through hands-on lessons that build beyond basic rote memorization of facts. Bloom's Taxonomy provides learning levels to increase higher order thinking skills for children of all ages.
The levels include remember, understand, apply, analyze, evaluate, and create. The Best Resources For Helping Teachers Use Bloom's Taxonomy In The Classroom. Bloom's Taxonomy is talked about a lot in educational circles.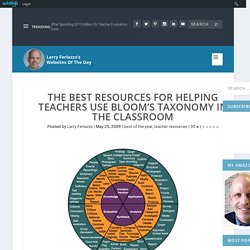 However, if you believe a recent survey of visits to 23,000 U.S. classrooms, the higher-order thinking skills it's ideally designed to promote doesn't get much use. And I can understand why. It's easy to get caught-up in the day-to-day work involved in teaching a class or multiple classes, and it's easy to fall into the trap of doing the "usual stuff" and not "think out of the box."
I thought it might be useful to share in a "The Best…" list the resources that help me try to use Bloom's Taxonomy in my classroom. There may very well be resources out there that do a far better job of explaining the Taxonomy and how to use it. Blooms-quicksheets-281yv1b.
Bloomin' Hackathon. Bloom's taxonomy continues to be be a HOTS (pun intended) topic in the classroom.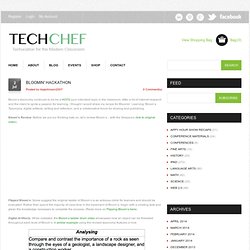 After a bit of internet research and the intent to ignite a passion for learning, I thought I would share my recipe for Bloomin' Learning: Bloom's Taxonomy, digital artifacts, writing and reflection, and a collaborative forum for sharing and publishing. Bloom's Review: Before we put our thinking hats on, let's review Bloom's…with the Simpsons (link to original video). Flipped Bloom's: Some suggest the original ladder of Bloom's is an arduous climb for learners and should be evaluated. Rather than spend the majority of class time in the basement of Bloom's, begin with a creating task and glean the knowledge necessary to complete the process. iHot Apps 4 HOTS.
This is another great publication by Lisa Johnson and her Appy Hour partner Yolanda Barker. The first, however, released on iTunes. These guys spend so much of their time and energy developing fantastic resources simply to share with other teachers and educators. This is one of their most comprehensive publications and it is easy to obtain, simply download it for FREE from iTunes into your iBook collection - search Hot Apps 4 HOTS. HOTS (Higher Order Thinking Skills) are directly related to Bloom's Taxonomy and as such gives us a scaffold in with to situate the learning experiences of our students.
A Model of Learning Objectives. A statement of a learning objective contains a verb (an action) and an object (usually a noun). The verb generally refers to [actions associated with] the intended cognitive process. The object generally describes the knowledge students are expected to acquire or construct. (Anderson and Krathwohl, 2001, pp. 4–5) K-5 iPad Apps According to Bloom's Taxonomy | Edutopia. On Fire for Bloom's.
---