Blooms
Bloom iPads Apps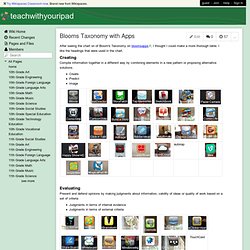 After seeing the chart on of Bloom's Taxonomy on bloomsapps, I thought I could make a more thorough table. I like the headings that were used in the chart. Creating
(Updated 10/2013)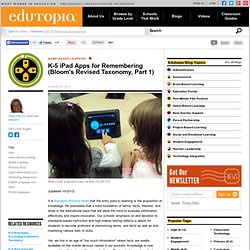 K-5 iPad Apps for Remembering: Part One of Bloom's Revised Taxonomy
K-5 iPad Apps for Understanding: Part Two of Bloom's Revised Taxonomy
Benjamin Blooms' second stage, "understanding" occurs when new learning connects to prior knowledge.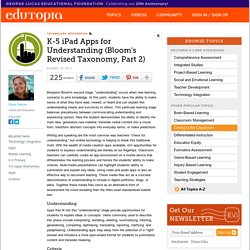 K-5 iPad Apps for Applying: Part Three of Bloom's Revised Taxonomy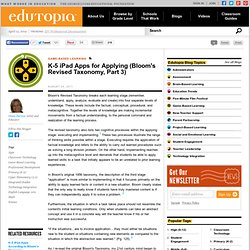 Bloom's Revised Taxonomy breaks each learning stage (remember, understand, apply, analyze, evaluate and create) into four separate levels of knowledge. These levels include the factual, conceptual, procedural, and metacognitive. Together the levels of knowledge are making incremental movements from a factual understanding, to the personal command and realization of the learning process.
K-5 iPad Apps for Analyzing: Part Four of Bloom's Revised Taxonomy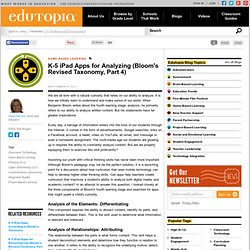 We are all born with a natural curiosity that relies on our ability to analyze.
K-5 iPad Apps for Evaluating Evaluation: Part Five of Bloom's Revised Taxonomy
"Only those evaluations which are or can be made with distinct criteria in mind can be considered"1.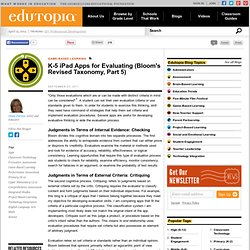 K-5 iPad Apps to Evaluate Creating: Part Six of Bloom's Revised Taxonomy
In 1948, the Swiss inventor George de Mestral returned from a hike with his dog covered in burs.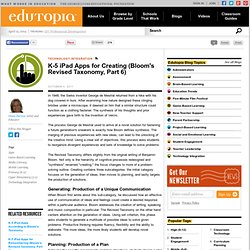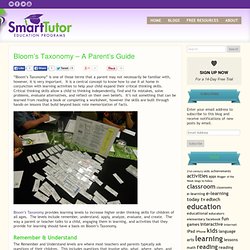 "Bloom's Taxonomy" is one of those terms that a parent may not necessarily be familiar with, however, it is very important. It is a central concept to know how to use it at home in conjunction with learning activities to help your child expand their critical thinking skills.
Bloom's Taxonomy is talked about a lot in educational circles. However, if you believe a recent survey of visits to 23,000 U.S. classrooms, the higher-order thinking skills it's ideally designed to promote doesn't get much use.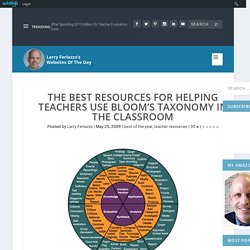 Bloom's taxonomy continues to be be a HOTS (pun intended) topic in the classroom. After a bit of internet research and the intent to ignite a passion for learning, I thought I would share my recipe for Bloomin' Learning: Bloom's Taxonomy, digital artifacts, writing and reflection, and a collaborative forum for sharing and publishing. Bloom's Review: Before we put our thinking hats on, let's review Bloom's…with the Simpsons (link to original video). Flipped Bloom's: Some suggest the original ladder of Bloom's is an arduous climb for learners and should be evaluated. Rather than spend the majority of class time in the basement of Bloom's, begin with a creating task and glean the knowledge necessary to complete the process.
Bloomin' Hackathon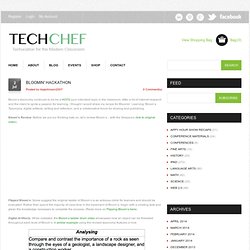 This is another great publication by Lisa Johnson and her Appy Hour partner Yolanda Barker.
iHot Apps 4 HOTS
A statement of a learning objective contains a verb (an action) and an object (usually a noun). The verb generally refers to [actions associated with] the intended cognitive process. The object generally describes the knowledge students are expected to acquire or construct. (Anderson and Krathwohl, 2001, pp. 4–5)
On Fire for Bloom's