Education
TeacherWeb - Websites for Teachers, Schools, and Districts. Printable Graphic Organizers for Teachers, Grades K-12. Easter & Passover Get ready for fun classroom crafts: Easter and Passover are both approaching!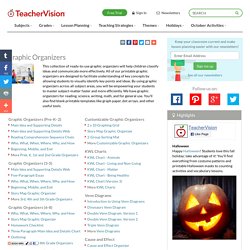 Passover begins Friday, April 14 and Easter is Sunday, April 20. Poptropica Teaching GuidesPoptropica is one of the Internet's most popular sites for kids—and now it's available as an app for the iPad! It's not just a place to play games; each of the islands featured on the site provides a learning opportunity. Check out our teaching guides to four of Poptropica's islands: 24 Carrot Island, Time Tangled Island, Mystery Train Island, and Mythology Island. April Calendar of Events April is full of holidays and events that you can incorporate into your standard curriculum. Teaching Resources, Children's Book Recommendations, and Student Activities. About Us. The Regional Educational Laboratory Program (REL): About Us As our nation addresses the challenge of improving academic achievement for all students, the role of evidence in shaping practice and policy becomes even more critical.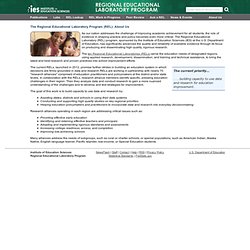 The Regional Educational Laboratory (REL) program, sponsored by the Institute of Education Sciences (IES) at the U.S. Department of Education, has significantly advanced the quality and reliability of available evidence through its focus on producing and disseminating high quality, rigorous research. The ten Regional Educational Laboratories (RELs) serve the education needs of designated regions, using applied research, development, dissemination, and training and technical assistance, to bring the latest and best research and proven practices into school improvement efforts.
Graphic Organizers. Freeology - Free School Stuff. AT&T Knowledge Network Explorer. Frequently Asked QuestionsWhat about that crazy name?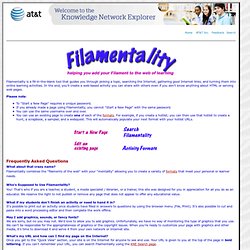 Filamentality combines the "filaments of the web" with your "mentality" allowing you to create a variety of formats that meet your personal or learner needs. Who's Supposed to Use Filamentality? Lesson Plans for K-12 Teachers. Special Education Forms. Top 10 Intellectual Rappers. Music Despite being in the mainstream consciousness for over twenty years now, Hip-Hop is still largely thought to consist solely of idiotic, crude and often pointlessly violent lyrics that debase and malign the English language.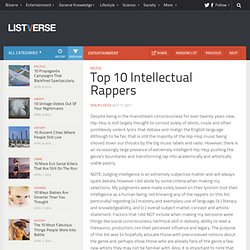 Although to be fair, that is still the majority of the Hip-Hop music being shoved down our throats by the big music labels and radio. However, there is an increasingly large presence of extremely intelligent Hip-Hop pushing the genre's boundaries and transforming rap into academically and artistically viable poetry. NOTE: Judging intelligence is an extremely subjective matter and will always spark debate, however I did abide by some criteria when making my selections. Mental_floss Blog & The Quick 10: Stories Behind 10 Dr. Seuss Stories. On this day in 1991, the world lost a classic writer and artist "" Dr.
Seuss (AKA Theodor Geisel). I know the _floss has done stories on Dr. Seuss before, so I thought we'd go a little bit different route today "" the stories behind his stories. 1. 10 Myths About Immigration. Printer-friendly version Myths about immigration and immigrants are common.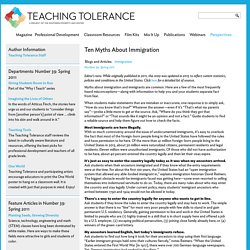 Here are a few of the most frequently heard misconceptions along with information to help you and your students separate fact from fear. When students make statements that are mistaken or inaccurate, one response is to simply ask, "How do you know that's true?" Whatever the answer—even if it's "That's what my parents say"—probe a little more to get at the source. Ingredients. RACE - Are We So Different? :: A Project of the American Anthropological Association. SMARTBoards in Special Education Classrooms. Advantages of SMARTBoards in Special Education Classrooms SMARTBoards support inclusive classrooms by offering students many ways to learn information, express ideas, and demonstrate understanding.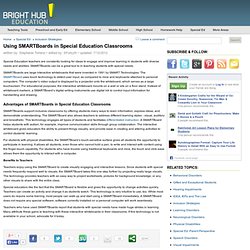 The SMARTBoard also allows teachers to address different learning styles - visual, auditory and kinesthetic. Lesson plans for students and educators. Common Core Implementation Kit enables the creation of a Common Core State Standards aligned lesson plan with a few easy clicks.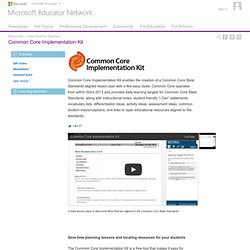 Common Core operates from within Word 2013 and provides daily learning targets for Common Core State Standards, along with instructional notes, student friendly "I Can" statements, vocabulary lists, differentiation ideas, activity ideas, assessment ideas, common student misconceptions, and links to open educational resources aligned to the standards. Save time planning lessons and locating resources for your students The Common Core Implementation Kit is a free tool that makes it easy for teachers to create Language Arts and Math lesson plans aligned to the Common Core State Standards all from within Microsoft Word 2013. Common Core consists of a series of course-specific Microsoft Word templates that access Common Core information through a Microsoft Office Task Pane that is displayed next to the lesson plan document.
Assistive Technology. Office of Special EducationThis resource from the University of Virginia offers lots of links to valuable information and resources for parents, teachers, and administrators.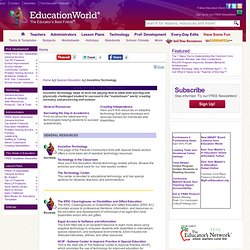 You'll find a page here containing sites on developing accessible Web sites. Adaptive Technology Resources Dedicated to assisting indivuals who are blind or visually impaired in regaining independence and providing a better way to look at life! IBM Special Needs Systemsprovides a list of products and software to help people who have special needs access and use technology. Captioned Media ProgramThe Captioned Media Program (CMP) provides free-loan captioned videos and other media to parents, teachers and others who work with children with a hearing loss. Autism Store, PECS, Autism Books, Autism Video, ABLLS, Autistic Resources | Different Roads to Learning. Thousands of Free Lesson Plans and Educational Resources for Teachers | Verizon Thinkfinity.org. Curriculumbits : Free Online Interactive Whiteboard Teaching Resources for all Subject Areas.
On Special Education. Assistive Technology for Special-Education Students. Special Education and Disability Rights Blog. Special Education Today. Smartboards & Special Education. Things that go together: peanut butter and jellypopcorn & moviesJedi & Lightsabers (my geek is coming out)SMART Boards & Special Education Maybe this last one isn't much of a stretch for you, I know it isn't for me.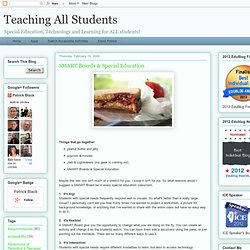 So what reasons would I suggest a SMART Board be in every special education classroom. 1. It's big! The Best of the Web, For Kids. Assistive Technologies for Special Education. 9 insightful videos about using SMART Boards in the Classroom. The 2nd post in a series focused on learning about Interactive Whiteboards in the Classroom. Last week we kicked off this series by learning the basics about what an interactive whiteboard is, and researched which brands are the most popular today. After discovering that the SMART Board brand from Smart Technologies controls more of the marketplace than all of the other brands combined, we then started looking into the different types of SMART Boards and their features and functionality. Today we move that effort forward by providing a number of videos that help us better understand how these devices work and what we can do with them in the classroom.
I combed through the many videos about SMART Boards available on YouTube, viewed dozens of them, and selected and organized the videos below to provide a good overview of how these systems can be used in the classroom, and how they are set up and configured. Home. Braineos | Flash card quizzes to make your brain happy! Teachers: Teaching resources from the BBC. Idea Partnership. Interactive Whiteboard. Special Education Law Blog. Advocacy, Education & Empowerment | Genetic Alliance.
MT_AssistiveTechGuide_378K. Classroom resources.
---