Crafts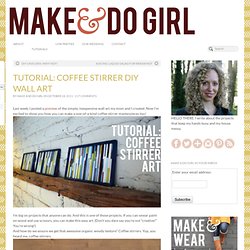 Last week, I posted a preview of the simple, inexpensive wall art my mom and I created. Now I'm excited to show you how you can make a one-of-a-kind coffee stirrer masterpieces too! I'm big on projects that anyone can do. And this is one of those projects. If you can smear paint on wood and use scissors, you can make this easy art.
The old becomes new: A new variation on the outdoor lantern. We have had an unusually warm winter in Michigan this year, and while the temps have been nice, I have had to hold off on this project idea until we got a cold snap. We finally got some snow and cold earlier this week, so I was able to try out this fun winter project.
mad in crafts: DIY Fire & Ice Lanterns - StumbleUpon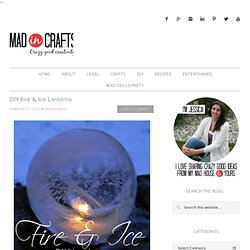 Astonishing Paper Illustration by Yulia Brodskaya
Yulia Brodskaya was born in Russia (Moscow); prior to moving to the UK in 2004 she was interested in diverse creative practices ranging from Textile Painting, Origami and Collage to more traditional Fine Art practices. Following an MA in Graphic Communication (2006, University of Hertfordshire) she continued to experiment and explore ways of bringing together all the things she likes most: typography, paper, and highly detailed hand-made craft objects. She has swiftly earned an international reputation for her innovative paper illustrations and continues to create beautifully detailed paper designs for clients all around the world.
Yulia Brodskaya : About me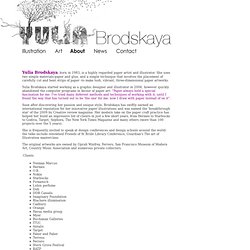 http://www.stormchaser.ca/Media/American_Lifestyle_Mag_July_2010.pdf
How To Make A Stylish Photo Frame For Several Photos | Shelterness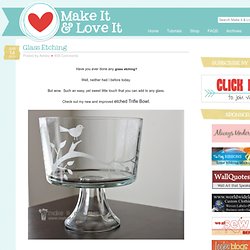 Have you ever done any glass etching? Well, neither had I before today. But wow. Such an easy, yet sweet little touch that you can add to any glass. Check out my new and improved etched Trifle Bowl.
Home PomPom Pillow from Living with Punks. Dip-Dye Lamp and Pillow from Design Sponge. Simple Pillowcases from Made. Lazy Daisy Pillowcases from The Long Thread. Felt Flower Pillows from The Purl Bee.