Food
Charlotte Chantilly | JC100 – Week 9. Well… Looks like I have been forced to bake again for this weeks Julia Child recipe.
This time it's the Charlotte Chantilly with strawberries, a wonderfully creamy dessert encased in delicious homemade ladyfingers. As was mentioned on my previous baking effort, which happened to be my first for the blog, I had earned myself a 100% track record by successfully baking the Reine De Saba. Now maybe my confidence was a little too high this time around, as I successfully completed the difficult part (though not very), of baking the lady fingers, I felt like I was on track for another success… Well folks, I was then graced by my very first minor baking disaster!
Recipe Software. Big Oven Recipe Software will:Manage your recipes, menus & create your grocery shopping lists!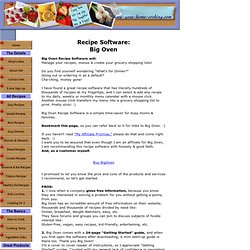 Do you find yourself wondering "What's for Dinner? "Going out or ordering in as a default? Color and Spices: Mango fruit leather... 'amsotto' 'Amsotto' is a word very close to every Bengali's heart.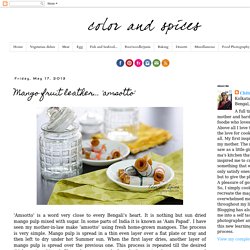 It is nothing but sun dried mango pulp mixed with sugar. In some parts of India it is known as 'Aam Papad'. I have seen my mother-in-law make 'amsotto' using fresh home-grown mangoes. Magdelyn al día * :): Seso Vegetal (Blighia Sapida) en Sánchez Ramírez, (akee) En el camino hacia sierra prieta detuvimos el vehículo para observar un árbol que no habíamos visto antes...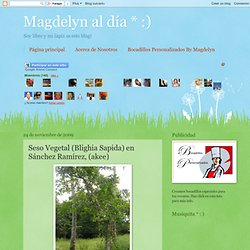 Nuestro guia nos dijo que se trataba de una planta que los lugareños le llamaban "Seso"... Y que su fruto se cocinaba junto con la carne de pollo... La fruta me pareció bastante extraña por lo que decidí investigar un poco más sobre ella. El seso como se le llama comúnmente en el país, es una planta perteneciente a la familia de la Sapindácea, su nombre científico es BlighiaSapida y es originaria de Costa de Marfil en África. Según la webNaturalstandard.com.
Okashi
Search Results. Pastry. Mercado Calabajío: LA NARANJA MAS SANGUINARIA, NARANJA SANGUINA. Hola a todos.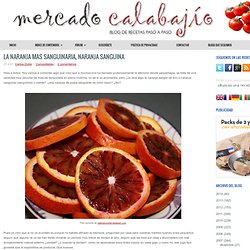 Hoy vamos a comentar algo que creo que a muchos nos ha llamado poderosamente la atención desde pequeñajos, se trata de una variedad muy peculiar de fruta de temporada en pleno invierno, no sé si os acordaréis, pero ¿os dice algo la naranja sangre de toro o naranja sanguina (sanguínea) o injerta? , ¿esa naranja de pulpa sangrante de color rojizo? ¿No?. 2013 Best Culinary Books Free Download.
James Peterson trained as a chef in France, and the Sauces Classical And Contemporary Sauce Making 3rd Edition book offers a thorough grounding in the art of classical French sauce making, from velouté, béchamel, and demi-glace to hollandaise, mayonnaise, and crème anglaise.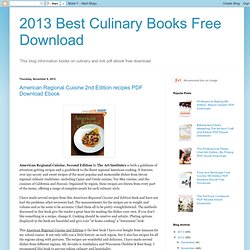 But Peterson also presents a wide variety of lighter contemporary sauces—including pan sauces, purées, and vinaigrettes—as well as sauces from around the world, including salsas, pasta sauces, and Asian-style dipping and curry sauces. Best of all, he includes recipes not just for sauces, but for finished dishes. These recipes give Sauces a broader scope, showing how good cooking and sauce making are intimately related—and demonstrating how a correctly prepared sauce can transform a well-cooked dish into something truly sublime.
Now, with this new Sauces Classical And Contemporary Sauce Making 3rd Edition, Peterson has thoroughly revised and expanded Sauces to make it even more indispensable. Crema di limoncello (di mia madre) 6 limoni non trattati 1/2 litro di alcool 1 litro di latte intero 1 kg di zucchero 1 bustina di vanillinaProcedimento: macerare la buccia dei limoni per almeno 48 h (solo la parte gialla mi raccomando!)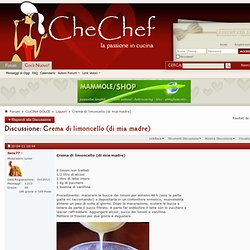 E depositarla in un contenitore ermetico, muovendola almeno un paio di volte al giorno. Dopo la macerazione, scolare le bucce e tenere da parte il succo filtrato. A parte far sobbollire il latte con lo zucchero e lasciar raffreddare. Aggiungere alcool, succo dei limoni e vanillina. Profitterols al CAPPUCCINO. Non chiedetemi da dove arrivano..dal mio cervello e dai miei pasticci Sono stati un successo Crema al cappuccino Ingredienti:Parte della mokababe rimasta250 gr di mascarpone250 gr di panna100 gr di zucchero a veloPasta choux ( bignè) Ingredienti: 250 gr di acqua200 gr di farina150 gr di burro5 uova extra grandi o 6 piccoleun pizzico di saleun pizzico di zucchero Mokababe - Crema al caffè ingredienti: 500 ml di caffè250 gr di margarina200 gr di zucchero75 gr di amido.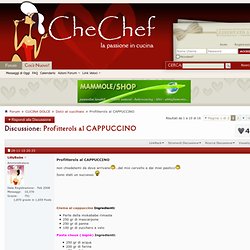 Danubio alla nutella. Lingue di gatto. INGREDIENTI: 4 albumi 100 g burro 100 g zucchero velo 100 g farina bianca 1 bustina vanillinaPREPARAZIONE: Montare gli albumi a neve ben ferma.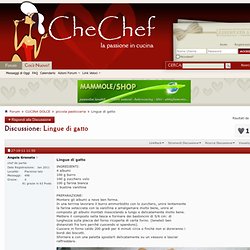 In una terrina lavorare il burro ammorbidito con lo zucchero, unire lentamente la farina setacciata con la vanillina e amalgamare molto bene, unire al composto gli albumi montati mescolando a lungo e delicatamente molto bene. Mettere il composto nella tasca e formare dei bastoncini di 5/6 cm: di lunghezza sulla placca del forno ricoperta di carta forno. Cestini al fondente con crema di ricotta al cocco. PREMETTO CHE ME LO SONO INVENTATO ma il commento di un'ospite che non ama i dolci è stato: "Lilly, io non amo i dolci, ma questo è più buono dei pasticcini che ho comprato in pasticceria...è buonissimo"- 200 gr di cioccolato fondente - 250 gr di ricotta FRESCA - mezzo bicchiere di cocco disidratato - chip di banane essiccate - zucchero quanto basta.Allora per prima cosa prendo delle formine di alluminio e le rivesto di pellicola Sciolgo il cioccolato a bagnomariaPrendo un sacchetto usa e getta epr sac a poche e taglio la punta e poi infilo il beccuccio.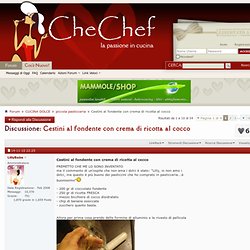 Crema di mandarino. 1,700 Kg di zucchero 1 bustina di vanillina 2 litri di latte intero 1 litro di alcool puro 15 mandarini non trattatiCon un pelapatate e molta pazienza,sbucciare i mandarini facendo attenzione a non prendere la parte bianca.Mettere a macerare le bucce dei mandarini nell'alcool x 15 giorni.Passati i 15 giorni,filtrare.Unire in una pentola capiente,il latte e lo zucchero.Porre sul fuoco basso,e cuocere x 15' da quando inizia a bollire,mescolando continuamente.Quando è freddo,unire la vanillina e l'alcool,imbottigliare e porre in freezer.E' pronto dopo poche ore e vi garantisco è squisito.
Three cheese spaghetti. Photography: Joshua Dasey By Suzanne Gibbs and Lucy Nunes Ingredients 500g spaghetti1 ¼ cups (250g) ricotta45g unsalted butter, at room temperaturepinch cayenne pepper90g blue cheese, cut into cubes½cup (40g) grated pecorino or parmesan Preparation method. Mon Petit Plaisir à Moi « At Down Under. It's not the first time I go to the supermarket and then I'm puzzled in front of an empty shelf where the rice is supposed to be stocked. I can read instead a little note to apologize for the rice shortage. That's a global issue, I know… The problem is instinctively, next time I'll buy a lot when it will be available and make this way, my own stock.
I feel that's not the right behaviour, so I try now as much as I can not to throw away leftover rice. Then, the question is what should I do with it ? Bizcocho especiado de calabaza con cobertura cremosa de queso | Rico Sin Azúcar. Cuando se trata de recetas con calabaza, no hay nada como los blogs anglosajones. De mano de "An Edible Mosaic" os traigo lo que probablemente sea el bizcocho más jugoso y sabroso que he probado nunca. Tiene un delicioso sabor a canela, jengibre y clavo (3 especias que combinan a la perfección juntas), una miga húmeda y esponjosa y una cobertura de queso que se deshace en la boca: Bizcocho especiado de calabaza con cobertura cremosa de queso Este bizcocho lo hice dos veces (en moldes individuales pequeños y en un molde grande) y en una de las versiones añadí una cucharadita de ajonjolí (semillas de sésamo) También podéis añadir algunos frutos secos troceados, aunque a mí personalmente me encanta cómo sabe la masa así sola.
Orange streusel crumbled-top pound cake. Oops! Google Chrome could not connect to maestrohorchatero.com. El postre de hoy sorprenderá a mas de uno…vamos con unas croquetas dulces de horchata y mango. El contraste de sabores es fabuloso Ingredientes 500 g de horchata Maestro Horchatero 80 g de mantequilla 3 cucharadas soperas colmadas de harina ½ mango hermoso en trocitos 1 huevo Pan rallado Elaboración 1.
No está disponible. How To Wear Your Mother's Apron Blog. פיית העוגיות. Vanilla Vodka Chai Tea. Sea Glass Candy.
No está disponible. No está disponible. Raspberry stuffed french toast. Making of The Golden Phoenix. No está disponible. Oreo Stuffed Bundt Cake. Teh tarik and giveaway results! THOMMYSBLOG.MYSHUGARLIPS.COM. Go Cook Yourself. Consultorio gastronómico de Chefuri (II) Blini – Traditional Russian Pancakes | Atebites. Sal de enebro. Menus | Eleven City Diner. S'mores Candy Bars. Lollipops & Sugar Science Ramblings. Fudge. Happy Feet - Layered Mango Mousse with Saffron and Cardamom.
Red, White and Blue Layered Flag Cake Recipe from Betty Crocker. Raw Food Flowers. Top Chef Just Desserts Season 1 - Eric Wolitzky's Crispy Bar. Horchata de Chufa | LondonEats. Ladro. How about that, a Cat in the Hat! | Flickr: Intercambio de fotos. Ken's Creekside - Sedona, AZ. Fine Family Dining. Ken's Creekside. Custom Made Food Trucks, Catering Trailers, Carts, Vending, Concession, for sale USA & CANADA - FoodCartUSA.
The Kitchn | Inspiring cooks, nourishing homes. Cursos. Fruit Rollup Flower Cupcakes. Tenedores para bombones. Maple Bacon Cupcakes Recipe. Healthy Cupcake Frosting Recipes. Illinois Nut & Candy: Chocolate Tasting & Discount! | The Skinny Pig. Wedding Macarons Guide: Flavors, Usages and Presentations. Is Bacon Dead? Bride.ca | Market Guide: Wedding Cakes in Toronto. Chocolat Only - Actualités, spot dégustation, Excursion Gourmande : Chocolaterie Colas. Brick Pastry back in stock. Piñata cupcakes. Food. John-Charles Rochoux, Parisian Chocolatier. Rochoux's Hazelnut Praline Paste. Livres chocolat - Livres. Buttercream Frosting Recipe. FEED. El Gastronauta | Con el tiempo en los talones (MAKI-CEVICHE)
Mango-Tapioca Soup with Coconut Milk. Whisk: a food blog: Tuesdays with Dorie—Chocolate Cream Tart. Little Minion from Despicable Me Movie Cake, Cake Pops and a Whimsical Cake. S'more Bars.
---