Sculpture
651_65528_do-ho-suh.jpg (JPEG Image, 599x480 pixels) Amazing-Book-Art-Isaac-Salazar-2.jpg (JPEG Image, 620x741 pixels) - Scaled (87%) OMG These Geeky Banana Sculptures are Bananas! One man, 100,000 toothpicks, and 35 years: An incredible kinetic sculpture of San Francisco. Thirty five years ago I had yet to be born, but artist Scott Weaver had already begun work on this insanely complex kinetic sculpture, Rolling through the Bay, that he continues to modify and expand even today.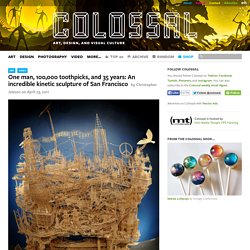 The elaborate sculpture is comprised of multiple "tours" that move pingpong balls through neighborhoods, historical locations, and iconic symbols of San Francisco, all recreated with a little glue, some toothpicks, and an incredible amount of ingenuity. He admits in the video that there are several toothpick sculptures even larger than his, but none has the unique kinetic components he's constructed. Via his website Weaver estimates he's spent over 3,000 hours on the project, and the toothpicks have been sourced from around the world: I have used different brands of toothpicks depending on what I am building. I also have many friends and family members that collect toothpicks in their travels for me. Still life: Bent objects. UPDATE: The Return of Bent Objects Wires transform these objects from inanimate to hilarious works of art.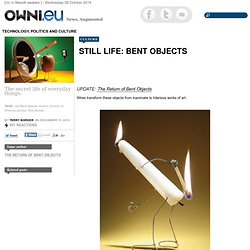 Little polish girl McDonalds as Sculpture Materials. Dissected Street Maps Transformed into Human Bodies. Discarded maps are given a new direction in the hands of artist Nikki Rosato.
"Two Bostons" All images used with permission, courtesy of Nikki Rosato . We might prefer it if our skin was smooth and wrinkle-proof, but Nikki Rosato celebrates the lines that mark us. In her work, the Boston-based artist, interested in portraiture and figurative work, draws parallels between the contours of our bodies and the lines on a map. Before I Die. What is important to you 2011 After Candy Chang lost someone she loved, she went through a long period of grief and depression.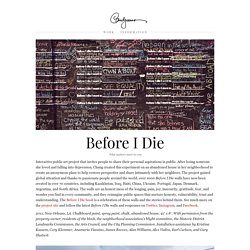 With time she felt gratitude for the time they had together and eventually she found clarity in her life by contemplating death so much. Mark Jenkins // Street Installations.
---