Innovation
Social #Innovation #Impact Update
Welcome to Forbes
New book out: The Wealth of Ideas - Joren De Wachter
My new book, "The Wealth of Ideas" is now published. Discover the book that explains Intellectual Property, and that explains how we need to change it in order to have more innovation and creativity in our society. Read why publishers refused to publish because they said: "I ask myself if I'd publish a book I intrinsically disagree with, and I answer no" – publisher 1 "We felt the book was a little too polemic … to work for us" – publisher 2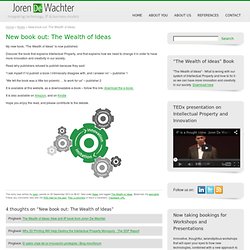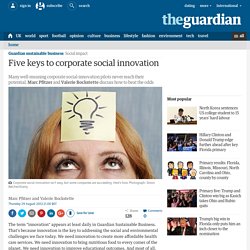 The term "innovation" appears at least daily in Guardian Sustainable Business. That's because innovation is the key to addressing the social and environmental challenges we face today. We need innovation to create more affordable health care services. We need innovation to bring nutritious food to every corner of the planet. We need innovation to improve educational outcomes.
Five keys to corporate social innovation | Guardian Sustainable Business
PROGRAM_HowPublicDesign_FINAL30_8
Social #Innovation #Impact Update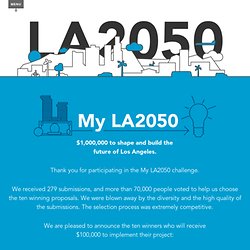 Thank you for participating in the My LA2050 challenge. We received 279 submissions, and more than 70,000 people voted to help us choose the ten winning proposals. We were blown away by the diversity and the high quality of the submissions. The selection process was extremely competitive.
My LA2050
Integrity by Design: Kate Michi Ettinger at TEDxBarcelonaChange
Where's My Private, Free, Open-Source Personal Web? ⚙ Co
When businesses buy software, they don't expect to take what's off the shelf. They get everything customized as they like, open to tweak and update, and with their own privacy and data kept under lock and key. But in the consumer world of free software, browsers, and apps, you get what you pay for--terms of service are totally dictated by the company. The exception is in open-source alternatives, like WordPress for blogging and Firefox for browsing. There the communities of users and creators have the freedom to control their own domains, and collaborate to improve, customize, and update the product.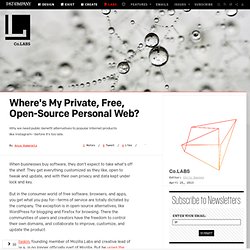 Step Aside Sir Humphrey: 10 Characteristics of Transformative Innovation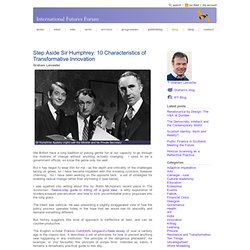 Graham Leicester We British have a long tradition of poking gentle fun at our capacity to go through the motions of change without anything actually changing. I used to be a government official, so know the genre only too well. But it has begun to wear thin for me - as the depth and criticality of the challenges facing us grows, so I have become impatient with this knowing cynicism, however charming.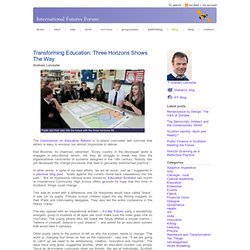 Graham Leicester The Commission on Education Reform in Scotland concluded last summer that reform is easy to envision but almost impossible to deliver. Keir Bloomer, its chairman, lamented: "Every country in the developed world is engaged in educational reform. Yet they all struggle to break free from the organisational constraints of systems designed in the 19th century. Nobody has yet developed the change processes that lead to genuinely transformed practice." In other words, in spite of our best efforts, we are all stuck.
Transforming Education: Three Horizons Shows The Way
Grand Challenges Canada | publications
Why Innovation Matters In Politics And The Public Sector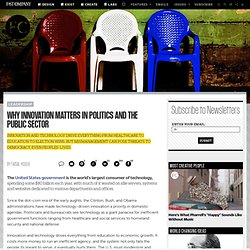 The United States government is the world's largest consumer of technology, spending some $80 billion each year, with much of it wasted on idle servers, systems and websites dedicated to various departments and offices. Since the dot-com era of the early aughts, the Clinton, Bush, and Obama administrations have made technology-driven innovation a priority in domestic agendas. Politicians and bureaucrats see technology as a giant panacea for inefficient government functions ranging from healthcare and social services to homeland security and national defense. Innovation and technology drives everything from education to economic growth.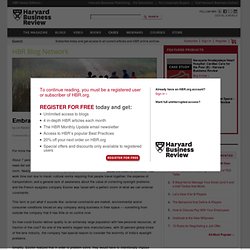 by Uri Neren | 10:00 AM September 28, 2012 For more than half of India's citizens, seeing was a problem. About 7 percent of the population wore eyeglasses in 2002, while a whopping 65 percent of those in need did not have them. But for an average worker living in rural India, earning $1 a day was the norm.
Embrace Your Constraints to Create New Markets - Uri Neren
This is What Intrinsic Motivation Looks Like
"This is a highly prestigious prize to win and we are extremely proud," says Anna Haupt. For a designer, winning the Index: Award is like winning the Nobel Prize. The awards focus on design to improve life and are presented every other year in five categories, with a total value of EUR 500,000. This year's five winners were selected from almost 1,000 nominees by an international jury of leading designers, innovators, entrepreneurs and academics from around the world. The other winners came from Chile, India, Korea and USA/Mexico
Hövding - Den osynliga cykelhjälmen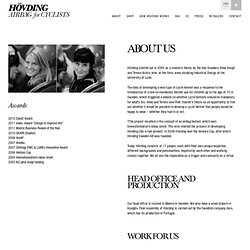 Seven innovation lessons from the moon
Inspired #Innovation
Much like creative individuals, who often experience bursts of inspiration, many companies' innovation efforts follow an uneven, erratic pattern. You have probably been part of such an innovation effort yourself. The company's leaders announce a major innovation initiative, many managers are involved, a few agency partners are invited, the brainstorming sessions produce many promising ideas but after a couple of glitzy presentations the enthusiasm cools off. Before long everyone is back attending to the issues of the core business and, out of the pile of new ideas, only a couple squeeze through into the development stage. What makes the enthusiasm about new ideas so difficult to sustain?
What Kills New Ideas in Your Company – And How You Can Increase Their Survival Rate | CloverView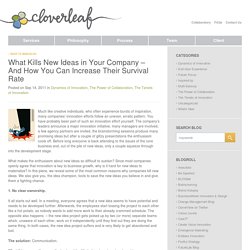 Phnom Penh Lab Blog: Creating Tools that Locals Can Shape
Since most of our work is in low resource settings, most of the people who use our technologies have very little education. We call these people "low level users". Even though these users have little to no education, we still find that using technologies to help them share information is incredibly helpful. The most important thing to remember when designing tools for them is to build on the skills and resources that they are already familiar with.In order to create tools that are useful, they must be context appropriate. Here's our process: First Step: User Evaluation
Twitter
Business Lessons From A Baby Elephant
Vijay Govindarajan is the co-author, with Chris Trimble, of Reverse Innovation: Create Far From Home, Win Everywhere, which hits bookshelves on April 10. A professor at the Tuck School of Business at Dartmouth University, Govindarajan chatted with Fast Company about $2,000 heart surgery, elephant prostheses, and the need for American businesses to, in essence, study abroad. What's "reverse innovation"?
Transforming scarcity into opportunity through the gutsy art of improvising an ingenious solution.
Jugaad Innovation: Think Frugal, Be Flexible, Generate Breakthrough Growth
Graham Leicester Award-winning poet, writer and musician Don Paterson was our guest at Ramsay Garden this month.
Post-Creative Scotland
Transforming Healthcare for the 21st Century: Innovations from the Ground Up « « Skoll World Forum
We live in an age where climate change, water scarcity, chemical exposures, population displacement, economic instability, and other challenges are impacting the health of everyone on the planet. This is an age when the health conditions of billions of people are determined by environmental and economic conditions beyond their individual control.
Innovation Comes from the Edges « « Skoll World Forum
How Can Large Corporations Incorporate Social Innovation?
McCaffrey_SAC_3k
SenseCamp @ Impakt Berlin · MikeMompi
Social Innovators Collective - ordinary people doing extraordinary things
ZIP Innovations - Overview
DiscoveryCast Ideation - Driving Innovation
iDea is a novel early stage funding concept
Insight Labs