Recipes
Food Granted, many of these recipes are not seen as "unusual" in their home towns, but to the average Westerner, there is something awful about each and every one. Having said that, who are we to judge without trying? I just don't want to go first! If you have had experience eating any of these dishes, please tell us about it in the comments. Caterpillar Pretzels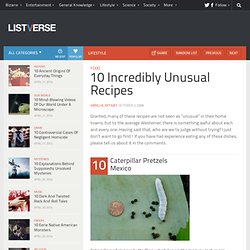 10 Incredibly Unusual Recipes
19 Pretty Things To Make With Edible Flowers
Biological Perspectives on Friendship Bread If you think about it, "friendship" recipes (possibly including sourdough bread ) are actually very bizarre hybrid biological / memetic symbiotes , which use their biological qualities ( ferment ing fungal culture ) to provide a benefit ( cake ) to the host organism (us) which results in the genetic (the culture) and memetic (the recipe) components of the "organism" being spread to new hosts (our friends). The parallels are not perfect.
Amish Friendship Bread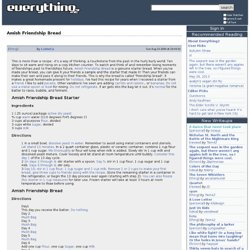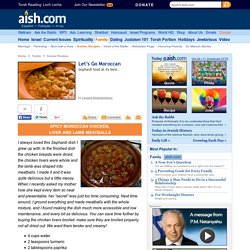 Spicy Moroccan Chicken, Liver and Lamb Meatballs I always loved this Sephardi dish I grew up with: In the finished dish the chicken breasts were diced, the chicken livers were whole and the lamb was shaped into meatballs. I made it and it was quite delicious but a little messy. When I recently asked my mother how she kept every item so neat and presentable, her "secret" was just too time consuming. Next time around, I ground everything and made meatballs with the whole mixture, and I found making the dish much more accessible and low maintenance, and every bit as delicious . You can save time further by buying the chicken livers broiled: make sure they are broiled properly, not all dried out: We want them tender and creamy!
Let's Go Moroccan
Absolutely Amazing Aromas: How to Extract Oil Essence at Home - Knoworthy
If you've ever used essential oils for their therapeutic benefits, you're well aware of the amazing effects they can have on you. From calming your nerves, to lifting your spirits, to even putting you in a frisky mood–these aromatic liquids contain properties that can work wonders. But as breathtaking as essential oils are, have you ever tried absolute oils ? Used for fragrances and aromatherapy, absolutes are similar to essential oils but are usually more concentrated and aromatic. If you haven't tried your hand at these scented wonders, it's time you give your nose something to feel happy about. Better yet, you can try making a few at home to make the experience all the more rewarding (and fun!).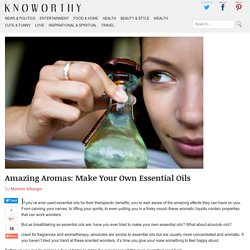 Gluten Free Chocolate Chip Peanut Butter Cups recipe from Pillsbury
Tastes Like Spring — A recipe for Scallion Pancakes | Andrea's Buzzing About:
"What are they?" asked my son en passant. "Scallion pancakes; they're a kind of fry bread." "Can't go wrong with fry bread!"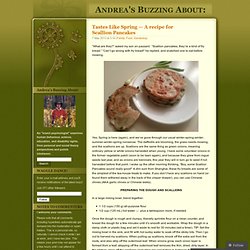 How to Brew The Perfect Pot of Herbal Tea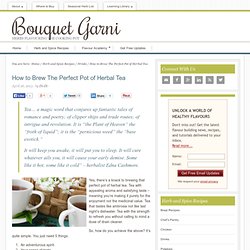 Tea… a magic word that conjures up fantastic tales of romance and poetry; of clipper ships and trade routes; of intrigue and revolution. It is "the Plant of Heaven" the "froth of liquid"; it is the "pernicious weed" the "base exotick."It will keep you awake, it will put you to sleep. It will cure whatever ails you, it will cause your early demise. Some like it hot, some like it cold" – herbalist Edna Cashmore. Yes, there's a knack to brewing that perfect pot of herbal tea.
The Best Way to Handle the Coming Cicada Invasion? Heat Up the Deep Fryer | Food & Think
1. Take an 8x8 pan and line with greased foil, set aside.Place the grape juice, fruit pectin, and baking soda in a large, heavy saucepan. Heat on medium low heat until the mixture begins to boil.
Grape Gumdrops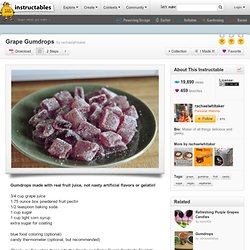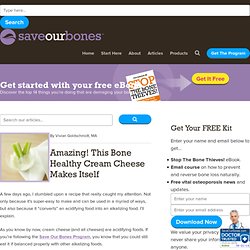 Amazing! This Bone Healthy Cream Cheese Makes Itself
A few days ago, I stumbled upon a recipe that really caught my attention. Not only because it's super-easy to make and can be used in a myriad of ways, but also because it "converts" an acidifying food into an alkalizing food. I'll explain. As you know by now, cream cheese (and all cheeses) are acidifying foods.
Nigella Lawson's Eggs in Purgatory
One of the superfoods of the Paleo/Primal diets is the bone broth. Drinking it as-is, or cooking stews with it will provide the individual with a lot of minerals and other nutritional advantages: from calcium, to phosphorus, and collagen and Magnesium. Mark Sisson has a great article about the how and whys of bone marrow broths. However, I have a little known secret about how to get a good bone broth, at a fraction of the price of grass-fed beef bones.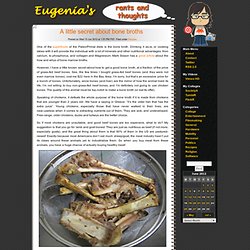 A little secret about bone broths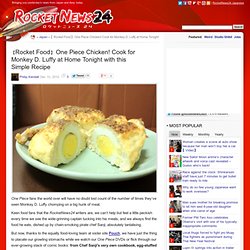 One Piece fans the world over will have no doubt lost count of the number of times they've seen Monkey D. Luffy chomping on a big hunk of meat. Keen food fans that the RocketNews24 writers are, we can't help but feel a little peckish every time we see the wide-grinning captain tucking into his meals, and we always find the food he eats, dished up by chain-smoking pirate chef Sanji, absolutely tantalising. But now, thanks to the equally food-loving team at sister site Pouch, we have just the thing to placate our growling stomachs while we watch our One Piece DVDs or flick through our ever-growing stack of comic books: from Chef Sanji's very own cookbook, egg-stuffed chicken! It's simple, nutritious and boy is it tasty. Full ingredients and recipe all after the jump >
【Rocket Food】 One Piece Chicken! Cook for Monkey D. Luffy at Home Tonight with this Simple Recipe
Sandwich constructor « Later On
survivalists often fall into the trap and stereotype of being so rugged that they view rough, calloused hands as a trademark of preparedness and forget that their skin is the first line of protection against all sorts of ailments. This protection falls short if the skin is not kept in good shape. While our ancestors used a variety of oils and greases to keep their skin healthy, most of us think of lotion as a luxury that you can only get from the salon or a store. But the truth is you can and should create your own lotions… its actually quite easy and really fun!
DIY Lotions - Survival Life
Orange Mousse in Phyllo Baskets with Citrus Punchsietta - Chic Made Simple
My kitchen houses many of the books in my cookbook collection. On the second-to-lowest shelf is one of my many Martha Stewart Living cookbooks, with a photo of Martha on the spine. When my daughter was a baby, she used to point to the photo and exclaim, "Look, that's Bubby!"
My Kosher Pop-Up Dinner Club by Ariel Pollock
One chef's adventure bringing exciting, experimental kosher cooking to Chicago Read More By Ariel Pollock / December 17, 2012 The clock suddenly read 7:25 p.m. and every burner on the stove was going full blast.
The Prairie Oyster(TwinCocktails) If your head happens to be stinging the morning after an awesome Hanukkah party (like this morning perhaps), may I humbly recommend a Kosher Prairie Oyster, which is my variation of the original famous hangover cure. The exact origin of the drink is tough to track although it made appearances in David O. Selznick's A Star Is Born, the Bond flick Thunderball, and Capra's Mr.
The Kosher Prairie Oyster: The Ultimate Post-Hanukkah Party Hangover Cure
PEMMICAN
Chanukah Corn Latkes
Easy Jelly Doughnuts (Dairy) - Doughnuts - Sufganiyot
Sufganiyot - Doughnuts - Sufganiyot
Day-After-Thanksgiving Turkey Carcass Soup Recipe
Chanukah Recipe
Tea Bread
How to Make an All-Instant Thanksgiving Dinner | Wired Science
Not Your Bubbe's Recipe: Cuban Thanksgiving Turkey by Jessica Fisher
Constitution
In Her Hand
Remembering Hanoch Bar Shalom, the Chef Who Reinvented Israeli Cuisine
Tablet Magazine
How To Smoke a Cocktail
It's Time for Fall Foraging and Hunter's Moon Tea
Serious Eats: The Food Lab
At-home Activity