Patterns
Busy Monday: AccuQuilt GO! Modular Star Tutorial & Giveaway! Most Modular Stars I have seen are made out of glass, metal or paper.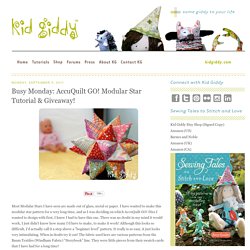 I have wanted to make this modular star pattern for a very long time, and as I was deciding on which AccuQuilt GO! Dies I wanted to design with first, I knew I had to have this one. There was no doubt in my mind it would work, I just didn't know how many I'd have to make, to make it work! Although this looks so difficult, I'd actually call it a step above a "beginner level" pattern.
It really is so easy, it just looks very intimidating. LIENS TRICOT - Mon petit coin de nature. Voici une liste de sites qui proposent des modèles de tricot gratuits.Ils ont été classés par ordre alphabétique, et la langue du site est indiquée, avec éventuellement un petit commentaire. j'ai trouvé celle liste sur le site tricotin il y a quelques années puis j'ai ajouter en fonction de mes découvertes.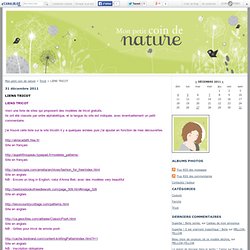 En français. Modèles gratuits. Les patrons gratuits, tricot & crochet - tout faire à son enfant. Les patrons tricot & crochet......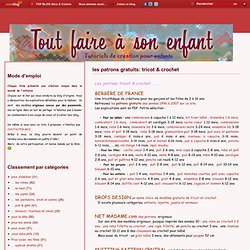 BERGERE DE FRANCE Une tricothèque de créations pour les garçons et les filles de 2 à 16 ans. Retrouvez les patrons gratuits des années 1996 à 2007 sur ce site. Picasa Albums Web - 晴天夏. Springtime Wreath. This is my design for a little Springtime Crocheted Wreath.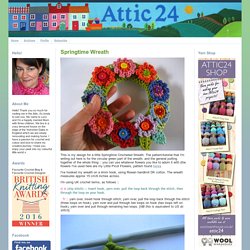 The pattern/tutorial that I'm writing out here is for the circular green part of the wreath, and the general putting together of the whole thing :: you can use whatever flowers you like to adorn it with (the flowers I've used here are my Little Picot Flowers, pattern found here). I've hooked my wreath on a 4mm hook, using Rowan handknit DK cotton. The wreath measures approx 15 cm/6 inches across. Crochet Hobo Bag. I saw this bag and it totally drove me crazy!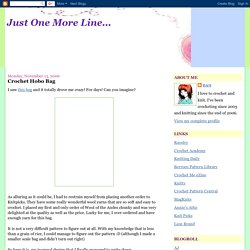 For days! Can you imagine? As alluring as it could be, I had to restrain myself from placing another order to Knitpicks. Revistas de crochet. Crochet Geek - Free Instructions and Patterns. Zélia Crochet. Modèles au crochet - Explications et schémas. La petite bordure dont je parle ici, se trouve sous forme de schéma, la voici en explications texte!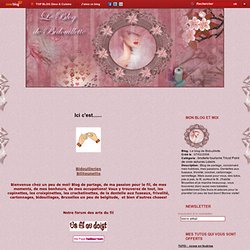 Rang 1 : Sur une base de mailles chaînette, pour un cadre multiple de 8 + 3 (quatre fois), faire un premier rang de ms. Fermer par une maille coulée Rang 2 : 4m en l'air, 2double brides coulées ensemble, dans la 4ième ms du rang précédent, 4m en l'air, 1double bride dans la maille finale des deux doubles brides coulées ensemble, 4m en l'air, 1double bride dans la quatrième maille à partir du crochet, 2 doubles brides coulées ensemble dans la maille où l'on a déjà fait deux doubles brides, 1 double bride dans la quatrième ms du rang précédent.
Faire ainsi tout le rang. Warm Yourself Handmade Knit & Crochet Designs by warmYourself. Warm Yourself: Handmade Knit, Crochet & Fabric Cozy Designs Bike Hand Warmers, Bike Gloves, Crochet Mittens, Cowls, Cozy Accessories Do you know how does it feel to be in constantly cold?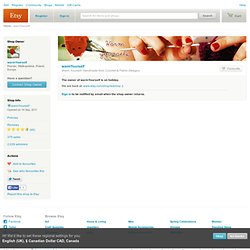 Do you find it difficult to stand the low temperatures? Our unique accessories will definitely help you to warm yourself during the whole cold season! :) Banner & avatar was created by Agnieszka: Knitting,örgü,modelleri,tığ,işi,tığişi,kışlık,kazak,bolero,örnekleri,crochet,kazaklar,şal,panço,hırka,çanta,şapka,bere,patik,yelek,tekniği,dergileri,nako,anchor,burda,linate,bolero,bikini,takı,kolye. Вязание. Вязание спицами и крючком. - Все-сама.ру. Bienvenue sur Tricotoogle. International | Free Project | Ashley Vest. Free Knitting Patterns. Looking for some free knitting patterns?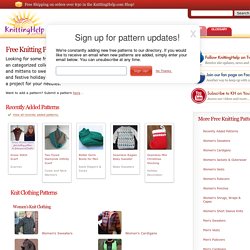 You've come to the right place. Here's an categorized collection of free patterns covering everything from hats, scarfs and mittens to sweaters, afghans, and pet toys. Browse through the pattern categories below and find a project for your needles. Want to add a pattern? Les patrons gratuits, tricot & crochet - tout faire à son enfant. Picasa Albums Web - 晴天夏. Index des châles, écharpes, étoles et fichus - Artisanat pour tous. Elann. Label/Patron%20gratuit | Résultats de recherche | Knit Spirit.
Patrons gratuits chez Knit Spirit TweetComme vous avez sans doute pu le remarquer, le site contient quelques patrons de tricot gratuits.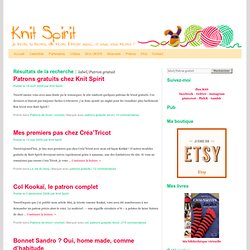 Ces derniers n'étaient pas toujours faciles à retrouver, j'ai donc ajouté un onglet pour les visualiser plus facilement. Bon tricot avec Knit Spirit ! Mes premiers pas chez Créa'Tricot. Patrons gratuits de pull : tricoter des pulls homme (2)
---