Dicos
Termes juridiques - Index français
Libraries Databases
Libraries Databases
Traduction eco-friendly - Dictionnaire Collins Anglais-Français
Multilingual Translation Portal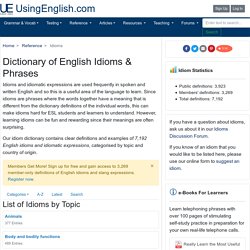 Use the navigation above to browse our A-Z of English idioms … An idiom is a phrase where the words together have a meaning that is different from the dictionary definitions of the individual words, which can make idioms hard for ESL students and learners to understand. Here, we provide a dictionary of 3,777 English idiomatic expressions with definitions. If you have a question about idioms, ask us about it in our Idioms Discussion Forum . If you know of an idiom that you would like to be listed here, please use our online form to suggest an idiom . Below are listed the latest 30 entries that have been added to our database of English idioms & idiomatic expressions.
Dictionnaire des noms de famille
Academie française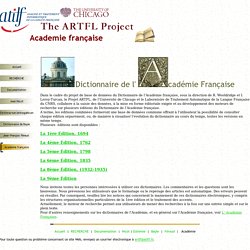 Dans le cadre du projet de base de données du Dictionnaire de l'Académie française, sous la direction de R. Wooldridge et I. Leroy-Turcan, le Projet ARTFL, de l'Université de Chicago et le Laboratoire de Traitement Automatique de la Langue Française du CNRS, collabore à la saisie des données, à la mise en forme éditoriale exigée et au développement des moteurs de recherche sur plusieurs éditions du Dictionnaire de l'Académie française. A terme, les éditions combinées formeront une base de données commune offrant à l'utilisateur la possibilité de consulter chaque édition séparément, ou, de manière à visualiser l'évolution du dictionnaire au cours du temps, toutes les versions en même temps.
Chambers | Free English Dictionary