WINDOWS 7
Buildbot/Talos/Machines. Software. FREE Great Programs for Windows 7. Microsoft currently has it's best designer working on Windows 7 addons :- Leaner Windows 7 Will Let You Add Features À la Carte It may be hard to believe that Microsoft is prepping a version of Windows without e-mail, calendar, and instant messaging apps.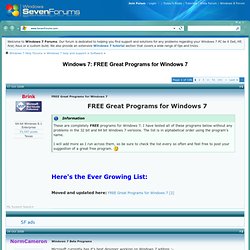 After all, some of those features have been bundled with Windows almost from the start; with Vista, the list got longer, including additions such as Windows Photo Gallery and Vista Parental Controls. But Microsoft officials say the plan for Windows 7 is to deliver a lean operating system that lets you add the features you like, choosing à la carte from a suite of Windows Live Essentials programs you download. Some applets are already available in beta form at download.live.com; more are expected to debut in mid-November.
Free Native 64-bit programs. Information This list is for native 64-bit applications.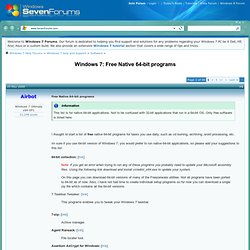 Not to be confused with 32-bit applications that run in a 64-bit OS. Windows Live team blog - Windows Live. Media Center. Attendee Resources :: Microsoft MIX10.
---