Writing Strategies
*Teaching Maddeness*: Writing Workshop Series: Post #1 Writers' Notebooks. Throughout the month of July I will be sharing a series of posts about Writing Workshop in my classroom.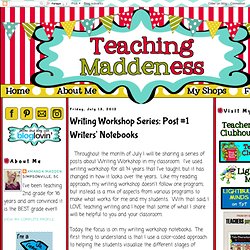 I've used writing workshop for all 14 years that I've taught, but it has changed in how it looks over the years. Like my reading approach, my writing workshop doesn't follow one program, but instead is a mix of aspects from various programs to make what works for me and my students. With that said, I LOVE teaching writing and I hope that some of what I share will be helpful to you and your classroom. Today, the focus is on my writing workshop notebooks. My StoryMaker : Carnegie Library of Pittsburgh. My Storymaker was named one of the Best Websites for Teaching and Learning by the American Association of School Librarians , a division of the American Library Association.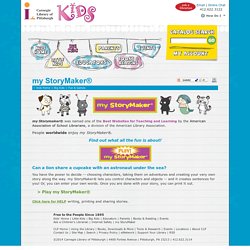 People worldwide enjoy my StoryMaker . Find out what all the fun is about! Can a lion share a cupcake with an astronaut under the sea? You have the power to decide -- choosing characters, taking them on adventures and creating your very own story along the way. my StoryMaker lets you control characters and objects -- and it creates sentences for you! Or, you can enter your own words. Story Starters. Writing Styles. Sentence Quest: Using Parts of Speech to Write Descriptive Sentences.
ReadWriteThink couldn't publish all of this great content without literacy experts to write and review for us.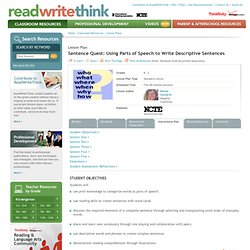 If you've got lessons plans, activities, or other ideas you'd like to contribute, we'd love to hear from you. More Find the latest in professional publications, learn new techniques and strategies, and find out how you can connect with other literacy professionals. More. Writing: Smooth Sentence Fluency -- Six Traits Assessments Sentence Structure. Smooth and Expressive Sentence Fluency Sometimes ya just gotta go with the flow — at least that's the situation most readers find themselves in.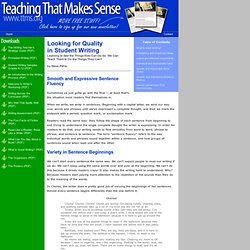 When we write, we write in sentences. Beginning with a capital letter, we wind our way over words and phrases until we've expressed a complete thought, and then we mark the endpoint with a period, question mark, or exclamation mark. Story maker. Writing (Words)