Jeff's blog
How to take your first tentative steps into the world of Web 2.0. We are pleased to announce that Internalcommshub.com is now part of Melcrum.com.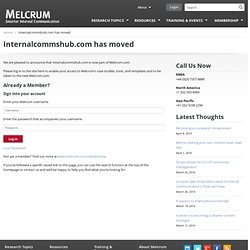 Please log in to the site here to enable your access to Melcrum's case studies, tools, and templates and to be taken to the new Melcrum.com. Not yet a member? Top 15 Social Media Channels Important For B2B Marketing [Survey. Social Media Marketing is often thought of as being mainly suited for B2C (Business To Consumer) marketing.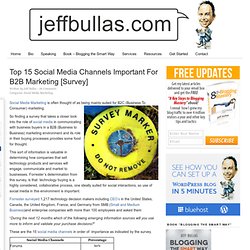 So finding a survey that takes a closer look into the role of social media in communicating with business buyers in a B2B (Business to Business) marketing environment and its role in their buying processes provides some food for thought. This sort of information is valuable in determining how companies that sell technology products and services will engage, communicate and market to businesses. Forrester's determination from this survey, is that technology buying is a highly considered, collaborative process, one ideally suited for social interactions, so use of social media in this environment is important.
Forrester surveyed 1,217 technology decision makers including CEO's in the United States, Canada, the United Kingdom, France, and Germany from SMB (Small and Medium Business)and enterprise companies with more than 100 employees and asked them. 12 Blogging Mistakes To Avoid « Jeffbullas's Blog. Blogging is a passion that can be very rewarding but on the other hand is also very frustrating from time to time and all bloggers would agree that its not for everyone.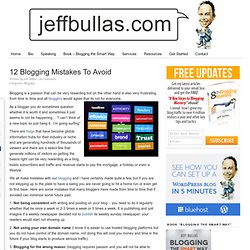 As a blogger you do sometimes question whether it is worth it and sometimes it just seems to not be happening… "I can't think of a new topic so just hang it.. I'm going surfing". There are blogs that have become global information hubs for their industry or niche and are generating hundreds of thousands of viewers and there are a select few that generate millions of visitors so getting the basics right can be very rewarding as a blog builds subscribers and traffic and revenue starts to pay the mortgage, a holiday or even a lifestyle. 22 Secrets Of Power Bloggers « Jeffbullas's Blog. I was watching Seth Godin who is one of the worlds top bloggers, being interviewed the other day on an online video.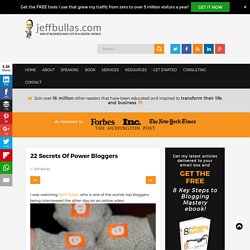 I had never seen him on video before or even seen a photo of him except for his blog photo which is a rather memorable partial image. What really intrigued me was that my first impression (which frankly is still embedded) was that he is the "Woody Allen" of social media both in manner, speech and great insight. In the interview he said that he doesn't participate on Facebook or Twitter as he didn't want to lose his focus and clarity that he brings to his blog which is his primary focus and he then went on to say "Most people are a wandering generality rather than a meaningful specific" which from my research is a quote from Zig Ziglar which he said, indicates that people who lack clarity about their life purpose weaken their effectiveness to a massive degree if they don't get clear and motivated about what they want most out of life.
---