Outils
Xero. EVAS. Tyze Personal Networks. Prix hédoniques. Methods, Section 3 Hedonic Pricing Method Overview The hedonic pricing method is used to estimate economic values for ecosystem or environmental services that directly affect market prices.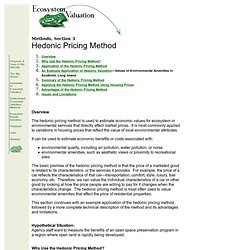 It is most commonly applied to variations in housing prices that reflect the value of local environmental attributes. It can be used to estimate economic benefits or costs associated with: environmental quality, including air pollution, water pollution, or noise environmental amenities, such as aesthetic views or proximity to recreational sites The basic premise of the hedonic pricing method is that the price of a marketed good is related to its characteristics, or the services it provides.
ACB. Un article de Wikipédia, l'encyclopédie libre.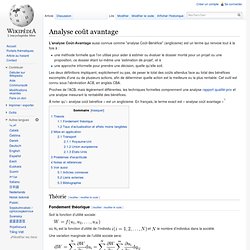 L'analyse Coût-Avantage aussi connue comme "analyse Coût-Bénéfice" (anglicisme) est un terme qui renvoie tout à la fois à : une méthode formelle que l'on utilise pour aider à estimer ou évaluer le dossier monté pour un projet ou une proposition, ce dossier étant lui-même une 'estimation de projet', et àune approche informelle pour prendre une décision, quelle qu'elle soit. Les deux définitions impliquent, explicitement ou pas, de peser le total des coûts attendus face au total des bénéfices escomptés d'une ou de plusieurs actions, afin de déterminer quelle action est la meilleure ou la plus rentable. Measuring Impact Framework. Understanding the business contribution to society In the spring of 2006, the WBCSD embarked on a two-year journey to develop a framework to assess the contribution of business to the economic and broader development goals in the societies where business operates.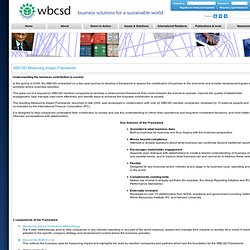 This grew out of a request by WBCSD member companies to develop a measurement framework that could underpin the license to operate, improve the quality of stakeholder engagement, help manage risks more effectively and identify ways to enhance the business contribution to society. BOP impact assessment. New York, NYApril 15-17, 2010 Citi Foundation388 Greenwich Avenue Register Now!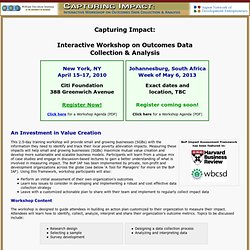 Click here for a Workshop Agenda (PDF) An Investment in Value Creation BoP Impact Assessment Frameworkhas been featured in: How Does the BoP Impact Assessment Framework Work? The Big Picture. Primary purpose Summary Potential benefits Who can use the tool?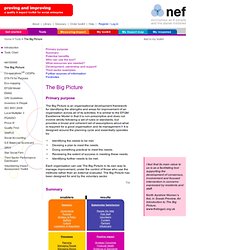 What resources are needed? Development, ownership and support Third sector examples Further sources of information Footnotes. Évaluation évolutive. PULSE. IRIS. TRASI (annuaire) Community Matters. Social Impact Tracker. SROI. Social e-valuator. Measuring Social Impact.
---