Data
Richard.cyganiak.de/2007/10/lod/lod-datasets_2011-09-19_colored.html. Les data en forme. Ta tête dans le flux... de data.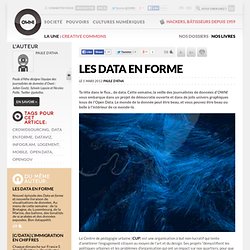 Cette semaine, la veille des journalistes de données d'OWNI vous embarque dans un projet de démocratie ouverte et dans de jolis univers graphiques issus de l'Open Data. Le monde de la donnée peut être beau, et vous pouvez être beau ou belle à l'intérieur de ce monde-là. Le Centre de pédagogie urbaine (CUP) est une organisation à but non-lucratif qui tente d'améliorer l'engagement citoyen au moyen de l'art et du design.
Ses projets "démystifient les politiques urbaines et les problèmes d'organisation qui ont un impact sur nos quartiers, pour que davantage d'individus puissent participer à leur modélisation". Livable Cities | Philips Meaningful Innovation. With two thirds of the world's population predicted to live in cities by 2050, keeping urban communities safe, secure and healthy is one of the most demanding challenges we face.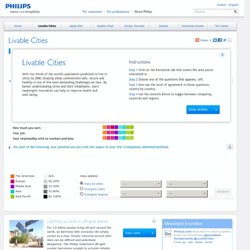 By better understanding cities and their inhabitants, more meaningful innovation can help to improve health and well–being. Step 1 Click on the horizontal tab that covers the area you're interested in. Step 2 Choose one of the questions that appears, left. Step 3 Now see the level of agreement to those questions, country by country. Step 4 Use the controls below to toggle between comparing countries and regions.
The Atlas of Economic Complexity. Cognitive Media. Information Is Beautiful. Commotion. LE MONDE | • Mis à jour le | Par Yves Eudes Un immeuble confortable et anonyme, au cœur de Washington, à quelques rues de la Maison Blanche.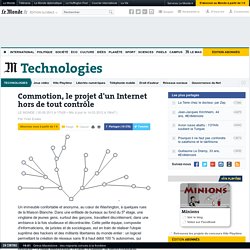 Dans une enfilade de bureaux au fond du 5e étage, une vingtaine de jeunes gens, surtout des garçons, travaillent discrètement, dans une ambiance à la fois studieuse et décontractée. Cette petite équipe, composée d'informaticiens, de juristes et de sociologues, est en train de réaliser l'utopie suprême des hackers et des militants libertaires du monde entier : un logiciel permettant la création de réseaux sans fil à haut débit 100 % autonomes, qui fonctionneront sur les fréquences Wi-Fi, sans s'appuyer sur aucune infrastructure existante – ni relais téléphonique, ni câble, ni satellite. Ils seront mouvants, horizontaux, entièrement décentralisés et échapperont à toute surveillance, car le trafic sera anonyme et crypté. An Open Source Approach to Medical Research.
An interview with Stephen Friend about using using open source to encourage collaboration and share health information.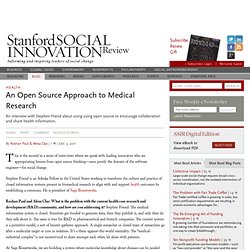 This is the second in a series of interviews where we speak with leading innovators who are appropriating lessons from open source thinking—once purely the domain of the software engineer—for social change. Stephen Friend is an Ashoka Fellow in the United States working to transform the culture and practice of closed information systems present in biomedical research to align with and support health outcomes by establishing a commons.
He is president of Sage Bionetworks. Roshan Paul and Alexa Clay: What is the problem with the current health care research and development (R&D) community, and how are you addressing it? Stephen Friend: The medical information system is closed.
---