Inspiration
Get flash to fully experience Pearltrees
Oh So Beautiful Paper blog A curated directory of wedding invitation designers <div><input type="submit" value="" /></div> <img width="200" height="250" src="http://ohsobeautifulpaper.com/wp-content/uploads/2013/02/OSBP_Aria-200x250.jpg" class="attachment-200x250 wp-post-image" alt="Aria Wedding Invitation" title="Aria Wedding Invitation" />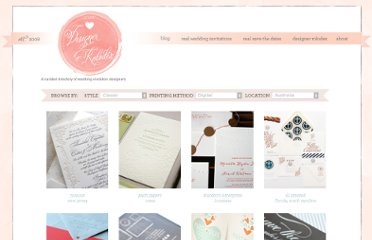 50 examples of logo design that cleverly use negative space in typography Logos are symbols used to quickly communicate a brand to an audience, just one small logo design can communicate so much. Many people choose to use letters and typography as the foundation for their logos. However, this can be tricky – you don't want your typographic logo confused as normal text. If you choose to use text as the basis of your logo, you've got to set it apart as an image. Typography is the art of the letterform and typographers closely analyze and carefully craft every detail of each character – even the negative space, called the counter.
Confessions of a Designer January 22nd, 2013 | Design | Modern Business Cards
Recently I wrote an article on resume/CV templates available for free, or to purchase, from all across the web.
We use colours to make our business cards unique. However, there are times when the absence of color can make our designs very elegant and pretty. The business cards featured in this entry are printed on paper stock using the printing process called letterpress. Letterpress printing is relief printing of text and image using a press with a "type-high bed" printing press and movable type, in which a reversed, raised surface is inked and then pressed into a sheet of paper to obtain a positive right-reading image.
27th October 2010, in Design Inspiration Presentation folders play an important role in marketing; they are used for document management and brand establishment. Therefore, businesses are always on the lookout for people who can create folder designs that will effectively sell their products and services. As a designer, you need more than the standard creativity to be able to create folder designs with unique competitive advantages. For a folder design to impress, it must be able to embody business processes while still having an aesthetic appeal.
Everything inside the design world is permanently changing, evolving and adapting into new ways of expression and communication looking to satisfy the new consuming needs and set innovative exchanging channels. 2010 made a huge closure for the final year of the first XXI century decade, we witnessed the rising of tablets (iPad, Samsung Galaxy Tablet among others), the demise of Internet Explorer 6 and the absurd fanaticism towards Flash (though it's losing a lot of fans), which is going to be slowly replaced by HTML5 (we're not saying that Flash is dead, only that HTML5 will begin to cover many of its current uses). Editorial disclaimer Of course that the common design elements such as typography, navigability, color and more have also changed and as you will see on this article, these changes must be apprehended by every designer that wants to set his mark during 2011.
Logo is a symbol or emblem commonly used by companies and individuals to aid and promote instant public recognition.
It's hard to beat a clever use of negative space in logo design. Here are 35 or so logos I enjoy that use white space well, along with the designers/agencies responsible. A.G.