Pastries
Baked Pumpkin Doughnuts with Maple-Cinnamon Glaze | I've been having a hard time switching over into fall mode.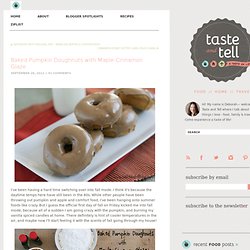 I think it's because the daytime temps here have still been in the 80s. While other people have been throwing out pumpkin and apple and comfort food, I've been hanging onto summer foods like crazy. But I guess the official first day of fall on Friday kicked me into fall mode, because all of a sudden I am going crazy with the pumpkin, and burning my vanilla spiced candles at home.
There definitely is hint of cooler temperatures in the air, and maybe now I'll start feeling it with the scents of fall going through my house! Up first in a line of many upcoming pumpkin recipes are these doughnuts. Churros Recipe. Baked Maple Cinnamon Donut holes. Apple Pie Egg Rolls : : Miss in the Kitchen. Apple Pie Egg Rolls I saw one of the Food Network stars making apple chimichangas and thought I had to have some for myself.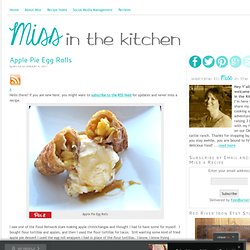 I bought flour tortillas and apples, and then I used the flour tortillas for tacos. Still wanting some kind of fried apple pie dessert I used the egg roll wrappers I had in place of the flour tortillas. I know, I know frying dessert just makes it more sinful, but these are totally delicious. Maybe they would be good baked, but not as good as fried. Melt In Your Mouth Doughnuts - Super Easy and GREAT For Beginners! Cinnamon Sugar Doughnuts Made With Canned Biscuits Look at that photo.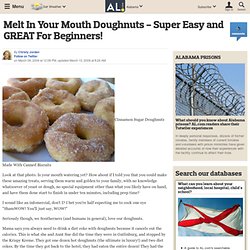 Is your mouth watering yet? How about if I told you that you could make these amazing treats, serving them warm and golden to your family, with no knowledge whatsoever of yeast or dough, no special equipment other than what you likely have on hand, and have them done start to finish in under ten minutes, including prep time? Vanilla Pudding Cinnamon Rolls with Cream Cheese Frosting. Per the requests I got after my last cinnamon roll post, here is the recipe for my tried-and-true vanilla pudding cinnamon rolls with cream cheese frosting.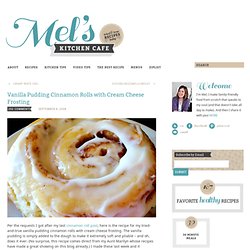 The vanilla pudding is simply added to the dough to make it extremely soft and pliable – and oh, does it ever. (No surprise, this recipe comes direct from my Aunt Marilyn whose recipes have made a great showing on this blog already.) I made these last week and it confirmed my feelings: I am in love with these cinnamon rolls. Joe Pastry - Category: Danish Pastry. I have to admit, these Melton Mowbray-style pork pies aren't just something you throw together, but for the serious pork pie enthusiast they are well worth the time and effort.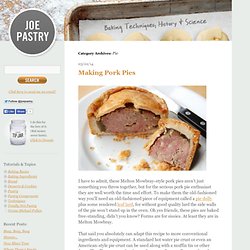 To make them the old-fashioned way you'll need an old-fashioned piece of equipment called a pie dolly plus some rendered leaf lard, for without good quality lard the side walls of the pie won't stand up in the oven. Oh yes friends, these pies are baked free-standing, didn't you know? Forms are for sissies. At least they are in Melton Mowbray. That said you absolutely can adapt this recipe to more conventional ingredients and equipment. Sensational Cinnamon Rolls. Adjust oven rack to middle position and heat oven to 200 degrees.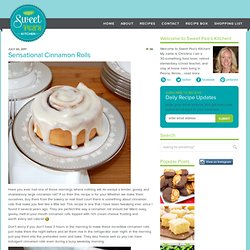 When oven reaches 200 degrees, shut off. In the bowl of a stand mixer combine the milk and 1 tablespoon of sugar; add yeast and let rest 10 minutes until foamy. Add butter, eggs, flour, remaining ½ cup sugar and salt to the yeast mixture and mix with the dough hook on medium-low until thoroughly combined, about 5 minutes Transfer the dough to a lightly oiled bowl, cover with plastic wrap and place in warm oven. Let rise until doubled in size, about 1 hour. After the dough has doubled in size turn it out onto a lightly floured surface, cover and let rest for 10 minutes. Confessions of a Pioneer Woman: Cinnamon Rolls 101, or How To Elicit Primal Groans From All Your Friends.
That's the Best Frosting I've Ever Had – Tasty Kitchen. Bake your favorite chocolate cake and let it cool.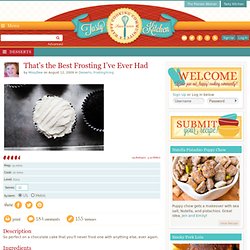 In a small saucepan, whisk flour into milk and heat, stirring constantly, until it thickens. You want it to be very thick, thicker than cake mix, more like a brownie mix is. Remove from heat and let it cool to room temperature. (If I'm in a hurry, I place the saucepan over ice in the sink for about 10 minutes or so until the mixture cools.) Overnight Monkey Bread. After her kids were grown and starting to have kids of their own my Mom started the tradition of having everyone over for breakfast Christmas morning.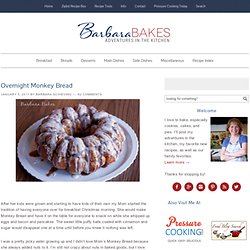 She would make Monkey Bread and have it on the table for everyone to snack on while she whipped up eggs and bacon and pancakes. The sweet little puffy balls coated with cinnamon and sugar would disappear one at a time until before you knew it nothing was left. Scrumptious Baked Cinnamon Breakfast Bites. I love a good donut, especially a homemade one.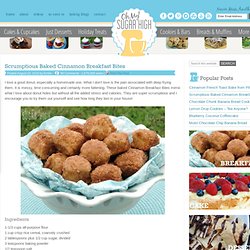 What I don't love is the pain associated with deep frying them. It is messy, time consuming and certainly more fattening. These baked Cinnamon Breakfast Bites mimic what I love about donut holes but without all the added stress and calories.
---