Open Online College Courses
Get flash to fully experience Pearltrees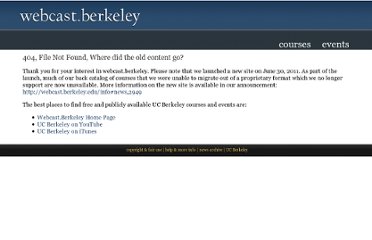 404, File Not Found, Where did the old content go? Thank you for your interest in webcast.berkeley. Please note that we launched a new site on June 30, 2011. As part of the launch, much of our back catalog of courses that we were unable to migrate out of a proprietary format which we no longer support are now unavailable. More information on the new site is available in our announcement: http://webcast.berkeley.edu/info#news,2949
Learning a new language can be a great way to challenge your mind, meet people from different cultures and even add a valuable asset to your resume and hireability. While traditional courses can be great, there are a number of free courses on the web that can help teach you the basics of language learning and get you on the path to fluency without having to spend a fortune. Here are 100 resources we've found that will help you become multilingual in your choice of languages.
whoa by Bogey776 I don't get the problem.
Customer Reviews Searle phlo mind by Pseudoneuro The philosophy course I wish I had had in graduate school.
Description Overview of modern scientific cosmology, including discussion of stars, the Milky Way galaxy, black holes, dark matter, the big bang, and evidence for our current understanding of the universe. Customer Reviews Great content, but audio is seriously lacking