General Crafts
15 Creative Ways to Reuse Old Jeans.
Glass. Nerdom. Decor. Seasonal. Paper. Make a Lunch Box from a Milk Jug. 14 Homemade soap recipes — Bohemian Revolution. Homemade Holidays: Crock Pot Candles. Growing up in my house, we always made our own holiday gifts.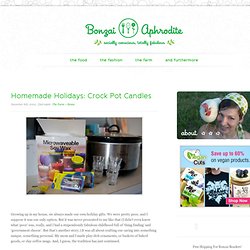 We were pretty poor, and I suppose it was our only option. But it was never presented to me like that (I didn't even know what 'poor' was, really, and I had a stupendously fabulous childhood full of 'thing finding' and 'government cheese'. But that's another story.) Survival Bow Making Instructions. By Jason Knight The following bow making instructions will help you construct an effective bow in a relatively short amount of time.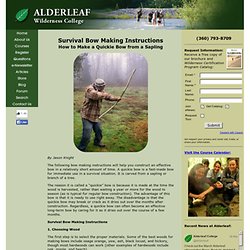 A quickie bow is a fast-made bow for immediate use in a survival situation. It is carved from a sapling or branch of a tree. Inspired Entertaining: DIY Chalkboard Wine Glasses. Last month I got an email from one of those "deal of the day" websites featuring a very cute set of wine glasses with chalkboard stems from a company called Chalkboard China.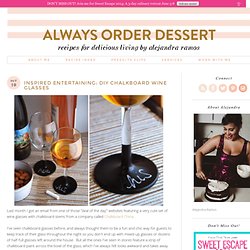 I've seen chalkboard glasses before, and always thought them to be a fun and chic way for guests to keep track of their glass throughout the night so you don't end up with mixed-up glasses or dozens of half-full glasses left around the house. But all the ones I've seen in stores feature a strip of chalkboard paint across the bowl of the glass, which I've always felt looks awkward and takes away from the beauty of the wine or beverage in the glass. What I like about this version is that the writing part is at the bottom on the stem and foot of the glass, so it doesn't compete with the beverage. 1268470752107.jpg (JPEG Image, 2338x1770 pixels)
Cable Dyeing. If you want an extension cord, power cord, or other plastic-insulated cable in an unusual color, and you can find one in white, there's a good chance you can dye it to suit your preference using this technique.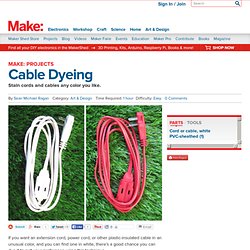 Turns out many cables are sheathed with PVC, and will take the same oil-based stains as PVC pipe. If you want a purple cord, for instance, you can just treat a white PVC cord with purple primer. I feel melty. | Light&Spoon. EDIT 11/5/2012: We are no longer selling custom crayon pieces in our Etsy shop.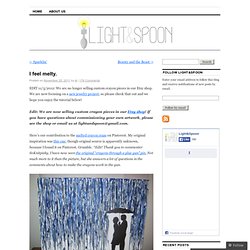 We are now focusing on a new jewelry project, so please check that out and we hope you enjoy the tutorial below! Edit: We are now selling custom crayon pieces in our Etsy shop! Fuse Plastic Bags.
---