SSC 4
Sampling (statistics)
In statistics, quality assurance, & survey methodology, sampling is concerned with the selection of a subset of individuals from within a statistical population to estimate characteristics of the whole population. Acceptance sampling is used to determine if a production lot of material meets the governing specifications. Two advantages of sampling are that the cost is lower and data collection is faster than measuring the entire population. Each observation measures one or more properties (such as weight, location, color) of observable bodies distinguished as independent objects or individuals. In survey sampling, weights can be applied to the data to adjust for the sample design, particularly stratified sampling (blocking).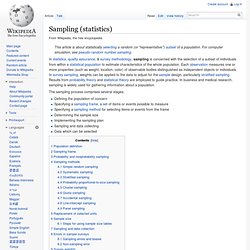 Cambridge Journals Online - Abstract - Vitamin status in different groups of the Spanish population: a meta-analysis of national studies performed between 1990 and 1999
ScienceDirect.com - Journal of Clinical Epidemiology - Development quality criteria to evaluate nontherapeutic studies of incidence, prevalence, or risk factors of chronic diseases: pilot study of new checklists
www.cochrane-handbook.org
Appendix B: Data Extraction and Quality Assessment Forms - Manifestations and Management of Chronic Insomnia in Adults - NCBI Bookshelf
A systematic review of prevalence studies of depression in Parkinson's disease - Reijnders - 2007 - Movement Disorders - Wiley Online Library
graphics.tx.ovid.com.ezproxy.webfeat.lib.ed.ac.uk/ovftpdfs/FPDDNCDCEDNNFJ00/fs046/ovft/live/gv025/00006250/00006250-200511000-00027.pdf
WHO systematic review of maternal mortality and morbidity: methodological issues and challenges
The worldwide incidence of preterm birth: a systematic review of maternal mortality and morbidity Incidence mondiale de la naissance avant terme : revue systématique de la mortalité et de la morbidité maternelle Incidencia mundial de parto prematuro: revisión sistemática de la morbilidad y mortalidad maternas Stacy BeckI; Daniel WojdylaII; Lale SayIII,*; Ana Pilar BetranIII; Mario MerialdiIII; Jennifer Harris RequejoIV; Craig RubensV; Ramkumar MenonVI; Paul FA Van LookVII
Bulletin of the World Health Organization - The worldwide incidence of preterm birth: a systematic review of maternal mortality and morbidity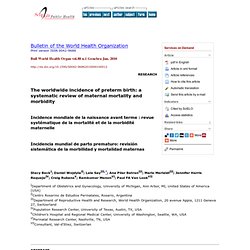 SysRev3
Systematic review of prevalence studies of autism spectrum disorders
Cited Ref Search_WoK5
PRISMA
STROBE Statement: Home
www.strobe-statement.org/fileadmin/Strobe/uploads/checklists/STROBE_checklist_v4_cross-sectional.pdf
www.sph.emory.edu/cms/departments_centers/gh/documents/reporting observational studies.pdf
Critical Appraisal of the Health Research Literature: Prevalence or Incidence of a Health Problem
Critical Appraisal of Studies 1. Study Design and Sampling Method: Are the study design and sampling method appropriate for the research question?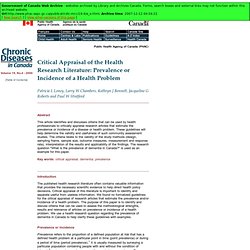 SIGN 50: A guideline developer's handbook - Annex C: Notes on the use of Methodology Checklist 5: Diagnostic studies
We use cookies to give you the best website experience. By using our website you agree to our use of cookies - Find out more Close Synthesising evidence and making recommendations Once the assessment of the quality of evidence is complete, the next step is to extract the relevant data from each study rated as having a low or moderate risk of bias, and to compile a summary both of the individual studies, and the overall trend of the evidence.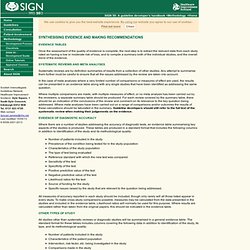 www.sphsu.mrc.ac.uk/Evidence/Research/Review 08/website task structure protocol.pdf
We use cookies to give you the best website experience. By using our website you agree to our use of cookies - Find out more Close Section 6: Systematic literature review
SIGN 50: A guideline developer's handbook - Section 6: Systematic literature review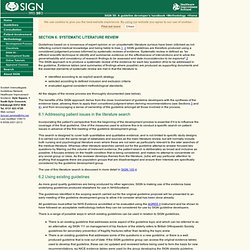 Systematic Reviews in Health Care - Cambridge Books Online - Cambridge University Press
A Systematic Review of the Prevalence of Schizophrenia