Sminke/mote
Dorm Room Spa: 3 Easy DIY Beauty Recipes to Try. Photo Credit It's that taxing in-between time of the semester again – spring break is over, papers and projects are coming due, and finals are looming ahead.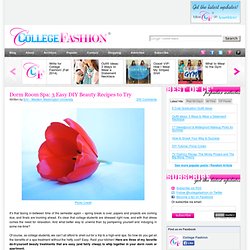 It's clear that college students are stressed right now, and with that stress comes the need for relaxation. And what better way to unwind than by pampering yourself and indulging in some me-time? 25 Beauty Tips Reusing Household Items – Homemade Beauty Tips on ELLE. 1.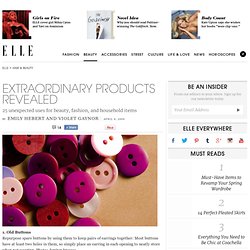 Old Buttons Repurpose spare buttons by using them to keep pairs of earrings together: Most buttons have at least two holes in them, so simply place an earring in each opening to neatly store when not wearing. Photo: Jupiter Images. DIY Fashion-Forward Bracelets. When money is tight, but fabulous fashion is a necessity, try out your crafting skills to make something new and fantastic.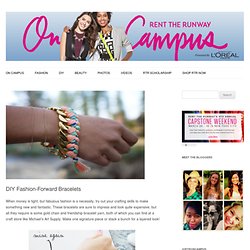 These bracelets are sure to impress and look quite expensive, but all they require is some gold chain and friendship bracelet yarn, both of which you can find at a craft store like Michael's Art Supply. Make one signature piece or stack a bunch for a layered look! BFrend Bracelets by Monika. DIY Braided Bead Bracelet. It's been awhile since our last bracelet DIY.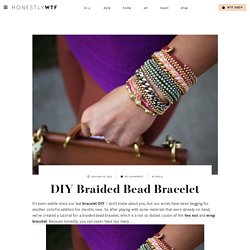 I don't know about you, but our wrists have been begging for another colorful addition for months now. So after playing with some materials that were already on hand, we've created a tutorial for a braided bead bracelet, which is a not so distant cousin of the hex nut and wrap bracelet. Because honestly, you can never have too many . . . How To Use A Sock To Get Beautiful Curly Hair Without Heat. If you are a mom on the go with long hair you HAVE TO try this.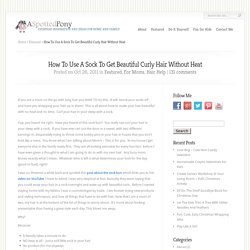 It will knock your socks off and have you wrapping your hair up in them! This is all about how to make your hair beautiful with no heat and no time. Curl your hair in your sleep with a sock. Yup, you heard me right. How to make your own pore strips. You know those Biore pore strips you buy at the drugstore for about $12 a pop? Yeah, those. Today I'm going to teach you how to make your own homemade pore strips. Why?
---