Karaawesomesocks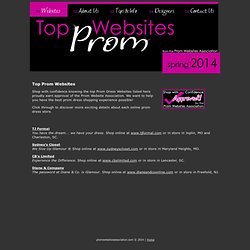 Top Prom Websites TJ Formal You have the dream... we have your dress. Shop online at www.tjformal.com or in store in Joplin, MO and Charleston, SC. Sydney's Closet We Size Up Glamour ® Shop online at www.sydneyscloset.com or in store in Maryland Heights, MO. CB's Limited Experience the Difference.
Top Prom Websites for a Great Prom Shopping Experience - Trusted Prom Websites
The genes in our bodies can be traced back over three-and-a-half billion years to a single organism, Luca, the Last Universal Common Ancestor. As Luca reproduced, its genes copied and copied and copied and copied, sometimes with mistakes — they transformed. Over time this produced every one of the billions of species of life on earth. Some of these adopted sexual reproduction, combining the genes of individuals, and altogether, the best-adapted life forms prospered.