Objectivity in journalism
Spin journalism | Define Spin journalism at Dictionary
Interviews - Can Journalists Be Truly Objective? | News War | FRONTLINE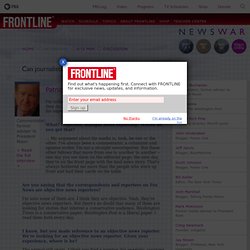 Commentator; former adviser to President Nixon Patrick Buchanan I'm talking about conservative commentators. But sure they do.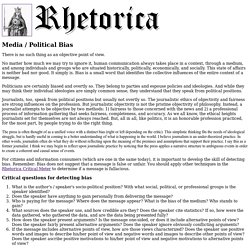 Media / Political Bias There is no such thing as an objective point of view. No matter how much we may try to ignore it, human communication always takes place in a context, through a medium, and among individuals and groups who are situated historically, politically, economically, and socially. This state of affairs is neither bad nor good. It simply is.
Media Bias Basics
The Liberal Media Exposed (PDF Report): Formatted, easy-to-print pages detailing the key results of nearly two dozen surveys about media bias.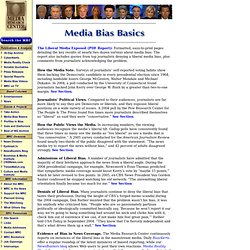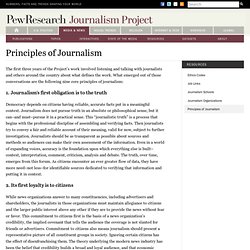 In 1997, an organization then administered by PEJ, the Committee of Concerned Journalists, began a national conversation among citizens and news people to identify and clarify the principles that underlie journalism. After four years of research, including 20 public forums around the country, a reading of journalism history, a national survey of journalists, and more, the group released a Statement of Shared Purpose that identified nine principles. These became the basis for The Elements of Journalism, the book by PEJ Director Tom Rosenstiel and CCJ Chairman and PEJ Senior Counselor Bill Kovach. Here are those principles, as outlined in the original Statement of Shared Purpose. A Statement of Purpose After extended examination by journalists themselves of the character of journalism at the end of the twentieth century, we offer this common understanding of what defines our work.
Goal 1. Students will develop an awareness and appreciation of the foundations of the First Amendment and ethical issues in the media. Objectives:
Goals and Learning Objectives - Journalism, Media Studies, and Public Relations - Hofstra University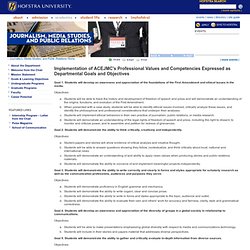 Objective Journalism Can Express Loyalty to United States.
The Next Journalism's Objective Reporting.
The search for objectivity in journalism
The search for objectivity in journalism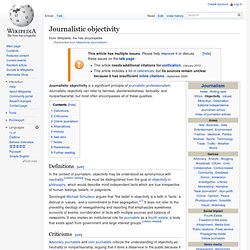 "Journalistic objectivity" redirects here. Parent article: Journalism ethics and standards Objectivity is a significant principle of journalistic professionalism . Journalistic objectivity can refer to fairness , disinterestedness , factuality , and nonpartisanship , but most often encompasses all of these qualities.
Public Journalism and the Problem of Objectivity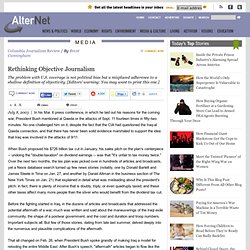 July 8, 2003 | Like this article?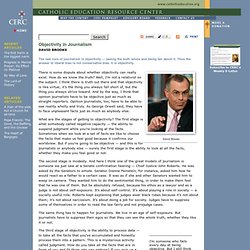 DAVID BROOKS There is some dispute about whether objectivity can really exist. How do we know the truth? Well, I'm not a relativist on the subject. I think there is truth out there and that objectivity is like virtue; it's the thing you always fall short of, but the thing you always strive toward. And by the way, I think that opinion journalists have to be objective just as much as straight reporters. Opinion journalists, too, have to be able to see reality wholly and truly.