EPA
American Lung Association - Fighting for Air: Tell EPA: Set Strong Soot Standards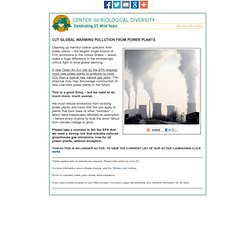 Cleaning up harmful carbon pollution from power plants -- the largest single source of CO2 emissions in the United States -- would make a huge difference in the increasingly critical fight to slow global warming. A new Clean Air Act rule by the EPA requires most new power plants to produce no more CO2 than a typical new natural gas plant. The proposal may help discourage construction of new coal-fired power plants in the future.
Cut Global Warming Pollution From Power Plants
The Colorado Plateau of New Mexico still bears the unhealed sores of the Uranium Boom of the last century – radioactive waste piles, contaminated water and hundreds of mines on Navajo land abandoned by companies looking to make a quick profit. Despite the massive contamination, companies want to start a new era of mining in this region. I know this because I am Diné (Navajo) and live in Church Rock, New Mexico - only yards away from a proposed new uranium mine. As a resident and former miner, I have experienced the effects of uranium exploitation first-hand. Many of my relatives and neighbors, including myself, have suffered health problems due to working at or living near the mines. In fact, one study has found that cancer rates among Navajo living near mine tailings are 17 times higher than the national average.
EPA: Don't Sacrifice Navajo Water for Uranium Mining (PETITION)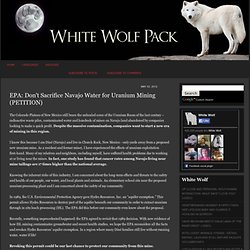 from Wildlife Promise The carbon pollution rule would mean clean air for kids People of every stripe took to the podium on Thursday in Chicago and Washington, D. C., in support of the U.S.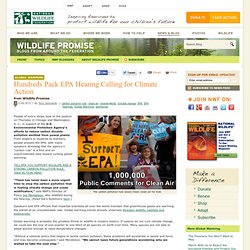 Hundreds Pack EPA Hearing Calling for Climate Action
EPA Could Save 35,700 Lives by Limiting Soot, but Won't
EPA rules could shut 13,000 megawatts of Midwest coal plants
As the 1960s came to an end, the rapid development of the American postwar decades began to take a noticeable toll on the environment, and the public called for action. In November 1971, the newly created Environmental Protection Agency announced a massive photo documentary project, called DOCUMERICA, to record the adverse effects of modern life on the environment. More than 100 photographers were hired not only to document specific issues, but to capture images showing how we interacted with the environment. By 1974, more than 80,000 photographs had been produced. The National Archives recently made 15,000 of these images available, and I've spent much of the past week combing through those to bring you these 46 glimpses of America in the early 1970s, with an eye toward our then-ailing environment. [46 photos]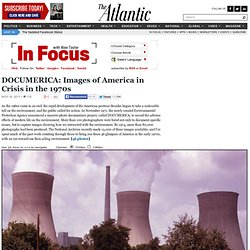 DOCUMERICA: Images of America in Crisis in the 1970s - Alan Taylor - In Focus
By Humberto Sanchez Roll Call Staff Nov. 7, 2011, 9:50 p.m. Tom Williams/CQ Roll Call File Photo Senate Republican Conference Chairman Lamar Alexander (Tenn.) took on the leader of his party tonight by opposing a GOP proposal to overturn an Environmental Protection Agency rule on clean air. Alexander directly challenged an effort by the junior Senator from the neighboring state of Kentucky, the home of Senate Minority Leader Mitch McConnell. He did so without naming McConnell, his longtime friend, but he was blunt about how Kentucky's pollution adversely affects his own state. "Tennesseans admire much about our Kentucky neighbors — their bluegrass, basketball and distinguished United States Senators," Alexander said in a statement announcing opposition.
Lamar Alexander Bucks GOP by Supporting EPA Rule on Clean Air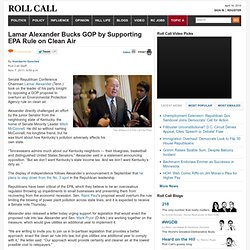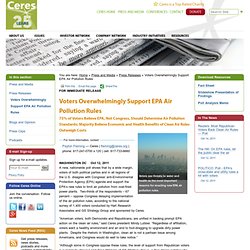 Voters Overwhelmingly Support EPA Air Pollution Rules
A new, nationwide poll shows that by a wide margin, voters of both political parties and in all regions of the U.S. disagree with Congress' anti-Environmental Protection Agency (EPA) agenda and support the EPA's new rules to limit air pollution from coal-fired power plants. A new, nationwide poll shows that by a wide margin, voters of both political parties and in all regions of the U.S. disagree with Congress' anti-Environmental Protection Agency (EPA) agenda and support the EPA's new rules to limit air pollution from coal-fired power plants. Two-thirds of the respondents – 67 percent – oppose Congress delaying implementation of the air pollution rules, according to the national survey of 1,400 voters conducted by Hart Research Associates and GS Strategy Group and sponsored by Ceres. "American voters, both Democrats and Republicans, are unified in backing prompt EPA action on the clean air rules," said Ceres president Mindy Lubber.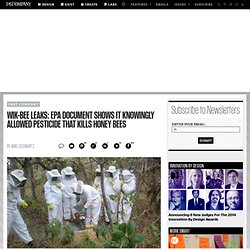 The world honey bee population has plunged in recent years, worrying beekeepers and farmers who know how critical bee pollination is for many crops. A number of theories have popped up as to why the North American honey bee population has declined--electromagnetic radiation, malnutrition, and climate change have all been pinpointed. Now a leaked EPA document reveals that the agency allowed the widespread use of a bee-toxic pesticide, despite warnings from EPA scientists.
Last one out the door? EPA releases health assessment of TCE: Chemical industry and its allies continue to press EPA and the White House for a moratorium | Daniel Rosenberg
The House on Friday passed the first in a planned series of Republican bills to effectively block the Environmental Protection Agency from reining in toxic pollution under the Clean Air Act. The measure, which passed 233-180, largely along party lines, would delay the EPA from moving forward on a new rule scheduled to be rolled out in November requiring coal plants to slash 90 percent of their mercury emissions. That rule is required under the terms of the 1990 Clean Air Act, and has been delayed for more than 20 years. The bill also would keep the EPA from moving forward with a rule known as the cross-state air rule, which would require coal plants to limit toxic emissions that cross state lines and contribute to health and environmental damage.
House Passes Bill to Delay EPA Clean Air Rules - Coral Davenport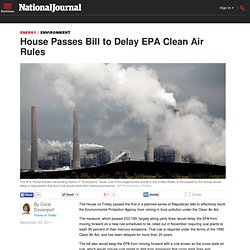 House passes bill to block EPA clean air rules
UPDATE 1-US House passes bill to block EPA clean air rules