CAPE CRUSADERS LEGISLATION
Pan Blaiz: JFK's warning speech that... John F Kennedy last WARNING speech to the WORLD. Oil Pipeline: Nebraskans vs. the State Department. - Room for Debate. Roosevelt Institute lauds Feingold for freedom work. 111th United States Congress. Congressional leaders meeting with President Obama, November 30, 2010.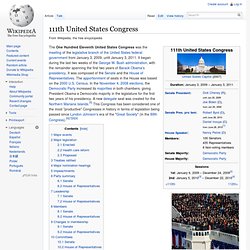 Major events[edit] Major legislation[edit] Obama Weekly Address: Education Agenda Helps Students, Jobless. WASHINGTON — President Barack Obama says kids and the economy will benefit from the changes he's making in education policy and his plan to spend billions to upgrade schools and keep teachers on the job.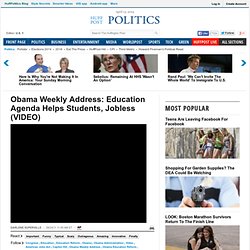 Obama used his weekly radio and Internet address Saturday to push his $447 billion jobs bill through the prism of education. He recapped steps he has authorized to let states opt out of unpopular proficiency standards because Congress has been slow to update the existing law. Global Witness welcomes landmark U.S. effort to curb corruption and promote transparency. The United States' dual pledge to implement the Extractive Industries Transparency Initiative (EITI) and to support legislation that would stop U.S. states from allowing secretive front companies to be set up represents an important step forward in the global fight against corruption and corporate secrecy, said campaign group Global Witness.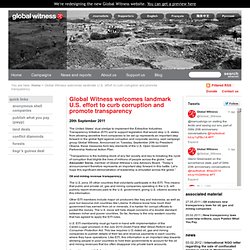 Announced on Tuesday, September 20th by President Obama, these measures form key elements of the U.S. Open Government Partnership National Action Plan. "Transparency is the building block of any fair society and key to breaking the cycle of corruption that blights the lives of millions of people across the globe," said Alexander Soros, member of Global Witness's new Advisory Board. "Today's announcement therefore represents an important step forward in this battle. A Call for Fairness. IBM's Many Bills: This Law Visualization Tool Can Help Unlock Legislative Dealings. The question of what Congress is doing has always been difficult to answer.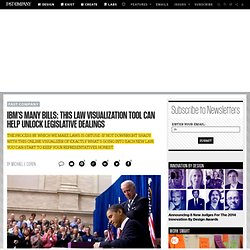 Most of us refer to back to SchoolHouse Rock's classic "How A Bill Becomes a Law" as the definitive guide to the legislative process. When politicians bury backroom deals or draft duplicitous legislation, investigating the origins and significance of new legislation is that much harder. IBM has saved you the trouble with its new legislative visualizer called Many Bills. No more trolling through the Congressional Record to uncover our elected officials' tricky dealings!
Now you can do it all from the safety of your own home with Many Bills' visual explorer. Al Franken Calls For 'Explicit Ban' On Discrimination Against LGBT Students. By Igor Volsky on September 15, 2011 at 2:45 pm "Al Franken Calls For 'Explicit Ban' On Discrimination Against LGBT Students" Sen.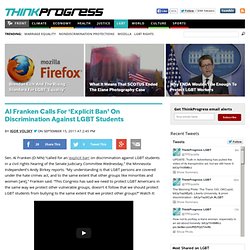 FDR: Grilled Millionaires Speech. Elizabeth Warren: A Progressive Worth Fighting For | From the Wire. The Nation September 14, 2011 Elizabeth Warren: A Progressive Worth Fighting For Elizabeth Warren is running for the United States Senate for the right reason and with the right message.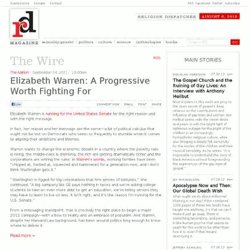 In fact, her reason and her message are the same—a bit of political calculus that ought not be lost on Democrats who seem so frequently to stumble when it comes to aligning their ambitions and themes. Howard Dean: Obama's Job Act is 'Brilliant' Teachers union launches ad campaign supporting Obama jobs bill - The Hill's Video. The National Education Association (NEA) launched a multistate television ad campaign Wednesday in support of President Obama's American Jobs Act.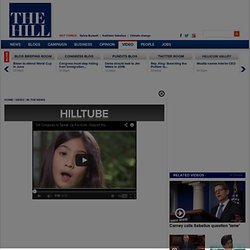 The 30-second television ad urges lawmakers to vote for the legislation, with several children saying school programs are being cut and teachers are being laid off. The president's proposal includes $30 billion to pay for teachers and another $30 billion to modernize schools. NEA is the nation's largest union, with 3.2 million members made up of teachers and other education staff.
Titivil: Elizabeth Warren on class warfare: You built a factory out there? Good... Obama's plan. Most of the news tonight about Obama's $3 trillion deficit reduction plan focuses on the increased taxes on millionaires it includes.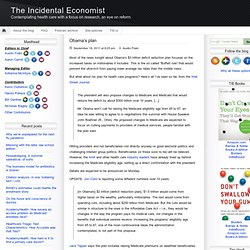 This is the so called "Buffett rule" that would prevent the ultra-rich from paying lower average tax rates than the middle class. But what about his plan for health care programs? Here's all I've seen so far, from the Wall Street Journal: U.S. keeps eight nations on religious freedom blacklist. By Agence France-PresseTuesday, September 13, 2011 18:47 EDT WASHINGTON — US Secretary of State Hillary Clinton urged governments Tuesday to do more to defend religious freedom as Washington released a report citing eight countries with troubling records on the issue.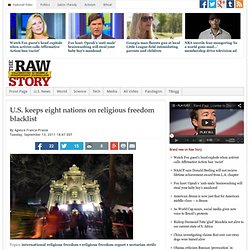 "We reaffirm the role that religious freedom and tolerance play in building stable and harmonious societies. Industrial Hemp Farming Bill Passes Assembly. Four Southern California counties given a 'golden opportunity' in this pilot program.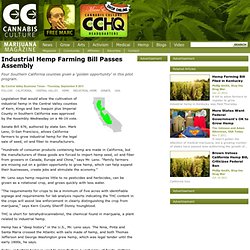 Legislation that would allow the cultivation of industrial hemp in the Central Valley counties of Kern, Kings and San Joaquin plus Imperial County in Southern California was approved by the Assembly Wednesday on a 46-19 vote. Senate Bill 676, authored by state Sen. Mark Leno, D-San Francisco, allows California farmers to grow industrial hemp for the legal sale of seed, oil and fiber to manufacturers. "Hundreds of consumer products containing hemp are made in California, but the manufacturers of these goods are forced to import hemp seed, oil and fiber from growers in Canada, Europe and China," says Mr.
Leno. House Democrats push legislation to overturn Citizens United ruling. A pair of House Democrats introduced legislation Tuesday to overturn the Supreme Court's 2010 Citizens United ruling that freed corporations to spend unlimited money on elections. Sponsored by Reps. John Conyers (Mich.), senior Democrat on the House Judiciary Committee, and Donna Edwards (D-Md.), the proposal would amend the Constitution to empower Congress and the states to limit corporate spending on political activities. "Last year, the Supreme Court overturned decades of law and declared open season on our democracy," Conyers said in a news release. "It is individual voters who should determine the future of this nation, not corporate money."
FAA expects to land $5.4B in stopgap funds - Seung Min Kim. Alan Grayson: My 10-Year-Old's Jobs Program. I like to help my children with their homework, whenever I have time. (And since January, I've had more time.) It's great to help them -- I know all the answers, and I never have to take the exams. Last night, we tried something different. They helped me with my homework. A math problem: Obama Jobs Plan: American Jobs Act Would Make Small Dent In Unemployment Rate. WASHINGTON -- Even if Congress heeds President Barack Obama's demands to "pass this bill right away" and enacts his jobs and tax plan in its entirety, the unemployment rate probably still would hover in nosebleed territory for at least three more years. Why? Because the 1.9 million new jobs the White House says the bill would produce in 2012 falls short of what it's needed to put the economy back on track to return to pre-recession jobless levels of under 6 percent, from today's rate of 9.1 percent.
That's how deep the jobs hole is. Hot News & Views. This week on the AlterNet Radio Hour, RJ Eskow -- a fellow at the Campaign for America's Future and host of The Breakdown -- and Joshua Holland untangle the ugly fiction that half the country are indolent "takers," while half are tax-paying "makers. " It's not true -- but what does it mean that a candidate from a major party would suggest that it is? Then we're joined by former CIA analyst Ray McGovern, who explains that it wasn't some dumb movie-trailer that's set much of the "Muslim world" on fire. CNN Poll: Respondents Give Lukewarm Favor To Jobs Act That's Full Of Policies They Support. Sen. Bernie Sanders: We are in one of the greatest political struggles | Raw Replay. During a rally at Washington, D.C. on Wednesday, Senator Bernie Sanders (I-VT) said that Americans were engaged in one of the greatest political struggles the country had ever faced.
"On one side, we have the wealthiest people in America who have never ever had it so good," he said. "On the other side, what we are seeing is 16 percent of our people unemployed, and 46 million Americans who are living in poverty and that number is growing every single day." "So the issue we have to determine right now is whether that capitol, that government," Sanders continued, pointing towards Washington, D.C., "is there to represent all of the people, and not just the wealthiest and most powerful." Lawmakers to IRS: Clear up tax issues for same-sex couples. Obama Tax Plan Would Ask More of Millionaires. Echoes of Nixon's Order on ITT Deal in Democrats' Letter to Obama on AT&T - Washington Wire.
Main Street Fairness Act | The New Rules Project. Obama plan: raise taxes on wealthy to pay for jobs creation. U.S. to require bankruptcy plans from 'too big to fail' firms. Sen. Sanders champions liberal charge against money's influence in politics. 'God Bless America'? Not in high school math class, US judges rule. Court strikes down ban on soliciting day laborers. Weekly Address: Passing the American Jobs Act. Obama reconnects with Black Caucus - Joseph Williams. Progressive Politics Needs More Woman Politicians. Cleaver: If Obama wasn't president, we would be 'marching on the White House' 'Don't ask, don't tell' officially ending - The Federal Eye. When you talk too much for Twitter. Sen: Sherrod Brown: Congress Should Have Same Retirement Age As Public In Spirit of 'Shared Sacrifice' Dems Float Surtax On Millionaires To Pay For Jobs Bill.
Kind of a big deal: $1.6 billion coming for energy efficiency projects. Release: Tax Time? Not for Giant Corporations - Newsroom: U.S. Senator Bernie Sanders (Vermont) Cocacabana - An FP Photo Essay By Jared P. Moossy. Fed Defies GOP Pleas To Not Do Anything to Help the Economy. Roosevelt Institute lauds Feingold for freedom work. Cleta Mitchell Wrong Again. Washington Leaders Celebrate Citizenship and Immigrant Integration. Rep. Grijalva introduces Border Infrastructure and Jobs Act. Bradley Manning and Julian Assange Both Nominated for Nobel Peace Prize.
---