Web
Entretien avec Simon Rogers, le data-blogueur. Écoutez l'entretien en VF (10min. et 28 sec.)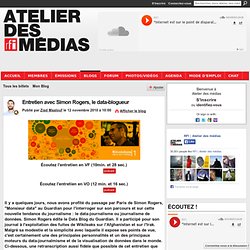 Écoutez l'entretien en VO (12 min. et 16 sec.) Il y a quelques jours, nous avons profité du passage par Paris de Simon Rogers, "Monsieur data" au Guardian pour l'interroger sur son parcours et sur cette nouvelle tendance du journalisme : le data-journalisme ou journalisme de données. Simon Rogers édite le Data Blog du Guardian. Il a participé pour son journal à l'exploitation des fuites de Wikileaks sur l'Afghanistan et sur l'Irak. Information Is Beautiful | Ideas, issues, knowledge, data - visualized! RADart : Rapid Application Development pour projets artistiques | RADart vous invite à découvrir des projets de création innovants et à participer à la résolution des problématiques rencontrées par leurs créateurs.
Manuel Lima. A Fellow of the Royal Society of Arts, nominated by Creativity magazine as "one of the 50 most creative and influential minds of 2009", Manuel Lima is a designer, researcher, teacher, and founder of VisualComplexity.com - A visual exploration on mapping complex networks.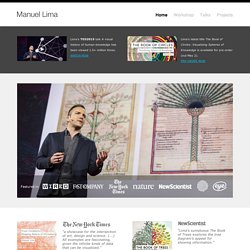 With over 10 years of experience designing digital products, Manuel has worked for Microsoft, Nokia, R/GA, and Kontrapunkt. He holds a BFA in Industrial Design and a MFA in Design & Technology from Parsons School of Design, New York. OWNI, Digital Journalism.
---