Development
Resultat av Googles bildsökning efter http://www.ibm.com/developerworks/webservices/library/ar-soamat/figure1.gif
The Telerik Q1 2012 release is upon us, and we will be showing you all the goodies in webinar week: February 20th – February 22nd. Here's the schedule with all times listed in Eastern Time (UTC–5). I will be doing "What's New in Tools for Better Code," which covers Telerik's Just line of products: JustCode, JustMock, JustTrace, and JustDecompile.
Latest published stories in Screencast
I've been using Selenium WebDriver for C# a lot lately, for a number of projects that involved interacting with a web browser in some manner. I've used a lot of applications and libraries over the past few years that provide this functionality, but I've never come across one as intuitive and reliable as Selenium WebDriver – if you work on any projects that involve interacting with a web browser to automate some process, you need to read this post. In this post I'll take you through the process of using Selenium WebDriver to automate some interaction with a web browser and hopefully show you how powerful Selenium is. We'll take a simple scenario as an example – submitting a request to the Google search engine. Boot up Visual Studio and create a new C# console application. You'll need to download the Selenim WebDriver for C# ZIP from Google Code, and add the DLL's it contains as references to your project.
Jimmy's Blog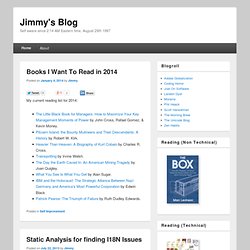 C# devarticles