Cooking
Recipes Under 400. Dark Chocolate Banana Almond Smoothie 1 medium ripe banana (a little brown)3/4 cup Unsweetened almond milk1 tbsp (5g) dark cocoa powder1/2 oz (14g) of cocoa roasted almonds (most of the fat is from these, so good fat!)
About 10 ice cubes Put all the ingredients in the blender except the ice cubes. Worknight Dinner: Creamy Avocado Pasta. This post is one that's long overdue.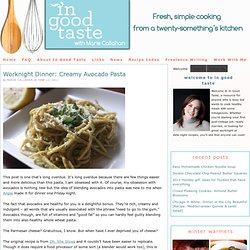 It's long overdue because there are few things easier and more delicious than this pasta. I am obsessed with it. 50 Healthy Recipes to Kick Off 2012. Happy New Year!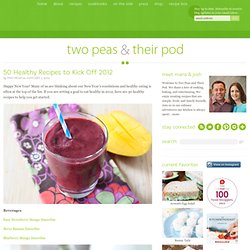 Many of us are thinking about our New Year's resolutions and healthy eating is often at the top of the list. If you are setting a goal to eat healthy in 2012, here are 50 healthy recipes to help you get started. Beverages Easy Strawberry Mango Smoothie Berry Banana Smoothie.
---