Pointless Entertainment
Angry Duck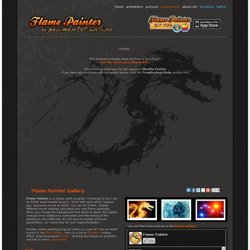 Flame Painter Gallery Flame Painter is a unique paint program, it belongs to my 'I am an Artist' experimental project. I think with tools which inspires you, everyone can be an artist. You can try it here, change different brush settings and paint your own flame paintings.
If you like the mechanics of this site, and you like to know your news, check out newsmap in my news pearl. by repdaddy Nov 4
Natalie Dee: "America's Favorite Cracker"
SVEDKA