Jsp
Apache Struts Framework
Ajax Tags: JSP AJAX Tool
Introducing the Portlet Specification, Part 1
Get your feet wet with the specification's underlying terms and concepts By Stefan Hepper and Stephan Hesmer, JavaWorld.com, 08/01/03 With the emergence of an increasing number of enterprise portals, various vendors have created different APIs for portal components, called portlets. This variety of incompatible interfaces generates problems for application providers, portal customers, and portal server vendors.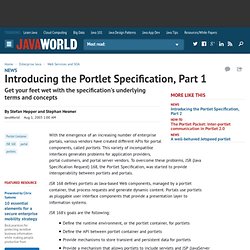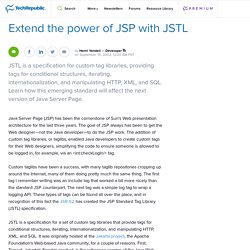 Extend the power of JSP with JSTL
The TechRepublic CIO50 list celebrates the most influential and innovative tech chiefs, voted by their fellow CIOs Java Server Page (JSP) has been the cornerstone of Sun's Web presentation architecture for the last three years. The goal of JSP always has been to get the Web designer—not the Java developer—to do the JSP work.
Tech Article: Real-Time Topic Modeling of Microblogs This article explores the challenge of real-time extraction of topics from a continuous stream of incoming microblogs or tweets. Learn how to apply LDA to tweets for topic modeling. posted Thu, 28 Mar 2013 15:48:54 +0000 Tech Article: Why, Where, and How JavaFX Makes Sense CaptainCasa moved from Swing to JavaFX for front-end infrastructure, explaining that implementing an employee desktop front end with native technology is a valid approach and that JavaFX is a good fit. posted Thu, 14 Mar 2013 19:22:09 +0000 Tech Article: How to Multiply the Capacity of Oracle Storage Systems Hybrid columnar compression can effectively multiply your storage capacity by 10-15 times, increasing performance and reducing your hardware costs. It's available on Oracle's Pillar Axiom storage systems. Tom Luckenbach walks you through the steps to set it up. posted Mon, 04 Mar 2013 16:44:26 +0000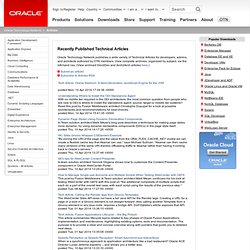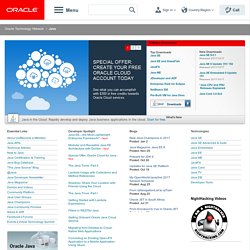 Oracle Oracle Technology Network > Java Article Why, Where, and How JavaFX Makes Sense CaptainCasa moved from Swing to JavaFX for front-end infrastructure, explaining that implementing an employee desktop front end with native technology is a valid approach and that JavaFX is a good fit. Posted 3/13/13 // Tags: java , JavaFX , RIA // Headlines Archive