Knowledge
EyeWitness to History - history through the eyes of those who lived it. Academic Earth | Online Courses | Academic Video Lectures. Learn how Everything Works!". Arts & Letters Daily - ideas, criticism, debate. Breathingearth - CO2, birth & death rates by country, simulated real-time.
Cafe Scientifique. Science news and science jobs from New Scientist. 350 Free Online Courses from Top Universities. Try Audible Now & Get a FREE Audiobook!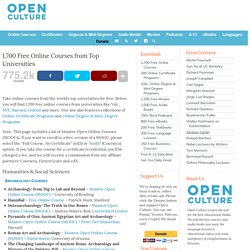 Get free online courses from the world's leading universities – Stanford, Yale, MIT, Harvard, Berkeley, Oxford and more. You can download these audio & video courses (often from iTunes, YouTube, or university web sites) straight to your computer or mp3 player. Over 30,000 hours of free audio & video lectures, await you now. Humanities & Social Sciences Art & Art History Courses. Big Think | Blogs, Articles and Videos from the World's Top Thinkers and Leaders.
---