Google
How Do I Make the Most of Google+? An interesting feature I found: You can set some of your profile settings to only show to certain circles.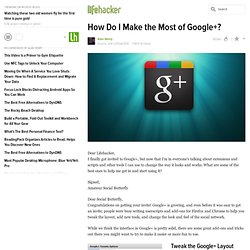 I go by an alias among a certain group of friends who wouldn't otherwise know who I am; an alias that I might not want family or coworkers to know about. So I was able to write a description on my profile, set only to those circles I selected, that says "If you can read this desc, you probably know me better as ______. " You can also restrict other fields, like website info, relationship status, etc. Google Plus Nick. Live updates on the first Chromebook preview. Welcome to live updates on the first Chromebook preview, a 2-day exploration of the web that also gives you a way to get your Chromebook early.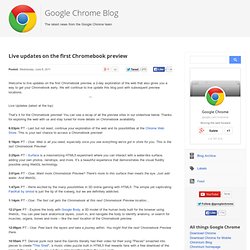 We will continue to live update this blog post with subsequent preview locations. Live Updates (latest at the top) That's it for the Chromebook preview! Chromebook Forum : Google Chromebook Forums. Chrome OS Site - News, reviews and Discussion Forums! Google TV Device Codenamed Fishtank Has Android 3.1. At a Google IO session about developing Android Applications for Google TV, a select number special flyers were being passed around that provided developers into a secret program called "Fishtank".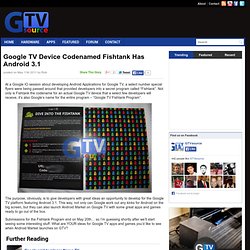 Not only is Fishtank the codename for an actual Google TV device that a select few developers will receive, it's also Google's name for the entire program – "Google TV Fishtank Program". The purpose, obviously, is to give developers with great ideas an opportunity to develop for the Google TV platform featuring Android 3.1. This way, not only can Google work out any kinks for Android on the big screen, but they can also launch Android Market on Google TV with some great apps and games ready to go out of the box.
---