Salads
Crunchy Asian Broccoli Coleslaw Recipe - Kraft Canada
Our Favourite Broccoli Salad Recipe - Kraft Canada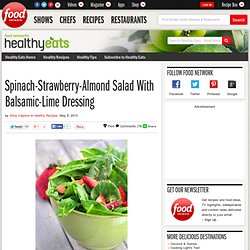 Mmm springtime! Forget a basic garden salad, this salad is filled to the brim with flavorful strawberries and a touch of sweet balsamic vinegar and lime juice. You can make this salad to accompany lunch or dinner; I'm planning to serve it to my mother for Mother's Day brunch on our back deck alongside roasted vegetables. This salad is packed with nutrients — everything from fresh basil to crunchy almonds that will leave you (and Mom) smiling!
Spinach-Strawberry-Almond Salad With Balsamic-Lime Dressing
This healthy salad is full of sweet strawberries, tangy Gorgonzola cheese and crunchy pecans topped with a delicious maple balsamic dressing. Add grilled chicken or homemade croutons for a delicious summer meal. This is hands down one of my all-time favorite salads.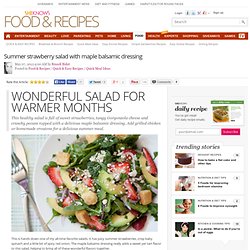 Summer strawberry salad with maple balsamic dressing
Happy Pie For Breakfast Day, friends! Do you see what I did there? I made it official, which means that you need not feel any regret that you may have innocently come upon a lonely wedge of leftover pie in the fridge this morning, and before you knew it, before you could responsibly hash out the pros and cons of setting your day to the tune of pie, and not, say, a muesli, fresh fruit and herbal tea detox, you in fact did have pie for breakfast and it was wonderful .
spinach salad with warm bacon vinaigrette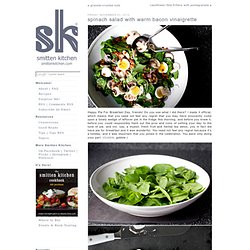 Taco Salad Recipe
CATALINA Taco Salad recipe
Cranberry And Feta Salad Recipe - Food.com - 222156
Napa Cabbage Salad IV Recipe
These Mini Taco Bowls were as tasty as they were adorable, and two of them was a perfect sized dinner serving for me. I initially intended to make these with ground beef, but when I ran to the grocery store yesterday they were completely out of 95% lean ground beef (can you believe it?) so I bought ground turkey instead.
Weight Watchers Friendly Recipes: Mini Taco Bowls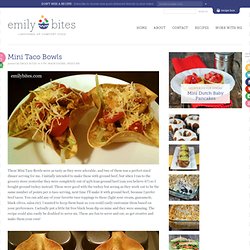 This unique grilled summer salad is the result of a category three brainstorm and a little flavor research. I've long wanted to try grilling watermelon, and I finally decided to actually go for it last weekend.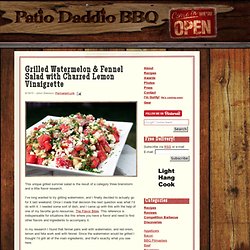 Grilled Watermelon & Fennel Salad with Charred Lemon Vinaigrette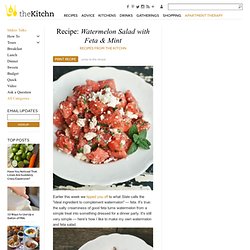 Earlier this week we tipped you off to what Slate calls the "ideal ingredient to complement watermelon" — feta.
Recipe: Watermelon Salad with Feta & Mint Recipes From The Kitchn
Grilled Watermelon Salad...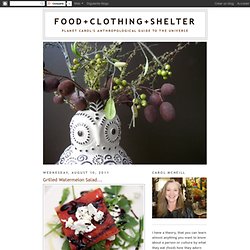 Here's a summer salad that's unique and unexpected…light, fresh, and healthy…and it's tasty and easy to make! What more could you ask for in a summer salad? Grilled Watermelon Salad
7-Layer Pasta Salad Recipe : Food Network Kitchens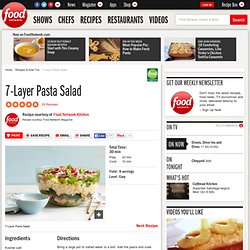 Ingredients Kosher salt 8 ounces farfalle (about 4 cups) 2 stalks broccoli, cut into florets 1/2 cup mayonnaise 1/2 cup buttermilk 1/4 cup plus 1 tablespoon chopped fresh chives 1/4 cup chopped fresh parsley Juice of 1 lime Freshly ground pepper 2 avocados, diced 1 12-ounce piece deli ham, diced (about 2 cups) 8 ounces yellow cheddar cheese, shredded 1 small head romaine lettuce, sliced 2 tomatoes, diced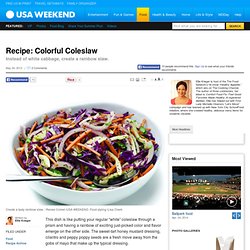 This dish is like putting your regular "white" coleslaw through a prism and having a rainbow of exciting just-picked color and flavor emerge on the other side. The sweet-tart honey mustard dressing, cilantro and peppy poppy seeds are a fresh move away from the gobs of mayo that make up the typical dressing. Colorful Coleslaw
Recipe: Colorful Coleslaw | USA WEEKEND | usaweekend.com
Addictive Brussels Sprouts Salad
The second I laid eyes on this salad , Brussels sprouts jumped to the top of my grocery list. I had to have it. I'm not sure I've ever been this motivated to make a salad before!