Feministing
Ms. Magazine Online | More Than A Magazine - A Movement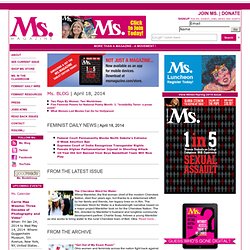 "Get Out of My Exam Room" Ohio women and feminists across the nation fight back against outrageous anti-woman state restrictions and send legislators a simple message: "We Won't Go Back." Check out this in-depth update of how pro-choice activists are standing up for their rights and get on-the-ground reports of what you can do to fight back, too. Read more... Fighting Street Harassment with Street Art Tatyana Fazlalizadeh has peppered walls in her Bedford-Stuyvesant neighborhood with black-and-white drawings of brazenfaced women accompanied by bold slogans such as, "Women are not outside for your entertainment."
Geek Feminism Blog | Women, feminism, and geek culture
If you've been following our linkspams recently, you've probably noticed the density of links to Model View Culture, an independent media platform covering technology, culture and diversity. MVC has brought us Frances Hocutt's story of unwillingly leaning out of her science career. Suey Park's defense of Twitter Feminism and Kate Losse's exploration of sexualisation and gendered labour as a pervasive force in tech. They've also published no less than four Geek Feminism contributors: Ashe Dryden, Leigh Honeywell, Liz Henry and Tim Chevalier, with more to come! If you're a linkspam lover, you might be following their Blameful Post Mortem ("Everything that's wrong with the tech industry this week, and who's to blame"), including the weekly Hacker News fail feature.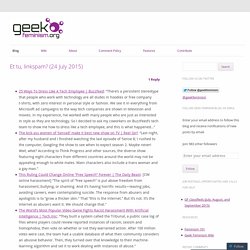 The F-Word Blog
Welcome back, F Word comedy fans! Here's to a funny 2014! In our first review of the year, Jessamyn Fairfield recommends Tumbleweed's longform improv. Luckily for you if you're in Dublin, Tumbleweed are putting a show on tonight, upstairs in the Wellington Pub, on Baggot Street in Dublin, with doors opening at 8:30 pm. Erin Hug just wants to follow her dream to open a wig store, but Pearl O'Rourke is having none of it.
Guest Post by Dana Hunter Men, even good men, believe women lie about rape. There's this myth that runs amok saying that some enormous proportion of rape accusations are just women lying to get attention, or revenge, or to hide their summer fling from mommy and daddy. And they believe it without question. When male friends toss that grenade at me, I toss it back by asking if they know what the percentage is.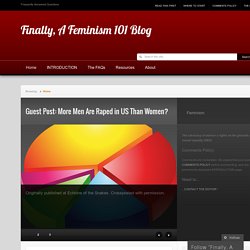 Finally, A Feminism 101 Blog
Jezebel: Celebrity, Sex, Fashion for Women. Without Airbrushing.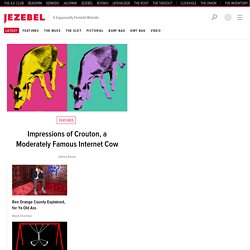 Much to the chagrin of a certain old-timey subset, traditional American masculinity is on its way out. Gone are days of the breadwinning hard hat wearers earning enough to support a wife that stays at home with 2.5 children; in 2014, the Haves wear bowties with short sleeved button down shirts and post pictures of their adopted three legged cat "Atticus" to Instagram while they wait for their daily webinar to start and the Have Nots drive their NOBAMA mudflapped trucks to the unemployment office. Read… 1/11/14 3:30pm Yesterday 3:30pm
Here's the news on our radar today! • Yesterday was the anniversary of Roe v. Wade! Current polling shows that 52 percent of Americans support access to legal abortions. [AlJazeera]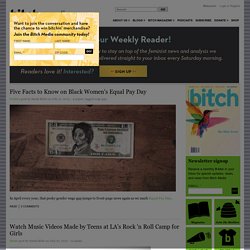 Bitch Media