Feministing
Ms. Magazine Online | More Than A Magazine - A Movement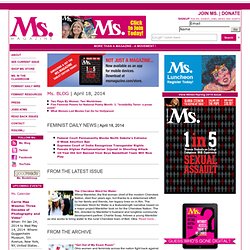 The Cherokee Word for Water Wilma Mankiller, the first woman chief of the modern Cherokee Nation, died four years ago, but thanks to a determined effort by her family and friends, her legacy lives on in film. The Cherokee Word for Water is a featurelength narrative based on a major project Mankiller took on for the Cherokee Nation. The film, directed by Mankiller's husband and longtime community development partner, Charlie Soap, follows a young Mankiller as she works to bring water to the rural Cherokee town of Bell, Okla. Read more...
Geek Feminism Blog | Women, feminism, and geek culture
If you've been following our linkspams recently, you've probably noticed the density of links to Model View Culture, an independent media platform covering technology, culture and diversity. MVC has brought us Frances Hocutt's story of unwillingly leaning out of her science career. Suey Park's defense of Twitter Feminism and Kate Losse's exploration of sexualisation and gendered labour as a pervasive force in tech. They've also published no less than four Geek Feminism contributors: Ashe Dryden, Leigh Honeywell, Liz Henry and Tim Chevalier, with more to come! If you're a linkspam lover, you might be following their Blameful Post Mortem ("Everything that's wrong with the tech industry this week, and who's to blame"), including the weekly Hacker News fail feature.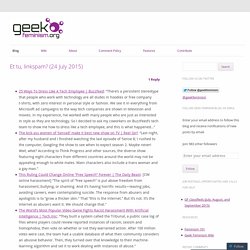 The F-Word Blog
The Baileys Women's Fiction Prize shortlist got unveiled earlier this week and Nigerian writer Chimamanda Ngozi Adichie's third novel Americanah is one of the candidates for the prize. If you have never heard of Chimamanda Ngozi Adichie, her TEDx Euston talk from April 2013 is a good place to start. The author won the prize previously, in 2007 (when it was called Orange Prize for Fiction) for her second novel Half of a Yellow Sun and its screen adaptation opens in UK cinemas on Friday. The film, directed by Biyi Bandele, starts Thandie Newton and Chiwetel Ejiofor. Our regular contributor Katherine Wootton reviews it for us, especially praising the performances:
Guest Post by Dana Hunter Men, even good men, believe women lie about rape. There's this myth that runs amok saying that some enormous proportion of rape accusations are just women lying to get attention, or revenge, or to hide their summer fling from mommy and daddy. And they believe it without question. When male friends toss that grenade at me, I toss it back by asking if they know what the percentage is.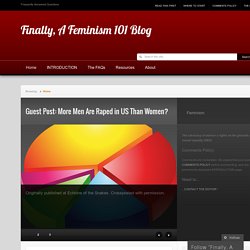 Finally, A Feminism 101 Blog
Jezebel: Celebrity, Sex, Fashion for Women. Without Airbrushing.
Here's the news on our radar today! • Yesterday was the anniversary of Roe v. Wade! Current polling shows that 52 percent of Americans support access to legal abortions. [AlJazeera]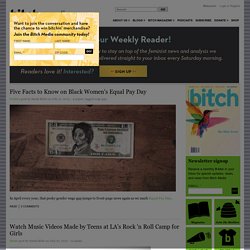 Bitch Media