Women in Computing
Home | Spokane Geek Girls
Home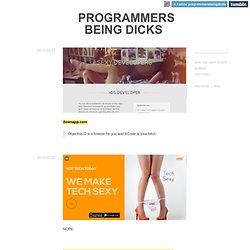 PROGRAMMERS BEING DICKS
Blog Posts about Adria Richards that Don't Claim She Should Just Have Been More Polite (…or gloss over the part where she and others were the targets of a focused campaign of rape threats, death threats and racial slurs.) Flavia Tamara Dzodan : Notice how almost all the comments, even those in favor of Adria Richards, many of them (as the one I am quoting here), from White women defending Richards are all about disciplining the uppity Black woman. They don't like her tone . Her vocal antics are improper .
Be the Change You Want to See in the Tech World We have a responsibility to the next generation of techies, girls and boys, who are excited about technology and coding! What kind of tech community will they find in 10 years? What kind of example are we setting for them? The Boys are not in the Yard Happy women's history month.
The Best of Systers Blog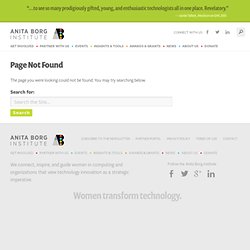 Confident Coding | JavaScript for the Web
cseweb.ucsd.edu/csevideo/Maria-Klawe-DLS.html
women-in-technology-infographic.jpg (1000×7879)
Several times in the last several weeks, I've found myself involved in an internet dust-up on twitter about "women in tech". This is the politically correct term. But what it's really about is the rampant misogyny and sexism in the tech industry. The most recent kerfuffle involved geekli.st. I won't go over the details.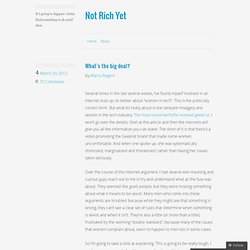 What's the big deal? « Not Rich Yet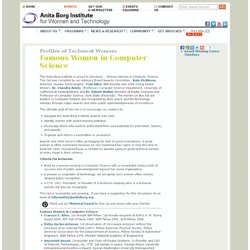 Famous Women in Computer Science
The Anita Borg Institute is proud to introduce – Famous Women in Computer Science. This list was compiled by our Advisory Board Awards Committee: Katy Dickinson (Director, Huawei Technologies), Fran Allen (IBM Emerita and 2006 Turing Award Winner), Dr. Chandra Krintz , (Professor, Computer Science Department, University of California at Santa Barbara) and Dr.
techwomenmena.wordpress.com
SystersLinks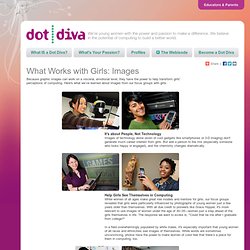 Dot Diva | Educators & Parents | What Works with Girls: Images
Because graphic images can work on a visceral, emotional level, they have the power to help transform girls' perceptions of computing. Here's what we've learned about images from our focus groups with girls. It's about People, Not Technology Images of technology alone (even of cool gadgets like smartphones or 3-D imaging) don't generate much career interest from girls.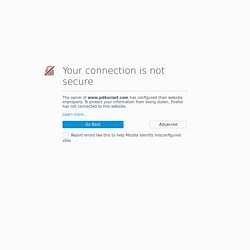 1. Neurons 2. Magnets on icebox 3. Digital photograph of Georgian filmmakers 4.
PDK Poster Project
Women in Tech
This is the second in a series of profiles on Yahoo! Women in Technology members. WIT women and men come from all areas of the company and all functions. Their roles differ widely, but they have a common commitment to helping women succeed in their careers at Yahoo!. Meet WIT member Fabiola Addamo!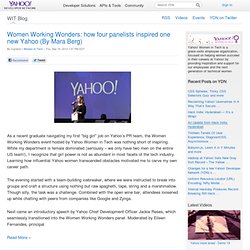 For years, I thought I had landed a full-time job at Google due to a series of very fortuitous events. First of all, I got the job through a summer internship, which allowed me to bypass the rigorous 8-interviews-in-a-day hiring process. And I lucked out because my phone screens for the internship just happened to cover material I was familiar with. I was also asked mostly algorithms and larger-picture design questions, which played to my strengths, and completely escaped having to code over the phone. Later I found out that my inability to internalize my own accomplishments was indicative of Impostor Syndrome .
Overcoming Impostor Syndrome « Jean Hsu
Geek Girl Camp
An Interview with Frances E. Allen | January 2011
Interview By Guy L. Steele Communications of the ACM, Vol. 54 No. 1, Pages 39-45 10.1145/1866739.1866752 Comments Frances E.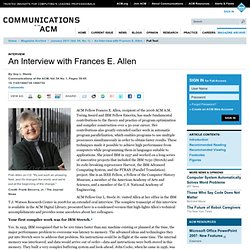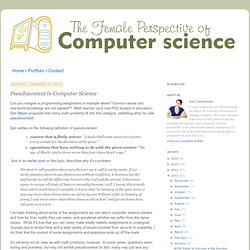 Can you imagine a programming assignment or example where "common sense and real-world knowledge are not needed"? Math teacher (and now PhD student in education) Dan Meyer proposed that many math problems fit into this category, exhibiting what he calls pseudocontext . Dan settles on the following definition of pseudocontext:
Pseudocontext in Computer Science
This is a series of videos about doodling in math class. Hopefully more info about the mathematics soon. For other videos, see this page . To download a video, right click and select "save link as" (or something like that, depending on your browser).
A few strands are coming together in comments. First, our linkspam linked to Richard Holmes's The Royal Society's lost women scientists , and Lesley Hall then commented : I'm somewhat annoyed at all the coverage A MAN talking about lost women scientists is getting, when we have several decades-worth of women historians of science who have been saying the exact same thing.
From comments: women in science, their history as told by… men?
Ghc2010 - Anita Borg Institute Wiki
From Anita Borg Institute Wiki
CompSci Woman
Inspire & Encourage |  Google Logo: What's it all about?
As many of you may have seen, Google today 7th September 2010 put our a new interactive logo consisting of coloured dots relating to particles in the standard Google colours. The logo is interactive in the sense that you move the mouse towards the dots and they swish out of the way as if repelled by the mouse. Similarly you can shake the screen and mix them up and when they settle again they show the Google Logo in dots.
Too important to be left to men
Computer Science for Fun - cs4fn: Computer Science and Electronic Engineering: The Women are here!
http://www.vpul.upenn.edu/careerservices/gradstud/ValerieYoungHandout.pdf
Blog Archive » Woman in technology
2D Goggles
List « Finding Ada
Workplace sexism: Glass ceilings are supported by glass walls |
Connecting Women and Technology » Anita Borg Institute for Women
Systers™
How does biology explain the low numbers of women in computer sc