Neil Gaiman
Primer: Neil Gaiman, Storyteller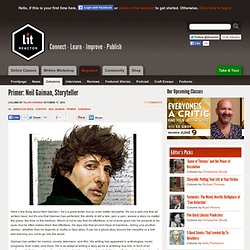 Here's the thing about Neil Gaiman-- he's a great writer, but an even better storyteller. It's not a skill-mix that all writers have, but it's one that Gaiman has perfected; the ability to tell a tale, spin a yarn, weave a story no matter the place, the time or the medium.
It is currently Tue Apr 02, 2013 1:52 am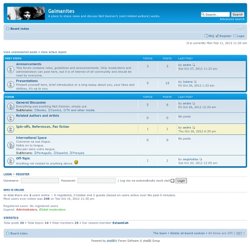 es • Index page
On the Shelf: Neil Gaiman « A.K. Anderson | Science Fiction and Fantasy Author
Do you remember the book that made you fall in love with reading? Can you remember when you stopped struggling to understand the words and started caring about the story? Neil Gaiman will always hold a special place in my heart, because his book Odd and the Frost Giants was that book for Brett's son.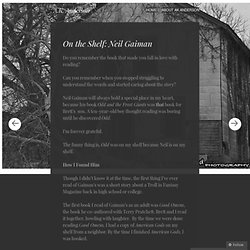 Neil Gaiman
Kyle Cassidy's Image Stream | Spent the weekend at Castle Gaiman relaxing...
Neil Gaiman - Another Important Question of the Day Answered
Quote of the Day: Neil Gaiman on Mistakes
How We Would Cast a Neil Gaiman Biopic
Click to enlarge Neil Gaiman's finest moment in life. Let's pretend that a biopic of Neil Gaiman's life is going to be made. It won't really, at least as far as we know.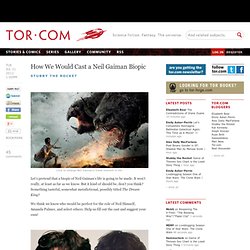 Neil Gaiman Addresses the University of the Arts Class of 2012
Neil Gaiman Shares His Reading Habits
Neil Gaiman
The Sweeper of Dreams by Neil Gaiman on Vimeo
Neil Gaiman – Harlequin Valentine
Neil Gaiman is one of the handful of writers who has made comics respectable over the past several decades.
Neil Gaiman's Free Short Stories and New Year's Wishes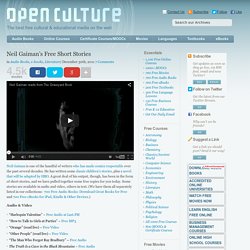 AMERICAN GODS, ALL SORTS, PLUS ME, COMPARING REVISING TO INEPT TEENAGE SEX. YEP. « GLITTERING SCRIVENER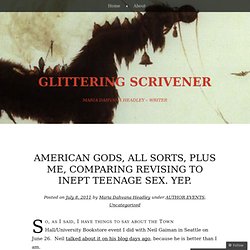 So, as I said, I have things to say about the Town Hall/University Bookstore event I did with Neil Gaiman in Seattle on June 26.
A brief intro for those who have been a) living under a rock, b) out pounding on rocks (hey, most of my friends are geologists, so it's distinctly possible) or c) brand new to the cantina: Neil Gaiman is the writer I place at the head of my personal pantheon of writers. He gives outstanding writerly advice, which writers of fantasy and literary fiction and even non-fiction science stuff shall find very useful indeed. And he was at Town Hall Seattle on Sunday night, wherein much wisdom was shared and laughter flowed freely.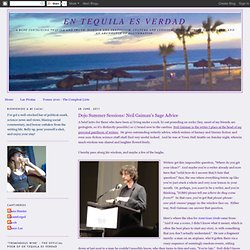 Dojo Summer Sessions: Neil Gaiman's Sage Advice
Videos posted by Barnes & Noble: Neil Gaiman: Meet the Writers [HD]
Neil Gaiman Interview on American Gods on Neil Gaiman Live Interview on June 21st at 4pm
You are very prolific. I imagine you holed up in a dark room with a laptop, chain-smoking clove cigarettes and emerging only to change your black T-shirt. That's definitely how it was, except they were never clove cigarettes.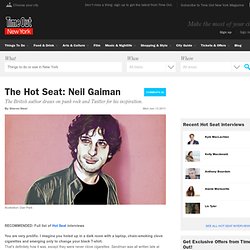 The Hot Seat: Neil Gaiman - Arts + Culture - Time Out New York
neil-gaiman-on-SFXMag-twitter-041111.pdf - Powered by Google Docs
Neil Gaiman - "Instructions"
Locus Online: Neil Gaiman Sainthood
Neil Gaiman One Step Closer to Sainthood by L. Ron Creepweans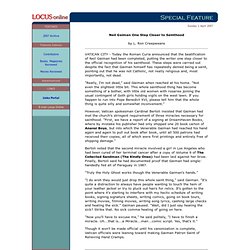 Death, Desire, Fury, and DelIrium: Feminism in the Worlds of Neil Gaiman
Neil Gaiman Visual Bibliography
tongari: a post not about basara!! the world is ending
Actually I am 100% sure someone else has not only done a Sandman/Inception crossover but dunnit far more eloquently (I got tired after page 4, re-read it and said WAIT WHAT IS THIS EVEN ABOUT) Spoilers for Inception (well.. everything) and Sandman books 9 and 10 (although you have no excuse for not reading them)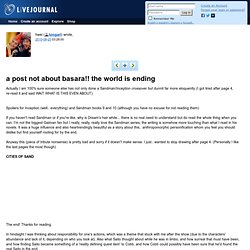 Spring Dance Festival
Sacred Texts Africa
Jamaica Anansi Stories Index
Neil Gaiman | Books | Primer
Primer is The A.V. Club's ongoing series of beginners' guides to pop culture's most notable subjects: filmmakers, music styles, literary genres, and whatever else interests us—and hopefully you. This installment: bestselling fantasy author Neil Gaiman, whose writing has run the gamut from comics to novels to short stories to screenplays to poetry to just about anything else within the reach of his imagination.
fuck yeah, neil fucking gaiman.
In "The New Mother," a children's story published by Lucy Clifford in 1882, two previously well-behaved little girls turn so bad—dousing the fire and breaking the clock and dancing on the butter—that their mother is forced to go away, and a new mother, a demon with two glass eyes and a horrible wooden tail, comes to take her place. At the story's end, the girls flee to the forest to live; they miss their mother terribly and long in vain for the chance to redeem themselves.
topic_movies
Home
only the gods are real
It goes without saying that all of the people, living, dead, and otherwise in this story are fictional or used in a fictional context. Only the gods are real.
Neil Gaiman
Early life Gaiman's family is of Polish- and other Eastern European-Jewish origins;[7] his great-grandfather emigrated from Antwerp before 1914[8] and his grandfather eventually settled in the Hampshire city of Portsmouth and established a chain of grocery stores.
Neil Gaiman: Books, Biography, Blog, Audiobooks, Kindle
Article
@neilhimself's (Neil Gaiman) most favourited tweets
Neil Gaiman's MouseCircus.com | The Graveyard Book Video Tour Re
www.neilgaiman.com/mediafiles/exclusive/shortstories/emerald.pdf