Neil Gaiman
Primer: Neil Gaiman, Storyteller. Here's the thing about Neil Gaiman-- he's a great writer, but an even better storyteller.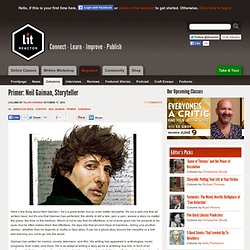 It's not a skill-mix that all writers have, but it's one that Gaiman has perfected; the ability to tell a tale, spin a yarn, weave a story no matter the place, the time or the medium. Which is not to say that it's effortless--a lot of work goes into his projects to be sure--but he often makes them feel effortless. He taps into that ancient ritual of mankind-- telling one another stories-- whether they be legends or myths or fairy tales. It can be a ghost story around the campfire or a folk tale warning you not to go into the wood. Gaiman has written for comics, novels, television, and film. Es • Index page. It is currently Tue Apr 02, 2013 1:52 am Announcements This forum contains rules, guidelines and announcements.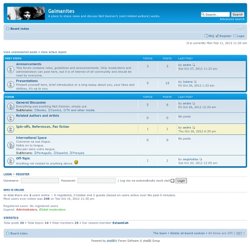 Only moderators and administrators can post here, but it is of interest of all community and should be read by everyone. 3 Topics 3 Posts Last post by andre Sat Oct 27, 2012 11:23 pm Presentations Present yourself here, brief introduction or a long essay about you, your likes and dislikes, it's up to you. 5 Topics 15 Posts Last post by Juliana Fri Oct 26, 2012 1:23 am General Discussion Everything and anything Neil Gaiman, simply put. On the Shelf: Neil Gaiman « A.K. Anderson | Science Fiction and Fantasy Author.
Do you remember the book that made you fall in love with reading?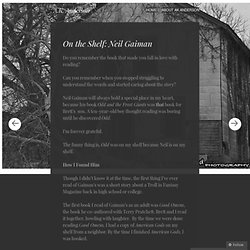 Can you remember when you stopped struggling to understand the words and started caring about the story? Neil Gaiman will always hold a special place in my heart, because his book Odd and the Frost Giants was that book for Brett's son. Neil Gaiman. Kyle Cassidy's Image Stream | Spent the weekend at Castle Gaiman relaxing...
Neil Gaiman - Another Important Question of the Day Answered. Quote of the Day: Neil Gaiman on Mistakes. How We Would Cast a Neil Gaiman Biopic. Click to enlarge Neil Gaiman's finest moment in life.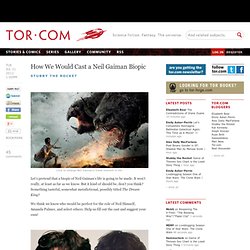 Let's pretend that a biopic of Neil Gaiman's life is going to be made. It won't really, at least as far as we know. Neil Gaiman Addresses the University of the Arts Class of 2012. Neil Gaiman Shares His Reading Habits. Neil Gaiman. The Sweeper of Dreams by Neil Gaiman. Neil Gaiman – Harlequin Valentine. Neil Gaiman's Free Short Stories and New Year's Wishes. Audio & Video And, since it's certainly timely, we leave you with Gaiman's New Year's Eve message delivered to a crowd in Boston several years ago: May your coming year be filled with magic and dreams and good madness.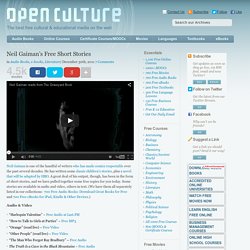 I hope you read some fine books and kiss someone who thinks you're wonderful, and don't forget to make some art – write or draw or build or sing or live as only you can. May your coming year be a wonderful thing in which you dream both dangerously and outrageously.I hope you will make something that didn't exist before you made it, that you will be loved and you will be liked and you will have people to love and to like in return.
AMERICAN GODS, ALL SORTS, PLUS ME, COMPARING REVISING TO INEPT TEENAGE SEX. YEP. « GLITTERING SCRIVENER. So, as I said, I have things to say about the Town Hall/University Bookstore event I did with Neil Gaiman in Seattle on June 26.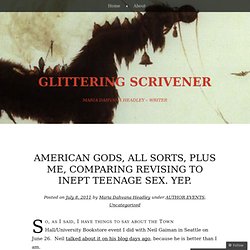 Neil talked about it on his blog days ago, because he is better than I am. Here is a photo from said event, taken by my friend Victoria Kieburtz, who was in the audience. I suspect, from the look on my face, that this is midway through Neil giving a speech about turning off one's cellphone, even if you are using it as a camera and have forgotten that it is in fact a phone, even if you are the sort of person who never ever gets a call. Because, you will get a call. Dojo Summer Sessions: Neil Gaiman's Sage Advice. A brief intro for those who have been a) living under a rock, b) out pounding on rocks (hey, most of my friends are geologists, so it's distinctly possible) or c) brand new to the cantina: Neil Gaiman is the writer I place at the head of my personal pantheon of writers.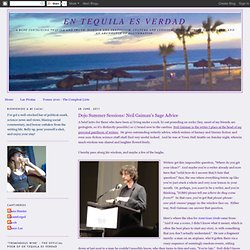 He gives outstanding writerly advice, which writers of fantasy and literary fiction and even non-fiction science stuff shall find very useful indeed. And he was at Town Hall Seattle on Sunday night, wherein much wisdom was shared and laughter flowed freely. Videos posted by Barnes & Noble: Neil Gaiman: Meet the Writers [HD] Neil Gaiman Interview on American Gods on Neil Gaiman Live Interview on June 21st at 4pm. The Hot Seat: Neil Gaiman - Arts + Culture - Time Out New York. Illustration: Dan Park RECOMMENDED: Full list of Hot Seat interviews You are very prolific.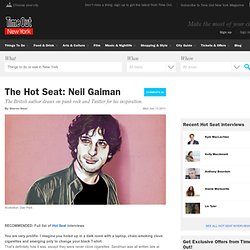 Neil-gaiman-on-SFXMag-twitter-041111.pdf - Powered by Google Docs. Neil Gaiman - "Instructions" Locus Online: Neil Gaiman Sainthood. Neil Gaiman One Step Closer to Sainthood by L.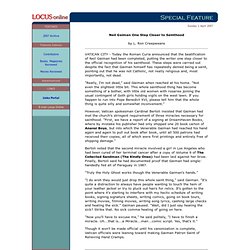 Ron Creepweans. Death, Desire, Fury, and DelIrium: Feminism in the Worlds of Neil Gaiman. Neil Gaiman Visual Bibliography. Tongari: a post not about basara!! the world is ending. Actually I am 100% sure someone else has not only done a Sandman/Inception crossover but dunnit far more eloquently (I got tired after page 4, re-read it and said WAIT WHAT IS THIS EVEN ABOUT) Spoilers for Inception (well.. everything) and Sandman books 9 and 10 (although you have no excuse for not reading them) If you haven't read Sandman or if you're like, why is Dream's hair white... there is no real need to understand but do read the whole thing when you can.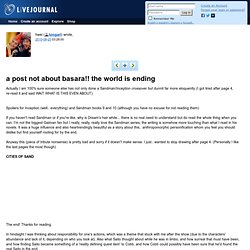 I'm not the biggest Gaiman fan but I really, really, really love the Sandman series, the writing is somehow more touching than what I read in his novels. It was a huge influence and also heartrendingly beautiful as a story about this.. anthropomorphic personification whom you feel you should dislike but find yourself rooting for by the end. Anyway this (piece of tribute nonsense) is pretty bad and sorry if it doesn't make sense. Spring Dance Festival. Jamaica Anansi Stories Index. Sacred Texts Africa Music transcribed by HELEN ROBERTS Jump to Index Start Reading This classic of Jamaican folklore was collected by Martha Warren Beckwith, whose translation of the Hawaiian Creation epic, the Kumulipo, is also at sacred-texts. Neil Gaiman | Books | Primer. Primer is The A.V. Club's ongoing series of beginners' guides to pop culture's most notable subjects: filmmakers, music styles, literary genres, and whatever else interests us—and hopefully you.
This installment: bestselling fantasy author Neil Gaiman, whose writing has run the gamut from comics to novels to short stories to screenplays to poetry to just about anything else within the reach of his imagination. Fuck yeah, neil fucking gaiman. Topic_movies. In "The New Mother," a children's story published by Lucy Clifford in 1882, two previously well-behaved little girls turn so bad—dousing the fire and breaking the clock and dancing on the butter—that their mother is forced to go away, and a new mother, a demon with two glass eyes and a horrible wooden tail, comes to take her place. At the story's end, the girls flee to the forest to live; they miss their mother terribly and long in vain for the chance to redeem themselves.
Sometimes, at night, they sneak back to their old cottage, where through the window they can see the glint of the new mother's glass eyes. Gothic horror was thoroughly out of fashion in children's literature when, in the early nineteen-nineties, the writer Neil Gaiman began to work on "Coraline," a book aimed at "middle readers"—aged nine to twelve—in which he reimagined Clifford's demon as "the other mother," an evil and cunning anti-creator who threatens to destroy his young protagonist.
Home. Only the gods are real. It goes without saying that all of the people, living, dead, and otherwise in this story are fictional or used in a fictional context. Only the gods are real. --From the Caveat, and Warning for Travelers from American Gods by Neil Gaiman Hi! If this is your first visit to this site, please read this brief introduction. If you're here, you've probably read American Gods, and realize just what a large role mythology plays in the story.
Neil Gaiman. Early life Gaiman's family is of Polish- and other Eastern European-Jewish origins;[8] his great-grandfather emigrated from Antwerp before 1914[9] and his grandfather eventually settled in the Hampshire city of Portsmouth and established a chain of grocery stores. His father, David Bernard Gaiman, worked in the same chain of stores;[10] his mother, Sheila Gaiman (née Goldman), was a pharmacist. He has two younger sisters, Claire and Lizzy.[11] After living for a period in the nearby town of Portchester, Hampshire, where Neil was born in 1960, the Gaimans moved in 1965 to the West Sussex town of East Grinstead where his parents studied Dianetics at the Scientology centre in the town; one of Gaiman's sisters works for the Church of Scientology in Los Angeles. His other sister, Lizzy Calcioli, has said, "Most of our social activities were involved with Scientology or our Jewish family.
It would get very confusing when people would ask my religion as a kid. Neil Gaiman: Books, Biography, Blog, Audiobooks, Kindle. Article. @neilhimself's (Neil Gaiman) most favourited tweets. Neil Gaiman's MouseCircus.com | The Graveyard Book Video Tour Re. Www.neilgaiman.com/mediafiles/exclusive/shortstories/emerald.pdf.
---