CSS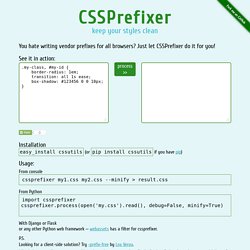 You hate writing vendor prefixes for all browsers? Just let CSSPrefixer do it for you! See it in action: <b style="color:red">You need to turn on Javascript</b> Installation
JavaScript and HTML5 Forms Testing for Support If you intended to write JavaScript to mimic the functionality of HTML5 forms, you may want to first test the current browsers capability and write the JavaScript as a fallback. On the right is how you might test for attribute support. More accurate feature testing can be done through the excellent JavaScript library Modernizr.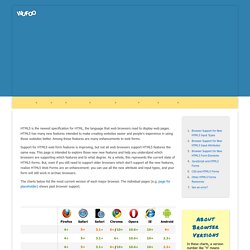 base
21 listes pour Webdesigners
Advertisement Although CSS isn't that difficult, useful CSS techniques are not easy to find. Sometimes finding a cross-browser solution might take time, but you don't have to reinvent the wheel every single time. Other designers may have had the same problem in the past and thus the main goal of this round-up is to share with you a goldmine of new techniques which you will hopefully find very useful and valuable.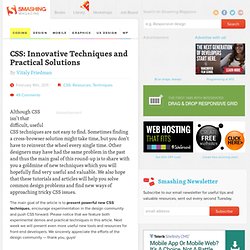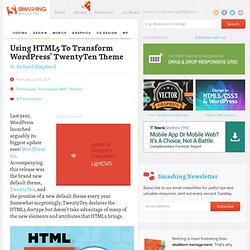 Advertisement Last year, WordPress launched arguably its biggest update ever: WordPress 3.0. Accompanying this release was the brand new default theme, TwentyTen, and the promise of a new default theme every year. Somewhat surprisingly, TwentyTen declares the HTML5 doctype but doesn't take advantage of many of the new elements and attributes that HTML5 brings. Now, HTML5 does many things, but you can't just add <!doctype html> to the top of a document and get excited that you're so 2011.
This post was originally published on August 21, 2009 and is now being being republished as it has been entirely revised. Both original methods are removed and now replaced by four new methods. The goal here is a background image on a website that covers the entire browser window at all times. Let's put some specifics on it: Fills entire page with image, no white spaceScales image as neededRetains image proportions (aspect ratio)Image is centered on pageDoes not cause scrollbarsAs cross-browser compatible as possibleIsn't some fancy shenanigans like Flash Image above credited to this site.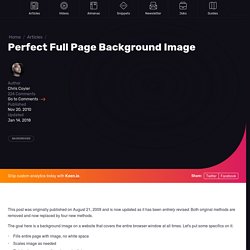 Stripes in CSS Stripes are pretty easy to do in CSS these days. CSS gradients via the background-image property really got our back. I thought I'd document some varitions in one easy to reference place.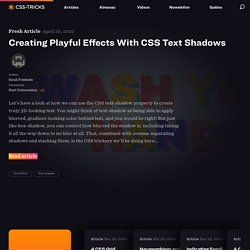 Easily create bundles of beautifully matching, free web fonts, with failsafe font stacks to back them up. Including ready-to-go CSS code! Create a font bundle …