CSS
CSSPrefixer. The Current State of HTML5 Forms · Wufoo. JavaScript and HTML5 Forms Testing for Support If you intended to write JavaScript to mimic the functionality of HTML5 forms, you may want to first test the current browsers capability and write the JavaScript as a fallback.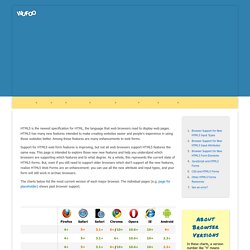 On the right is how you might test for attribute support. More accurate feature testing can be done through the excellent JavaScript library Modernizr. Base. 21 listes pour Webdesigners.
CSS FrameWork
The Shapes of CSS. Using HTML5 To Transform WordPress' TwentyTen Theme - Smashing Magazine. Advertisement Last year, WordPress launched arguably its biggest update ever: WordPress 3.01.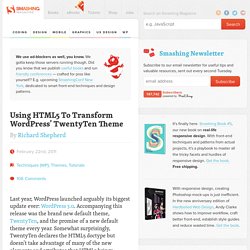 Accompanying this release was the brand new default theme, TwentyTen2, and the promise of a new default theme every year. Somewhat surprisingly, TwentyTen declares the HTML5 doctype but doesn't take advantage of many of the new elements and attributes that HTML5 brings. Perfect Full Page Background Image. This post was originally published on August 21, 2009 and is now being being republished as it has been entirely revised.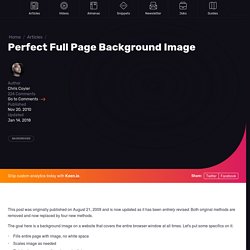 Both original methods are removed and now replaced by four new methods. The goal here is a background image on a website that covers the entire browser window at all times. Let's put some specifics on it: Fills entire page with image, no white spaceScales image as neededRetains image proportions (aspect ratio)Image is centered on pageDoes not cause scrollbarsAs cross-browser compatible as possibleIsn't some fancy shenanigans like Flash Image above credited to this site. CSS-Tricks. Awesome Fontstacks.
---