Plugins FF
– October 3, 2012 Posted in: Uncategorized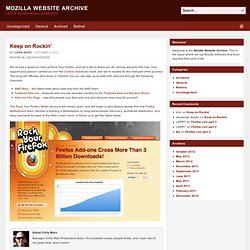 iMacros pour Firefox :: Modules pour Firefox
From iMacros A high-level overview on the different versions of iMacros can be found here Note: With iMacros Version 8 we adapted our iMacros Edition names and license structure to better suit the needs of our growing numbers of enterprise customers. Old: iMacros Scripting Edition => New: iMacros Enterprise Edition Old: iMacros PRO Edition => New: iMacros Standard Edition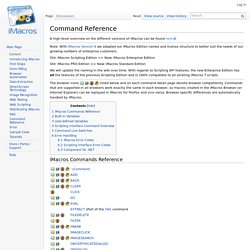 Command Reference
iMacros
View forum - iMacros for Firefox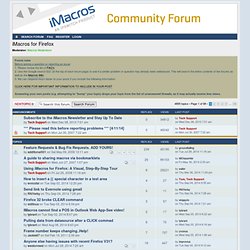 Discussions and Tech Support related to the iMacros Firefox Add-on. Moderators: Tom, iOpus , Marcia, iOpus , Hannes, iOpus , Tech Support Forum rules Before asking a question or reporting an issue : 1. Please review the list of FAQ's . 2. Use the Google search box (at the top of each forum page) to see if a similar problem or question has already been addressed.
iMacros | Online Support Resources - Web Automation, Web Scraping, Web Testing
From iMacros This page documents features that are unique to iMacros for Firefox . For the standard features of the iMacros series, please see the Form Filling , Browser Automation , Data Extraction and Web Testing chapters. Installation No administrative rights are required for the installation.
for Firefox