Atheist
Why don't people believe in GOD?
Pharyngula Wiki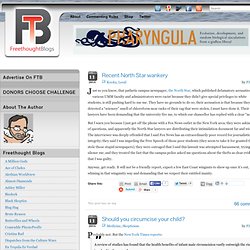 Last night at #nwc36 we were talking about evodevo, and one of the topics that came up was the importance of Drosophila reasearch in providing the foundation for comparative genetic analysis…which led to Sarah Palin. Remember Palin's ignorant mockery of fruit fly research ? This is what we get from the Republican party.
It seems like not much has changed since I was an Indiana high school student : A team of Valley high schoolers and parents rally for a separate prom that bans gays. NBC 2′s Paige Preusse reports how Sullivan High School says there's nothing legally they can do to allow it… several students and parents are taking matters into their own hands. Several parents, students, and others who believe gays should be banned from the Sullivan High School prom met Sunday at the Sullivan First Christian Church. "We don't agree with it and it's offensive to us," said Diana Medley.
Blag Hag