Atheist
Wonkette — The D.C. Gossip
This is the best way I've ever seen to teach someone evolution
Why don't people believe in GOD?
Pharyngula Wiki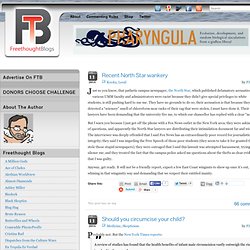 Pharyngula
The regulars here may recall John A. Davison, who died in 2012. He was notoriously persistent and repetitive, and rather clueless: he was the guy who started a blog with one article, never wrote another one, and just made new comments.
My favorite thing to wake up to in the morning is white straight cis men insisting they get to decide who your allies are and that you should not ever get angry, but rather calmly explain basic topics to hostile questions from every person that wanders across your path as if it were your personal duty on this earth. Thanks for that wonderful way to start the day, JT! If that wasn't his intended take home message from his post on Bria Crutchfield's "outburst" at the Great Lakes Atheist Convention, that's the message he actually accomplished. But intent is not magic – innocently writing something out of the goodness of your heart doesn't wash away the problematic message of that post. Which ironically started with failing to understand that intent it not magic.
Blag Hag