HTML
w3schools. Wickham43 Manual to HTML/CSS. CSS-Tricks. REALLY GREAT FOR LEARNERS - TREEHOUSE. Screenfly. BOOTSTRAP. The Shapes of CSS. Interface Element Blog. When I was a teenager, I always felt like my design heroes had some kind of special sixth sense.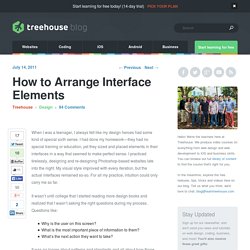 I had done my homework—they had no special training or education, yet they sized and placed elements in their interfaces in a way that seemed to make perfect sense. I practiced tirelessly, designing and re-designing Photoshop-based websites late into the night. My visual style improved with every iteration, but the actual interfaces remained so-so. For all my practice, intuition could only carry me so far. 40 Generators. Online Generators for Web Designers can be a great way to save time in your web design projects.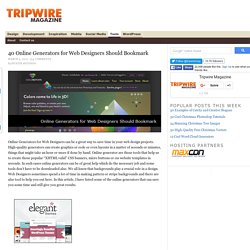 High-quality generators can create graphics or code or even layouts in a matter of seconds or minutes, things that might take an hour or more if done by hand. Online generator are those tools that help us to create those popular "XHTML valid" CSS banners, micro buttons or css website templates in seconds. CSS Tools. HTML5 always an important phenomenon within web design community.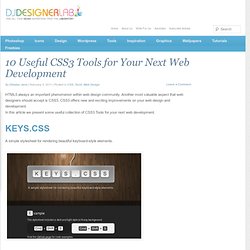 Another most valuable aspect that web designers should accept is CSS3. CSS3 offers new and exciting improvements on your web design and development. Advanced CSS Prefitter. 20 Inspirational Websites. Advertisement Today, you can easily find several motivating and appealing websites on the net that can be of great help to thousands of online users all over the globe.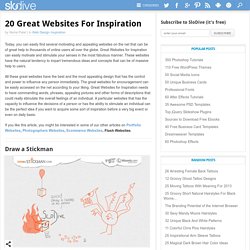 Great Websites for Inspiration can easily motivate and stimulate your senses in the most fabulous manner. These websites have the natural tendency to impart tremendous ideas and concepts that can be of massive help to users. All these great websites have the best and the most appealing design that has the control and power to influence any person immediately.
The great websites for encouragement can be easily accessed on the net according to your liking.
---