Education Tools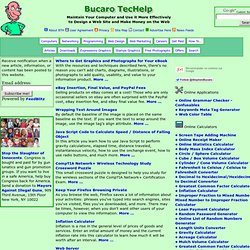 Where to Get Graphics and Photographs for Your eBookWith the resources and techniques described here, there's no reason you can't add charts, diagrams, illustrations, or photographs to add quality, usability, and value to your information product. More ... eBay Insertion, Final Value, and PayPal FeesSelling products on eBay comes at a cost! Those who are only occasional sellers on ebay are often surprised with the PayPal cost, eBay insertion fee, and eBay final value fee.
Bucaro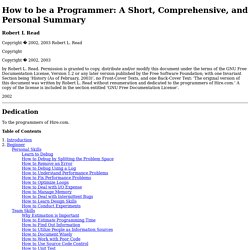 Debugging is the cornerstone of being a programmer. The first meaning of the verb to debug is to remove errors, but the meaning that really matters is to see into the execution of a program by examining it. A programmer that cannot debug effectively is blind. Idealists that think design, or analysis, or complexity theory, or whatnot, are more fundamental are not working programmers. The working programmer does not live in an ideal world. Even if you are perfect, your are surrounded by and must interact with code written by major software companies, organizations like GNU, and your colleagues.
Course Description : HTTP, PHP, SQL, AJAX, XML and Java Script, Security and Scalability. Other Resources : Syllabus | Handouts | Citation | These video lectures are licensed under Creative Commons Attribution-Noncommercial-Share Alike 3.0 Unported License by Harvard University. Other Web Designing Courses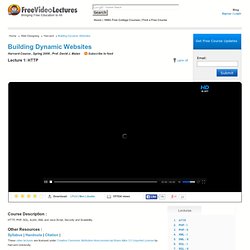 DYNAMIC WEBSITES HARVARD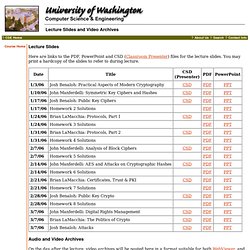 Lecture Slides Here are links to the PDF, PowerPoint and CSD (Classroom Presenter) files for the lecture slides. You may print a hardcopy of the slides to refer to during lecture. Audio and Video Archives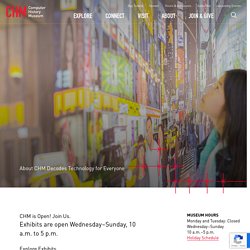 Revolutionaries Season 3 Now on KQED! Revolutionaries, the 12-part interview series produced by the Computer History Museum, in association with KQED Silicon Valley, returns for a third season. The series airs on KQED Plus on Tuesdays at 7pm, starting January 21, with an in-depth look at the sailing technology used by the 34th America's Cup winners Oracle Team USA.