Twitter
Click for high-resolution PDF version (11MB) Video A time-lapse video of the maps, cycled twice, is available below (best viewed at 720p): Mood Variations A number of interesting trends can be observed in the data.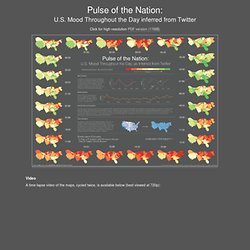 Measuring User Influence in Twitter
Twitter Social Graph
| dev.twitter.com
Updated on Sat, 2012-08-25 12:22 Twitter is an information network and communication mechanism that produces more than 200 million tweets a day. The Twitter platform offers access to that corpus of data, via our APIs. Each API represents a facet of Twitter, and allows developers to build upon and extend their applications in new and creative ways. It's important to note that the Twitter APIs are constantly evolving, and developing on the Twitter Platform is not a one-off event.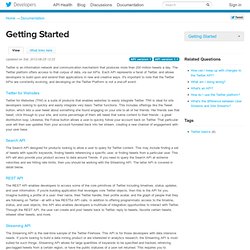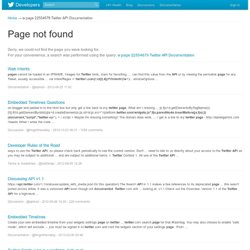 API Wiki / Twitter API Documentation
Web Intents pages cannot be loaded in an IFRAME. Images for Twitter birds, stars for favoriting, ... can find this value from the API or by viewing the permalink page for any Tweet, usually accessible ... var intentRegex = / twitter\.com(\:\d{2,4})?\/intent\/(\w +)/ , windowOptions ... Documentation - @ episod - 2012-08-25 12:02 Discussing API v1.1
TweetFeel: Real-Time Sentiment Search