Villas
Linear
ArchDaily | Broadcasting Architecture Worldwide. Addition. Court. Urban-context. COUNTRYSIDE. Balnarring House / Simon Couchman Architects. Architects: Simon Couchman Architects / Simon Couchman Location: Balnarring Beach, VIC, Australia Project Engineer: KH Engineering Building Contractor: Nepean Houseworks Landscape: Fiona Brockhoff Project Year: 2011 Project Area: ~300 sqm Photographs: Christine Francis The brief called for a family holiday house where family could be together but not on top of one another.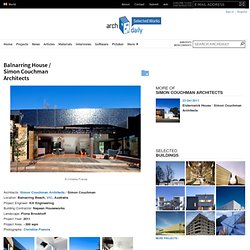 The wide, north-facing block some 5 minutes walk from Balnarring Beach on Victoria's Mornington Peninsula offered the perfect opportunity to build such a house. Amongst the tea-tree and banksia are the sandy driveways of 1950s-style fibro shacks alternating with the modern housing indicative of the continuing development of the region. While sympathetic to its surroundings, the design of the house seeks to make use of the entire site. The single level U-shaped building steps up towards the rear of the block following the gentle slope of the land. MICRO HOUSE. Black slit house / THREE.BALL.CASCADE. Architect: THREE.BALL.CASCADE.Architecture Design Office.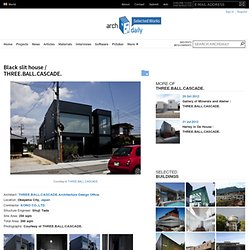 Location: Okayama City, Japan Contractor: KONO CO. ,LTD. Structure Engineer: Shuji Tada Site Area: 250 sqm Total Area: 200 sqm Photographs: Courtesy of THREE.BALL.CASCADE. The site of this duplex house is near an industrial area, with big highways and factories, in Okayama City. The narrow shape runs south to north. Mercer House / Vibe Design Group. Architects: Vibe Design Group Location: Melbourne, Australia Project Area: 314 sqmPhotographs: Robert Hamer The client purchased an existing run-down home with the intention of transforming it into a striking contemporary styled residence.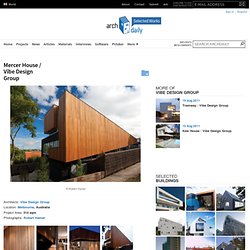 Although unattractive to look at, the existing residence was of sound construction and worthy of part retention and utilization. Unlike their previous home that they described as too stark & cold, the client's called for a liveable family home with sophistication and warmth. An undeniable street presence was formed with a striking timber-lined shape that extends with the longest street boundary. Moonshine / Mitchell Taylor Workshop. Architects: Mitchell Taylor Workshop Location: Bath, England Main Contractor: Piers Taylor Structural Engineer: Structures 1 Project Year: 2008 Photographs: Courtesy of Mitchell Taylor Workshop The extension to 'Moonshine' is an addition to a 1786 castellated Stone building, which has no car access within 400 yards.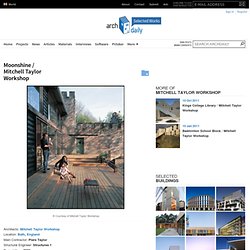 It is intended as a didactic building in the Smithsonian tradition and is intentionally raw. It was a self-build project, and finally completed in October 2008. MUR House / Apollo Architects & Associates. Architects: Apollo Architects & Associates Location: Yokohamam, Japan Project Year: 2011 Project Area: 80.39 sqm Structural Engineer: Kenta Masaki Mechanical Engineer: Zennei Shimada Photographs: Masao Nishikawa This one-story residence for a single woman is located in a hilly area of Yokohamam, Japan.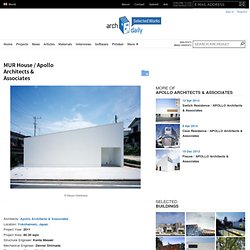 The client requested a house with an internal courtyard that would eliminate the differences in elevation throughout the site while ensuring a sense of privacy and comfort. In response, we decided to model the facade after a simple box encircled by the walls of the building. In order to prevent the interior from becoming just a simple one-room space, we considered each of the necessary components to be a "story." Hotchkiss Residence / Scott | Edwards Architects. Architect: Scott | Edwards Architects Location: Vancouver, Washington, USA Project Team: Rick Berry, Kelly Edwards, Jason Wesolowski Landscape Architect: Shapiro Didway Contractor: Hammer &Hand Project Area: 1,988 sqf Project Year: 2010 Photographs: Peter Eckert The owners, a couple in their 70's who have lived on the property for over 40 years, sought to rebuild their modular home which had outlived its lifespan.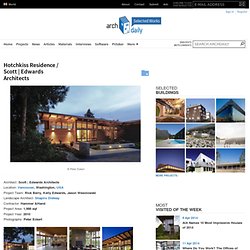 They desired a "simple living" space. The 1,988 SF, 1.5 bedroom home sits nestled on the banks of the Columbia River and responds to amazing views of the river and Mt. 25th Street Residence / Shimizu + Coggeshall Architects. Architect: Shimizu + Coggeshall Architects Location: Santa Monica, California, United States Project Team: Joshua Coggeshall, Janice Shimizu, Sean Harris, Ryan Klinger, Danny Mascari Project Area: 2785 sf Project Year: 2010 Photographs: Joshua White LEED consultant: Glen Boldt, GB Works Landscape Architect: Sasha Tarnopolsky, Dry Design Structural Engineer: Efficient Consulting Engineers Contractor: deKrassel ConstructionFeatured Products: Runtal Hydronic Radiator units, Schuco Slim V Solar Collectors, Eco-GFX heat recovery fixture S3-60 by EcoInnovations, National Gypsum, Thermal Core phase changing drywall, TX Active finish coat- photocatalytic smog reducing stucco The project hinges on the following main ideas: the first was to insert a LEED platinum contemporary renovation into a 1920's structure in a way that would contrast and complement.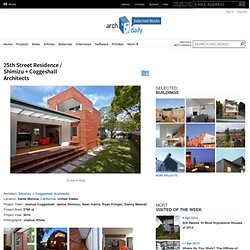 Small unused spaces were reconfigured by expanding them for a multiplicity of programs. V12K0102 / Pasel.Kuenzel Architects. Architects: Pasel.Kuenzel Architects Location: Leiden, The Netherlands Project Team: R.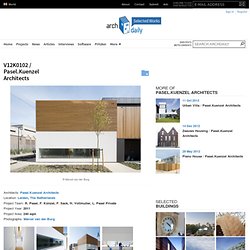 Pasel, F. Künzel, F. Sack, H. Sneeoosh / zeroplus. Architect: zeroplus Location: Puget Sound, Washington, USA Project Team: Joshua Brevoort, Principal; Lisa chun, Principal; Casey Borgen, Intern Fabricators: River Ranch LLC and Meadow Works Manager: Bud Searle Carpenters: Neil Harrington, Mark Schrader Project Area: 1200 sqf Project Year: 2007 Photographs: zeroplus Our practice explores how architecture can develop a symbiotic relationship with its surroundings.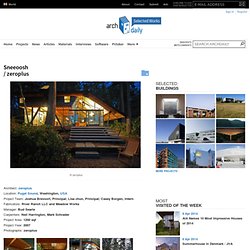 In this project, a cabin that is a retreat from the intense experiences of urban living, we found a number of ways to develop this ecological model. We started with a strict set of site rules that govern the design and construction process. The most important rule is that the previously undisturbed site full of mature Douglas fir and cedar trees, some up to three feet in diameter with a dense marine underbrush including salal bushes would be left as undisturbed as possible. Brione House / Wespi de Meuron. Architects: Markus Wespi Jérôme de Meuron architects Location: Brione sopra Minusio, TI, Switzerland Construction Supervision: Guscetti Arch.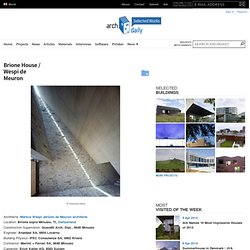 Dipl., 6648 Minusio Engineer: Anastasi SA, 6604 Locarno Building Physics: IFEC Consulenze SA, 6802 Rivera Contractor: Merlini + Ferrari SA, 6648 Minusio Carpenter: Erich Keller AG, 8583 Sulgen Project year: 2004-2005 Photographs: Hannes Henz The new building is located in a privileged but sprawled urban area above Locarno, with an overwhelming view on the city, the surrounding mountains and the lake. The project is a discrete reaction to a daily subject: to build into a crowded and chaotic urbanized area. Cloudy House / LASC studio. Architects: LASC studio Location: Copenhagen, Denmark Project Year: 2011 Photographs: Stamers Kontor The Cloudy House is an extension of a 1930′s house, which had become too small for the young and expanding family in residence.
The roof of the existing house seems to stretch out over the extension, giving the extension a dynamic and contemporary expression, while clearly communicating its origin from the existing building. Gorgeous Light-Filled Swiss Home Overlooks Lake Lugano lake lugano house – Inhabitat - Green Design Will Save the World. The modern aesthetic certainly creates a stark contrast against the natural greenery, but roof plantings in addition to the views on the pavilion level make the home at peace with the surrounding landscape.
The house is built partially embedded into the slope of a hill overlooking Lake Lugano. The villa consists of two volumes that have been oriented to fit the topography of the site – the one set above ground hosts communal spaces, and the other set on a lower level contains private spaces such as bedrooms and bathrooms, as well as the garage. While established as separate volumes, the program of each level relates closely with the outdoor spaces. Law Street House / Muir Mendes. Architect: Muir Mendes Location: South Melbourne, Australia Project/Design Architect: Amy Muir and Bruno Mendes Builder: Bruno Mendes, Joaquim Mendes, Amy Muir Photographs: Peter Bennetts Muir Mendes was established in 2011 with Law Street House forming the practices first project.
Located in a tight single lane street in South Melbourne the original dilapidated one bedroom workman's cottage built in the 1880s formed the initial brief for architect's/owner builders Bruno Mendes and Amy Muir. To pursue the desire to construct using ones own hands formed a very important part of the brief. Joe Mendes who manages steel fabrication for a large construction company formed the final link. The following 3 and a half years of demolition, excavation and construction would be referred to as 'the daddy Mendes apprenticeship'.
Boathouse / TYIN tegnestue. Architects: TYIN tegnestue Location: More og Romsdal, Norway Project Area: 2011 Photographs: Pasi Aalto Traditional Norwegian boat houses have been used to store boats and fishing gear,but now many of them are being converted for recreational summer use. At this site, the existing boat house was in bad shape and had to be torn down, but its simple shape, sensible placement and honest use of materials inspired the new building. A lot of the materials were reused, either as shuttering for the concrete walls and footings or as internal panelling. Windows from the client's farmhouse were also reused. The exterior cladding is Norwegian pine impregnated with a by-product from the sugar cane industry, which will give grey patina. Box House / Alan Chu & Cristiano Kato. Architects: Alan Chu & Cristiano Kato Location: Ilhabela, Sao Paulo, Brazil Project year: 2008 Site area: 8,000 sqm Constructed area: 36 sqm Photographs: Djan Chu It is a small construction with an equally simple program: A caretaker's house of a property on an island on the North coast of the State of São Paulo, Brazil.
---