BIOARCHITECTURE
Get flash to fully experience Pearltrees
This post is also available in: Chinese (Traditional) Response to The Under-imagined Future of Transport by Susan Claris I don't agree that the importance of forward-thinking long term planning is over sold! What I do think is over-sold – is the productisation of very specific solutions to challenges that are not well characterised and we don't yet know how to face. The current economic & political system only deals with short term-ism (returns and period in office) so investment in research and development that deals with decade or more kinds of solutions does not exist to properly support the strategic development of implementable solutions. In other words, realistic future solutions are 'evolved' not 'born'.
Title: That Which Lives In Me Category: #bioartificialecosystem #crossreality Author: Dmitry Bulatov and Alexey Chebykin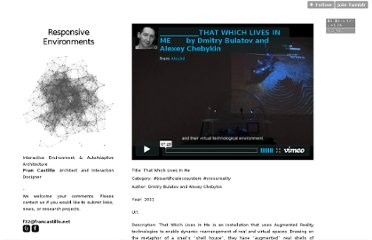 A graphical representation of London's "living" skyline as envisaged by award-winning architect Richard Hyams. Over the next 40 years, "living" buildings could absorb carbon emitted from the city Synthetic biology enables scientists to create life-like matter in the lab Known as "protocells," these chemicals could be applied to buildings in the form of paint Other chemicals will let buildings regulate their own temperature and produce own power London (CNN) -- What if buildings had lungs that could absorb carbon emissions from the city and convert them into something useful?
Dec. 8, 2010 — The University of Greenwich's School of Architecture & Construction is poised to use ethical synthetic biology to create 'living' materials that could be used to clad buildings and help combat the effects of climate change. Researchers from the University of Greenwich are collaborating with others at the University of Southern Denmark, University of Glasgow and University College London (UCL) to develop materials that could eventually produce water in desert environments or harvest sunlight to produce biofuels. In collaboration with an architectural practice and a building materials' manufacturer, the idea is to use protocells -- bubbles of oil in an aqueous fluid sensitive to light or different chemicals -- to fix carbon from the atmosphere or to create a coral-like skin, which could protect buildings.
By Rachel Armstrong Between the 1830's to 1840's, the modern public health movement was started in Britain when Edwin Chadwick, advocate for the Poor Law, brought his vision of public health through sanitarianism into being through public works. This ultimately resulted in the construction of modern day water and sewage systems that set standards of urban infrastructure throughout the developed world. Today we are facing a similar urban crisis of environment due to the consequences of living in industrial pollution for the last 150 years.
"So no, I don't accept that the future is over-sold : it's productised an as a result it's over constrained by our current ways of thinking and immediate practices …" - Rachel Armstrong, letter to ARUP Have you ever wondered how a single cell can finally transform in a complex organism?