Miscellaneous
Miscellaneous capabilities changing mobile devices Sep 25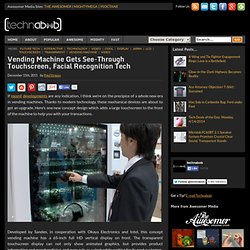 December 15th, 2011 by Paul Strauss If recent developments are any indication, I think we're on the precipice of a whole new era in vending machines.
Vending Machine Gets See-Through Touchscreen, Facial Recognition Tech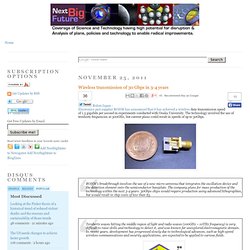 Wireless transmission of 30 Gbps in 3-4 years
data transmission speed of 1.5 gigabits per second in experiments conducted with Osaka University.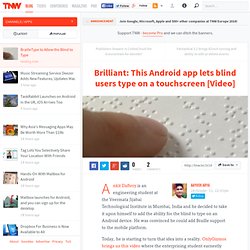 Brilliant: This Android app lets blind users type on a touchscreen [Video]
Ankit Daftery is an engineering student at the Veermata Jijabai Technological Institute in Mumbai, India and he decided to take it upon himself to add the ability for the blind to type on an Android device. He was convinced he could add Braille support to the mobile platform.
The six senses your phone needs next | Nokia Conversations - The official Nokia Blog
If your cell phone could talk what would it say?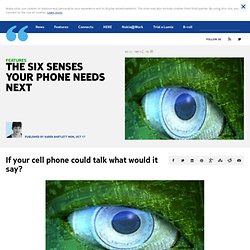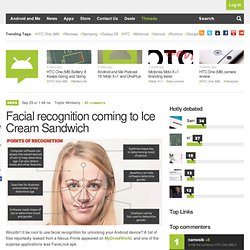 Facial recognition coming to Ice Cream Sandwich
Wouldn't it be cool to use facial recognition for unlocking your Android device? A list of files reportedly leaked from a Nexus Prime appeared on MyDroidWorld, and one of the surprise applications was FaceLock.apk.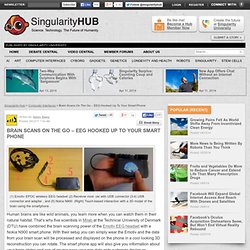 (1) Emotiv EPOC wireless EEG headset (2) Receiver mod- ule with USB connector (3-4) USB connector and adapter , and (5) Nokia N900. (Right) Touch-based interaction with a 3D model of the brain using the smartphone .
Brain Scans On The Go – EEG Hooked Up To Your Smart Phone
A tablet computer developed collaboratively by researchers at Intel, Microsoft, and the University of Washington can be controlled not only by swiping and pinching at the screen, but by touching any surface on which it is placed. Finding new ways to interact with computers has become an important area of research among computer scientists, especially now that touch-screen smart phones and tablets have grown so popular. The project that produced the new device, called Portico, could eventually result in smart phones or tablets that take touch beyond the physical confines of the device.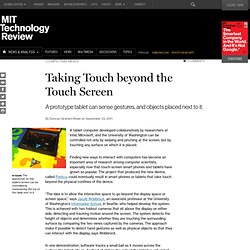 Taking Touch beyond the Touch Screen
Vocre Turns Your iPhone Into a Real Time Translator With Just a Flip of the Wrist
Vocre is a new voice translation app for your iPhone that lets you flip the phone rather than press buttons.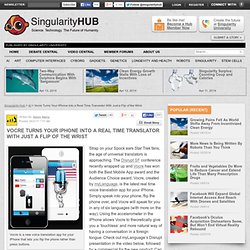 How This Guy Is Making Your iPhone Virtually Human
Right you 'orrible lot: if you think it's hard to get a phone signal on the high street, imagine what it's like on a battlefield.
BAE body wearable antenna takes smart phones to war | Crave
A decade ago, our mobile phones were barely phones. We made phone calls and sent text messages. That's pretty much it was.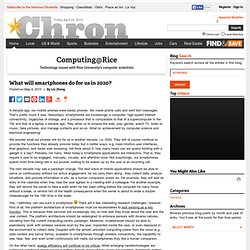 What will smartphones do for us in 2020? | Computing@Rice
8 Current Technologies That Will Shape Our Future
Rick Chin is the director of product innovation at SolidWorks, where he develops new products and researches how technology will make us smarter, simplify daily tasks and seamlessly fit into our everyday lives.
Near Field Communication: The Quick and Dirty Guide
Before it became a hot topic sometime early last year, few civilians had come across the term "near field communication" (NFC). Corporations, however, had been excited about the technology's potential since at least 2004 — when Nokia, Sony and Royal Philips Electronics founded the NFC Forum.
Stick-On Electronic Tattoos
Researchers have made stretchable, ultrathin electronics that cling to skin like a temporary tattoo and can measure electrical activity from the body. These electronic tattoos could allow doctors to diagnose and monitor conditions like heart arrhythmia or sleep disorders noninvasively.
Cars of the future will talk to each other by 2014
By 2014 cars will be able to talk to each other in such a way that they can alert other cars on the road of impending traffic, accidents or merely that an ambulance is on its way. That's the vision of NXP, a semiconductor company that is already behind the technology in your biometric passport and your future NFC (Near Field Communications) smartphone. The concept - co-developed with Australian-based Cohda Wireless and called the C2X platform - that is already undergoing field trials rather than just a figment of someone's imagination, aims to create a gigantic car-to-car network and car-to-infrastructure network so information can be quickly passed around.