Miscellaneous
Miscellaneous capabilities changing mobile devices
Vending Machine Gets See-Through Touchscreen, Facial Recognition Tech. December 15th, 2011 by Paul Strauss If recent developments are any indication, I think we're on the precipice of a whole new era in vending machines.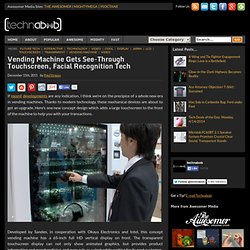 Thanks to modern technology, these mechanical devices are about to get an upgrade. Here's one new concept design which adds a large touchscreen to the front of the machine to help you with your transactions. Developed by Sanden, in cooperation with Okaya Electronics and Intel, this concept vending machine has a 65-inch full HD vertical display on front. The transparent touchscreen display can not only show animated graphics, but provides product information and merchandising, and even acts as a clock while waiting for its next customer. Wireless transmission of 30 Gbps in 3-4 years. Data transmission speed of 1.5 gigabits per second in experiments conducted with Osaka University.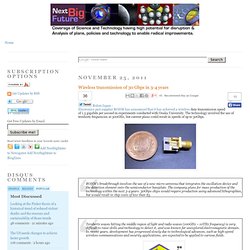 The technology involved the use of terahertz frequencies at 300GHz, but current plans could result in speeds of up to 30Gbps. Terahertz waves hitting the middle region of light and radio waves (100GHz ~ 10THz frequency) is very difficult to raise skills and technology to detect it, and was known far unexplored electromagnetic domain. Productivity Future Vision (2011) Brilliant: This Android app lets blind users type on a touchscreen [Video] Ankit Daftery is an engineering student at the Veermata Jijabai Technological Institute in Mumbai, India and he decided to take it upon himself to add the ability for the blind to type on an Android device.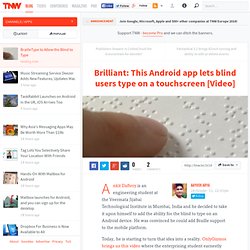 He was convinced he could add Braille support to the mobile platform. Today, he is starting to turn that idea into a reality. OnlyGizmos brings us this video where the enterprising student earnestly speaks about BrailleType, a simple but ingenious application that will allow blind people to type on a smartphone using the Braille alphabet much in the same way that they use it for reading. BrailleType gives the user a blank canvas, with the top 90% of the screen available to the user for entering in the characters and a strip at the bottom displaying them as they are typed, in addition to reading them out using Android's built-in text-to-speech synthesiser. The six senses your phone needs next | Nokia Conversations - The official Nokia Blog.
If your cell phone could talk what would it say?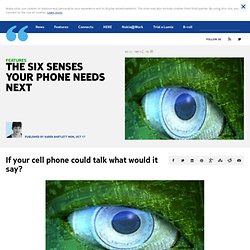 GLOBAL – Every handset is already wired up like a mini-nervous system with hundreds of sensors – many you're probably completely unaware of. We can use a GPS to figure out where we are, a camera to capture what we see and a microphone to record what we say. If we want to, we can plot our position with a compass, or tilt the screen with the accelerometer. Soon, with the next generation of phones, we could have sensors that take our blood pressure, or alarms to warn us that grandma needs help. Facial recognition coming to Ice Cream Sandwich. Wouldn't it be cool to use facial recognition for unlocking your Android device?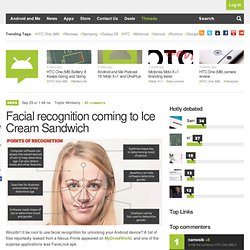 A list of files reportedly leaked from a Nexus Prime appeared on MyDroidWorld, and one of the surprise applications was FaceLock.apk. This wouldn't be the first time we saw a form of biometric security on an Android device (the Motorla Atrix had a fingerprint scanner), but it's a welcome addition now that our phones might soon replace our wallets. Our preview of 13 things we might see with Android 4.0 showed that Google was working on new camera APIs, so this facial recognition security feature might be available for all developers to incorporate into their Android apps.
Would you like to secure your Android device with your face? What kinds of apps do you think would benefit from facial recognition? Brain Scans On The Go – EEG Hooked Up To Your Smart Phone. (1) Emotiv EPOC wireless EEG headset (2) Receiver mod- ule with USB connector (3-4) USB connector and adapter , and (5) Nokia N900.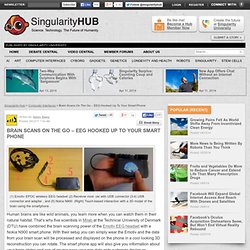 (Right) Touch-based interaction with a 3D model of the brain using the smartphone . Human brains are like wild animals, you learn more when you can watch them in their natural habitat. That's why five scientists in Milab at the Technical University of Denmark (DTU) have combined the brain scanning power of the Emotiv EEG headset with a Nokia N900 smart phone. With their setup you can simply wear the Emotiv and the data from your brain scan will be processed and displayed on the phone in a cool looking 3D reconstruction you can rotate. The smart phone app will also give you information about your brain states and can of course pass your raw data onto a storage device or computer for further processing. Taking Touch beyond the Touch Screen. A tablet computer developed collaboratively by researchers at Intel, Microsoft, and the University of Washington can be controlled not only by swiping and pinching at the screen, but by touching any surface on which it is placed.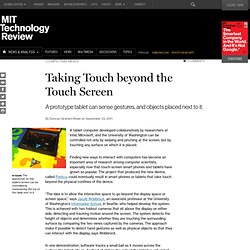 Finding new ways to interact with computers has become an important area of research among computer scientists, especially now that touch-screen smart phones and tablets have grown so popular. The project that produced the new device, called Portico, could eventually result in smart phones or tablets that take touch beyond the physical confines of the device.
Vocre Turns Your iPhone Into a Real Time Translator With Just a Flip of the Wrist. Vocre is a new voice translation app for your iPhone that lets you flip the phone rather than press buttons.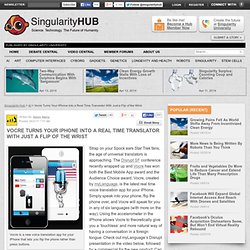 Strap on your Spock ears Star Trek fans, the age of universal translators is approaching. The Disrupt SF conference recently wrapped up and Vocre has won both the Best Mobile App award and the Audience Choice award. Vocre, created by myLanguage, is the latest real time voice translation app for your iPhone. Simply speak into your phone, flip the phone over, and Vocre will speak for you in any of six languages (with more on the way). How This Guy Is Making Your iPhone Virtually Human. BAE body wearable antenna takes smart phones to war | Crave. Right you 'orrible lot: if you think it's hard to get a phone signal on the high street, imagine what it's like on a battlefield.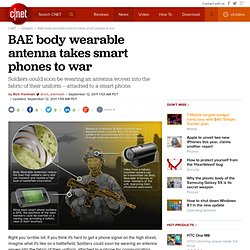 Soldiers could soon be wearing an antenna woven into the fabric of their uniform, attached to a phone for communication, video chat and augmented reality as the bullets fly -- and the system works with any smart phone. If you think your pockets are full, imagine being a soldier. The backroom boffins at British military company BAE Systems has developed different types of wearable antennas to reduce the load that soldiers have to carry. What will smartphones do for us in 2020? | Computing@Rice. A decade ago, our mobile phones were barely phones.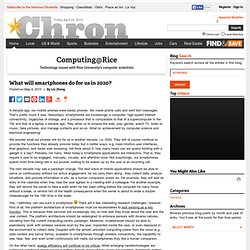 We made phone calls and sent text messages. That's pretty much it was. 8 Current Technologies That Will Shape Our Future. Rick Chin is the director of product innovation at SolidWorks, where he develops new products and researches how technology will make us smarter, simplify daily tasks and seamlessly fit into our everyday lives. In 20 years our technology will reach a level of personalization that will enhance every moment of our lives. We'll be more physically comfortable with the furniture we sit on and the products we hold; only the most relevant and personalized information from friends and family will reach us; and our movement in the digital world will be near telepathic. I foresee several of today's technologies as relevant to this particular vision of the future. Near Field Communication: The Quick and Dirty Guide. Before it became a hot topic sometime early last year, few civilians had come across the term "near field communication" (NFC).
Corporations, however, had been excited about the technology's potential since at least 2004 — when Nokia, Sony and Royal Philips Electronics founded the NFC Forum. Samsung, Motorola, Microsoft and more than 140 other organizations all joined the party shortly after. NFC allows a device, usually a mobile phone, to collect data from another device or NFC tag at close range. In many ways, it's like a contactless payment card that is integrated into a phone. In other ways, it's similar to Bluetooth, except that instead of programming two devices to work together, they can simply touch to establish a connection. Stick-On Electronic Tattoos. Researchers have made stretchable, ultrathin electronics that cling to skin like a temporary tattoo and can measure electrical activity from the body. These electronic tattoos could allow doctors to diagnose and monitor conditions like heart arrhythmia or sleep disorders noninvasively.
John A. Rogers, a professor of materials science at the University of Illinois at Urbana-Champaign, has developed a prototype that can replicate the monitoring abilities of bulky electrocardiograms and other medical devices that are normally restricted to a clinical or laboratory setting. This work was presented today in Science. To achieve flexible, stretchable electronics, Rogers employed a principle he had already used to achieve flexibility in substrates.
Cars of the future will talk to each other by 2014. By 2014 cars will be able to talk to each other in such a way that they can alert other cars on the road of impending traffic, accidents or merely that an ambulance is on its way. That's the vision of NXP, a semiconductor company that is already behind the technology in your biometric passport and your future NFC (Near Field Communications) smartphone. The concept - co-developed with Australian-based Cohda Wireless and called the C2X platform - that is already undergoing field trials rather than just a figment of someone's imagination, aims to create a gigantic car-to-car network and car-to-infrastructure network so information can be quickly passed around.
---