Tools
Best Free VPN Services To Anonymize IP & Secure Internet Connection
Last week, we discussed the advantages of virtual private network over leased line-based private and hybrid networks, VPN tunneling technologies and types, and also showed you a simple way of creating a VPN connection. Apart from encrypting the communication, VPN is also used as an alternative to proxy servers to secure the communication between two clients & client and server, on a network. One of the reasons why most users prefer using VPN service instead of proxy server, is that, VPN provides strong encryption, and in some cases, multi-hopping connectivity, making it very difficult for external sources to trace down the connected systems. This VPN-provided anonymity lets users access region-restricted websites, data portals, content sharing platforms etc, from any part of the world. In this post, we will look at VPN services that you can use to anonymize the connection as well as secure the communication.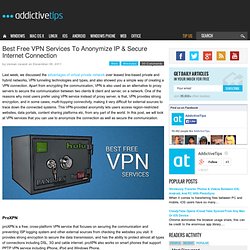 Posted on March 2, 2011 in Daily Android Apps , Free by Shivam On any mobile phone, you need to backup your data and that too, regularly. Well, your favorite android phone is no exception to this ultra-true rule. So, today, we have got 6 Top Free No-Root-Required backup applications for you, right here. Without wasting much time lets just go straight into applications. Note: There are other (than what we've discussed below) great backup apps like Titanium Backup ( link to Android Market ), myBackup, etc. but we've just picked up only those which don't require Root access and that they are not just trial apps too.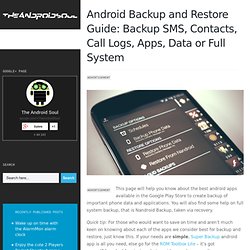 Best Android Apps for Backup and Restore
Quantified Self Forums
Informazioni CKAN Italia Qual'era il prezzo medio di una casa nel Regno Unito nel 1935? Quando avverrà il sorpasso della popolazione dell'India su quella della Cina? Dove si possono ammirare opere d'arte finanziate da enti pubblici a Seattle? I dati per rispondere a molte, molte domande come queste esistono da qualche parte in Internet - ma non è sempre facile trovarli.
Informazioni - CKAN Italia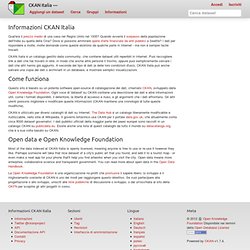 Open Data in Italia: che dati pubblici abbiamo in giro?
MathB.in is a website meant for sharing snippets of mathematical text with others on the web. This is a pastebin for mathematics. Posting and sharing A new post can be composed by visiting the home page and writing or pasting code in the box on the left hand pane of the page. Once a post is composed and submitted, the page is saved and it becomes accessible with a new unique URL.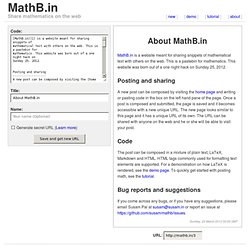 About MathB.in - MathB.in
The Observatory | What does Italy export? (2010)
As the web becomes more and more inundated with blogs, videos, tweets, status updates, news, articles, and countless other forms of content, "information overload" is something we all seem to suffer. It is becoming more difficult to weed through all the "stuff" out there and pluck out the best, most share-worthy tidbits of information, especially if your topic is niche. Let's face it, Google definitely has its shortcomings when it comes to content curation and the more it tries to cater to all audiences, the less useful it becomes. The demand for timely, relevant content that is specific to our unique interests and perspectives has given rise to a new generation of tools that aim to help individuals and companies curate content from the web and deliver it in a meaningful way. These new tools range from simple, application-specific types such as social media aggregators and discovery engines, to more complex, full-blown publishing solutions for organizations.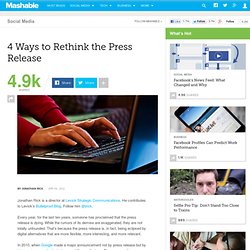 Jonathan Rick is a director at Levick Strategic Communications . He contributes to Levick's Bulletproof Blog . Follow him @jrick . Every year, for the last ten years, someone has proclaimed that the press release is dying. While the rumors of its demise are exaggerated, they are not totally unfounded.
4 Ways to Rethink the Press Release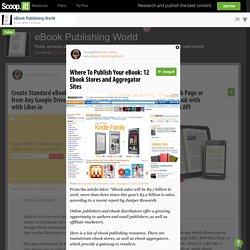 Robin Good : Leanpub is a free web service that allows you to create, edit and publish your own book in PDF, .epub (iPad) and .mobi (Kindle) formats, and to sell it online at your own set price. With Leanpub you get 90% of the selling price, minus a fixed .50cents per copy sold which goes to Leanpub. Check this table for more details: http://i.imgur.com/ziqV5.jpg Leanpub it's simple to use, but, in my opinion, it's not for everyone, as its setup is not as simple and straightforward (yet) as that of other web apps.
Where To Publish Your eBook: 12 Ebook Stores and Aggregator Sites | eBook Publishing World | Scoop.it
memopal backup service
While backups on hard drives and CDs may still be the preferred method of data storage for many, a growing number of people are finding that the Internet provides a great place to store all their data, whether it's for the long term or just to transfer information to another person. There are hundreds of services out there that provide data storage over the Web for just about any kind of information you could think of. Some are even available to use free of charge. Here are a few services we've compiled to help get you started storing things online. General Whether you just need to store some files online or back up an entire project, these sites have what you need.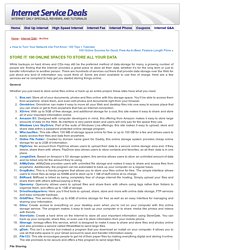 Internet Service Deals » Store It: 100 Online Spaces to Store All Your Data
A couple days ago, DrPepperfan (I think) asked me how I'm able to find image sources so quickly. How, you ask? To be honest, DPF , usually with absurd ease. To quote one of my past posts, "search engines are credit to team!" Another part of it, though, probably comes from my years of experience with art websites like deviantArt and FurAffinity.
How to Find Image Sources (Specifically, for Artwork Websites & Ponies) | Meme Research Discussion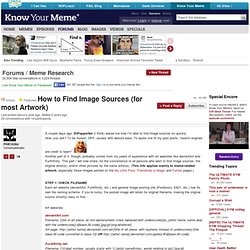 Nothing defines a culture as distinctly as its language, and the element of language that best encapsulates a society's values and beliefs is its proverbs. The graphic to the right shows the words that are used in English proverbs, with the size of each word indicating how often it occurs ( click for a bigger image ). It's interesting to note that the two most common words in English proverbs are 'good' and 'never'. A bit of armchair psychology leads to the conclusion that, if proverbs really do reflect belief, then the English are (or at least were when these proverbs were coined) inclined to be virtuous but negative - not so far from the truth perhaps? Proverbs are short and pithy sayings that express some traditionally held truth. They are usually metaphorical and often, for the sake of memorability, alliterative.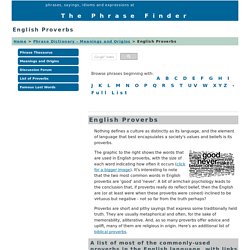 Looking for music for a video, school project, game you're developing, podcast or just for listening in your cubicle or mobile music device? Find exactly the music you're looking for - podsafe, liberally licensed - using dig.ccMixter Music Discovery tool. Find out why one out of six uploads to ccMixter are used in a YouTube(tm) video, flickr moving image, podcast, compilation album and thousands of other places all over the web. Start digging at dig.ccMixter
Failing hard drive sounds - Datacent.com - Datacent
T hese are some typical sounds we hear in our data recovery lab. If your hard drive makes noises like these and you are still able to access your files - backup immediately . If your drive can no longer be seen in your system please fill out our simple evaluation form to get a fast quote on our data recovery services. To listen to the sound simply click on the play button. Click on the drive manufacturer next to the sound button to learn more about common problems these drives experience.
#Tip of the day from Journalism.co.uk – use 'if this then that' for story alerts
Journalists who are interested in particular topics from other news sites can use a nifty new tool to receive alerts when stories go live. It's still in private beta but the people behind ifttt – which stands for "if this then that" – seem quick to hand out invites to those who sign up. The tool, which was our tool of the week for journalists a couple of weeks ago, allows you to connect 17 channels, including RSS feeds, SMS, Facebook and Dropbox, and set rules, with the potential of 1040 possible task combinations.