Movies
A working class hero is something to be: 23 proletariat classics  | Film | Inventory. 1.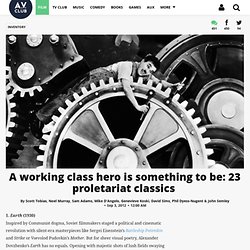 Earth (1930)Inspired by Communist dogma, Soviet filmmakers staged a political and cinematic revolution with silent-era masterpieces like Sergei Eisenstein's Battleship Potemkin and Strike or Vsevolod Pudovkin's Mother. But for sheer visual poetry, Alexander Dovzhenko's Earth has no equals. Opening with majestic shots of lush fields swaying in the wind before harvest—cue Woody Allen in Love And Death: "Fields of rippling wheat." —and persistently setting its characters against the sheltering sky, the film presages Terrence Malick's obsession with the relationship between humans and the natural world.
Once it settles into the simplest of stories, Earth hails the glories of collectivism by showing a community of Russian peasants rally around the tractor that will bring prosperity and sustenance to all of them. Very small array » Nobody cares about Delaware. Watch Documentaries and Animated Films Online - NFB.ca. Europa Film Treasures, i tesori delle cineteche europee. Huntley Film Archives - Viewing Room.
The Kid Should See This. Animation. Milano film festival - mff 2011 Jonathan Demme Retrospettiva Completa. Jonathan Demme Accanto ai nuovi talenti dei concorsi, Milano Film Festival dedica ogni anno una retrospettiva completa a un grande autore del cinema contemporaneo.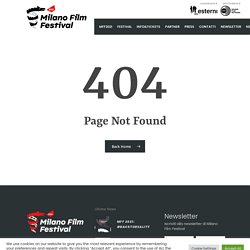 Per riscoprire un percorso d'autore significativo, che ha avuto un'influenza fondamentale sul cinema contemporaneo, e dare la possibilità a un pubblico sempre più ampio di rivedere i suoi film sul grande schermo e in lingua originale. Negli anni passati Milano Film Festival ha risvegliato l'attenzione su Ciprì e Maresco, Terry Gilliam, Ermanno Olmi e Jim Jarmusch. La retrospettiva del 2011 sarà dedicata a Jonathan Demme: figura chiave del cinema americano degli ultimi 40 anni, premio Oscar per Il silenzio degli innocenti e autore di opere memorabili come Qualcosa di travolgente, Una vedova allegra ma non troppo, The Manchurian Candidate, Rachel sta per sposarsi, Philadelphia.
Lombardia Spettacolo - Tutti i Festival. The Final Image. Gnod - The global network of dreams. The Ebb and Flow of Movies: Box Office Receipts 1986 - 2007. MYmovies.it - Il cinema dalla parte del pubblico.
---