Interface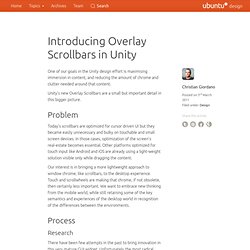 One of our goals in the Unity design effort is maximising immersion in content, and reducing the amount of chrome and clutter needed around that content. Unity's new Overlay Scrollbars are a small but important detail in this bigger picture. Problem
Introducing Overlay Scrollbars in Unity « Canonical Design
NN/g conducts groundbreaking research, evaluates user interfaces, and reports real findings – not what's popular or expected. With our approach, NN/g will help you create better experiences for real people and improve the bottom line for your business. Richly illustrated reports include case studies and actionable design guidelines for websites, intranets, applications, and mobile interfaces. Browse all reports Recent Research: Intranet Information Architecture Design Methods and Case Studies Full-day, immersive courses inform anyone working on web, application, and mobile design.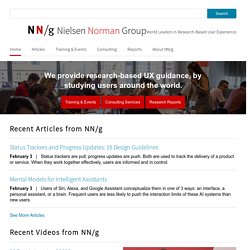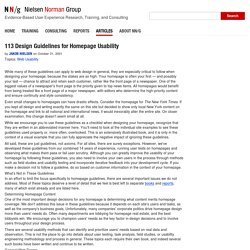 Topics Author Recent Articles Popular Articles Subscribe to: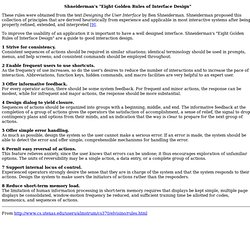 Shneiderman's Eight Golden Rules of Interface Design
Shneiderman's "Eight Golden Rules of Interface Design" These rules were obtained from the text Designing the User Interface by Ben Shneiderman. Shneiderman proposed this collection of principles that are derived heuristically from experience and applicable in most interactive systems after being properly refined, extended, and interpreted [9]. To improve the usability of an application it is important to have a well designed interface.
DUB - Projects