Interface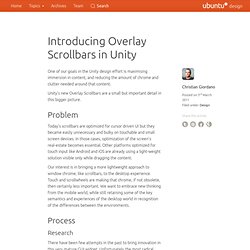 One of our goals in the Unity design effort is maximising immersion in content, and reducing the amount of chrome and clutter needed around that content. Unity's new Overlay Scrollbars are a small but important detail in this bigger picture. Problem
Introducing Overlay Scrollbars in Unity « Canonical Design
Summary: A company's homepage is its face to the world and the starting point for most user visits. Improving your homepage multiplies the entire website's business value, so following key guidelines for homepage usability is well worth the investment. Homepages are the most valuable real estate in the world. Each year, companies and individuals funnel millions of dollars through a space that's not even a square foot in size. For good reason.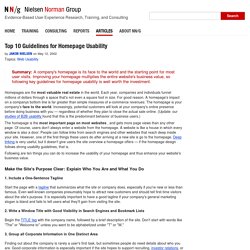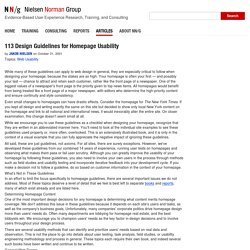 While many of these guidelines can apply to web design in general, they are especially critical to follow when designing your homepage, because the stakes are so high. Your homepage is often your first — and possibly your last — chance to attract and retain each customer, rather like the front page of a newspaper. One of the biggest values of a newspaper's front page is the priority given to top news items. All homepages would benefit from being treated like a front page of a major newspaper, with editors who determine the high-priority content and ensure continuity and style consistency. Even small changes to homepages can have drastic effects.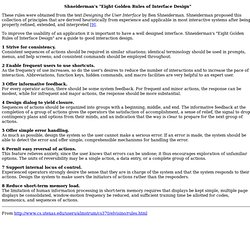 Shneiderman's Eight Golden Rules of Interface Design
Shneiderman's "Eight Golden Rules of Interface Design" These rules were obtained from the text Designing the User Interface by Ben Shneiderman. Shneiderman proposed this collection of principles that are derived heuristically from experience and applicable in most interactive systems after being properly refined, extended, and interpreted [9] . To improve the usability of an application it is important to have a well designed interface.
DUB - Projects