History
The History of Stax Records. The History Of Stax Records THE STAX STORY by Robert Palmer Reprinted Courtesy of Fantasy Inc.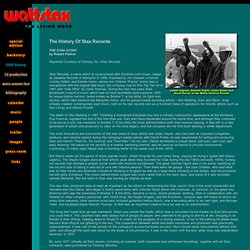 /Stax Records Stax Records, a name which is synonymous with Southern soul music, began as Satellite Records in Memphis in 1959. Founded by Jim Stewart, a former country fiddler, and Estelle Axton, whose son Charles "Packy" Axton was a saxophonist with the original Mar-Keys, the company had its first Top Ten hit in 1961 with "Gee Whiz" by Carla Thomas. During the next few years Stax developed a brand of music which was to have worldwide repercussions. As We May Think - Magazine. As Director of the Office of Scientific Research and Development, Dr.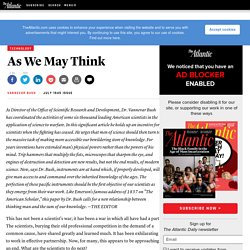 Vannevar Bush has coordinated the activities of some six thousand leading American scientists in the application of science to warfare. In this significant article he holds up an incentive for scientists when the fighting has ceased. He urges that men of science should then turn to the massive task of making more accessible our bewildering store of knowledge. Dei deputati - Portale storico. Portale storico della Camera dei deputati Home page del portale Percorsi Le legislature Le legislature del Regno, della transizione costituzionale e della Repubblica: persone, organi, attività, documenti, immagini I Presidenti I Presidenti della Camera dal Regno alla XV legislatura della Repubblica: biografie, discorsi d'insediamento, attività, immagini I Regolamenti I Regolamenti di procedura parlamentare nel tempo: testi, schede di approfondimento, proposte di modificazione Montecitorio Storia e immagini del palazzo di Montecitorio dal XVI secolo L'Amministrazione L'apparato amministrativo nel tempo: storia, organigrammi, persone, regolamenti interni, documenti, immagini Notizie.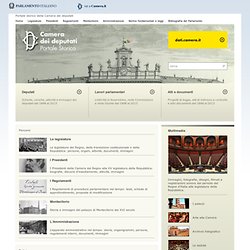 L'ultimo discorso parlamentare di Giacomo Matteotti - 30 maggio 1924 • Kerosenectute & Residui di materia fecale. Death mask. December 25, 2011 Jesus Christ's Death Mask by Biblioklept Okay.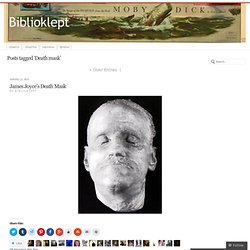 Laurence Hutton Collection of Life and Death Masks. Episode 33- A Cheer for Samuel Plimsoll (Press... AARC - Assassination Archives and Research Center. Top 100 Speeches of the 20th Century.
---