Calibre
How To Organize Your Ebook Collection with Calibre. Stop organizing your ebooks like they're just a tired pile of documents and start organizing them in style with Calibre—an open source ebook organizer that supports metadata, cover flow, format conversion, and more.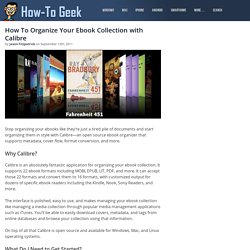 Why Calibre? Calibre is an absolutely fantastic application for organizing your ebook collection. It supports 22 ebook formats including MOBI, EPUB, LIT, PDF, and more. It can accept those 22 formats and convert them to 16 formats, with customized output for dozens of specific ebook readers including the Kindle, Nook, Sony Readers, and more. The interface is polished, easy to use, and makes managing your ebook collection like managing a media collection through popular media management applications such as iTunes. The David Foster Wallace Audio Project. The Great Flickr Tools Collection.
Looking for Flickr Tools, hacks and services for a powerful photo sharing experience?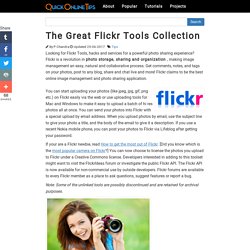 Flickr is a revolution in photo storage, sharing and organization , making image management an easy, natural and collaborative process. Get comments, notes, and tags on your photos, post to any blog, share and chat live and more! Flickr claims to be the best online image management and photo sharing application.
---