Crisis
Eurozone debt web: Who owes what to whom? The circle below shows the gross external, or foreign, debt of some of the main players in the eurozone as well as other big world economies.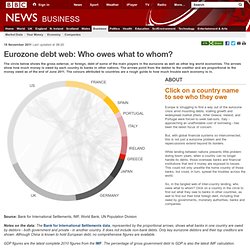 The arrows show how much money is owed by each country to banks in other nations. The arrows point from the debtor to the creditor and are proportional to the money owed as of the end of June 2011. The colours attributed to countries are a rough guide to how much trouble each economy is in. Click on a country name to see who they owe. El por qué de los recortes. El porqué de los recortes Vicenç NavarroCatedrático de Políticas Públicas.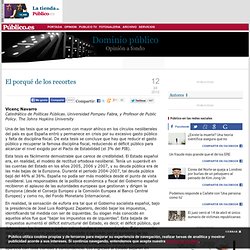 Universidad Pompeu Fabra, y Profesor de Public Policy. The Johns Hopkins University Una de las tesis que se promueven con mayor ahínco en los círculos neoliberales del país es que España entró y permanece en crisis por su excesivo gasto público y falta de disciplina fiscal. De esta tesis se concluye que hay que reducir el gasto público y recuperar la famosa disciplina fiscal, reduciendo el déficit público para alcanzar el nivel exigido por el Pacto de Estabilidad (el 3% del PIB). Esta tesis es fácilmente demostrable que carece de credibilidad.
---